A Future So Bright…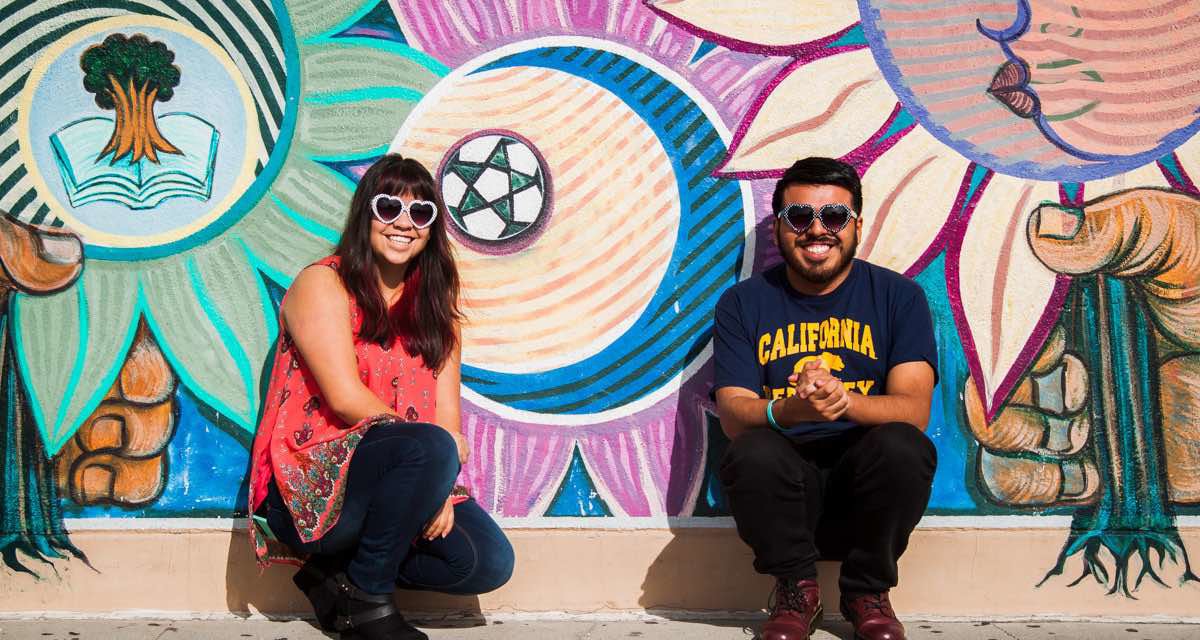 Costa Mesa is a city of doers. Ruckus-makers. Action-takers. Paradigm-breakers. People of character who – when faced with a problem – are much more likely to roll up their sleeves than roll their eyes.
Some gallop in with big bravado, while others stand quietly in conviction; but all are passionate about wanting what's best for their city.
So it's no surprise that in the early 90's – when the growing incidence of gang violence threatened the future of Costa Mesa's youth – a group of local parents and city leaders took it head on, and the Save Our Youth Center was born.
For over twenty years, through the steadfast dedication of volunteers, donors and community members, SOY has continued to make an immeasurable difference in the lives of young Costa Mesans.

Like Family: SOY Alumna, And Cal Freshman, Karina Camarena Heredia – And SOY Music And Arts Director, Eddie Iniestra
photos: b. young forever photography

SOY started as a simple concept: Give local tweens and teens a safe place to hang out after school so they're less tempted by a life on the street.
But in the years since its inception, the Westside Costa Mesa organization has grown to be so much more than merely after-school care. Music, art, sports, social support, fitness, mentorship and tutoring for "the now"; then college readiness, campus tours, scholarships, and application assistance for the future.
It takes a tremendous amount of dedication, work and connection to keep it all going. Which is where people like SOY Music And Arts Director, Eddie Iniestra, and Operations Manager, Silvia Rosales, come in. As far as the kids are concerned, Eddie and Silvia don't just run SOY, they are SOY.
"You can't even talk about SOY without talking about Silvia and Eddie," explained SOY alumna, and freshman at UC Berkley, Karina Camarena Heredia. "They keep this program alive. Silvia is usually over here on the academic side, mentoring us and helping us navigate the college process. And then Eddie is 'Mr. Extra-Curriculars' providing art and sports and music.
"Eddie and Silvia are truly like family to me. They've been in my life for such a long time, they are like my aunt and uncle. Silvia was one of the first people to know when I got my college acceptance letter. I wanted to share the happiness with her more than anyone else because of all the help she had given me to make it possible."






With bright, sincere eyes – and a warm, open smile – Eduardo "Eddie" Iniestra exudes a charismatic combination of youthfulness, hopefulness and can-do compassion that soon has you believing anything is possible. His rapport with the kids seems so natural, it's hard to believe his involvement was accidental.
"A while back I started rapping and DJing," said Iniestra, who goes by the music monikers DJ Kaboom and Edifica. "Someone from SOY approached me to see if I'd donate a couple free gigs for some events they were having. I was like, 'Cool. I'll come play for you guys, do my thing, help you out.' I really had no intention of ever working here.
"But at one of the events, the Director at the time, Trevor Murphy, saw how the kids were really drawn into the music. He came up to me afterward and said, 'Would you come work for me here, at SOY, and start an arts and music program for us?'
"At the time, in 2006, we had grant money to fund a lot of programs, and staff them – art, photography, fitness, music – but since we lost our biggest donor a few years ago, money is really tight. We make due as we can."
Iniestra was referring to 2012, when SOY lost a long-time, anonymous donor which decimated a majority of their budget. But with a skeleton crew, the program is doing its grassroots best to slowly rebuild.
"We have to wear a lot of hats," said Iniestra. "I went from just being an Arts and Music Coordinator to being the Activities Coordinator, and teaching a lot of the classes myself. I teach DJing, break dancing, a workout program, our basketball program, the soccer program. I also do all our social media, updates to the website, all that stuff."

Hey Mister DJ: Eddie Iniestra (aka DJ Kaboom) brought one of his old turntables to SOY so the kids could mess with it after school
photo: b. young forever photography
Iniestra also spend his weekends coordinating soccer games, volunteer opportunities and even DJ gigs for SOY kids that show an interest or need the distraction – or a little of both.
"I grew up on the Westside around Joann and Maple," said Iniestra. "I can really identify with these kids and that gives me the ability to meet them where they're at. I've seen the good that a little guidance and a gentle push can do for these kids.
"I like to say that what we really do at SOY is 'youth development' which then leads to 'community development.' If we can get these kids to love themselves – and learn to do right by their community – I believe we can break the cycle of poverty and violence. All it takes is one kid in the family to share what they've learned; then that person shares it too, and it grows and grows. That's really why I do this. It's the reason why I'm here."
A big way SOY works to change the future for students is through its college readiness efforts.
"SOY provides the opportunity for students to tour college campuses, each spring," said Mary Cappellini, SOY Director of Fundraising and daughter of SOY founder, Jean Forbath. "These are kids whose parents can't take the week off work, can't pay for a hotel room, can't afford the gas money. So we round up vans and chaperones and then – over Spring Break – we go tour all the UC and Cal State campuses from Santa Barbara, north. SOY alumni greet the students at each campus and show them around their schools. We stay in hostels. It's a fantastic experience SOY provides for our students.
"For a lot of our kids, this trip is the first taste of college life. It serves to make the future more tangible; the whole idea of college becomes real to them, perhaps for the first time."
Through Hard Work, Dedication – Plus A College Tour And Scholarship From SOY – Ricardo "Ricky" Herrara Is Living The Dream As A Sophomore At Cal Berkeley
photos: b. young forever photography


The future looks bright for so many of the Costa Mesa youth SOY serves, but the future of their funding isn't so certain. If there is any way you can help – any way at all – please consider giving back to the community as best you can.
"The truth is, we have a real need for funding," said Cappellini. "We ask the people of Costa Mesa, with the means to help, to consider donating to our program. The future of Costa Mesa's kids are at stake. These are students ready for the opportunities and challenges of college, they just need a little extra help getting there."
You can donate money via the SOY website. They also have a need for supplies and you can read their wish list here.
And if you want to get out for a fun night on the town in your own community, get your tickets now for the Annual SOY Fiesta. It's at Halecrest Swim & Tennis Club, right here in Costa Mesa. All the food is catered by Ivan Calderon, owner of Taco Mesa and Taco Rosa. There will be live entertainment from SOY students and alumni, and a silent auction with great items up for bid. The proceeds go back to the program.


Works Of Heart: SOY Board Members, Wendy Maddocks And Mary Cappellini, Do Their Best To Make Every Donated Dollar Count
photo: b. young forever photography
"I just want my Costa Mesa neighbors to know that we are here for all the local youth," emphasized Iniestra. "Eastside, westside, northside, southside – it doesn't matter to us. We are here during the after-school hours to help invest in the future of our kids and our community. They may be just teenagers now, but these kids are tomorrow's managers, police officers, leaders, parents. We have a heart to help our youth become productive members of society, regardless of background.
"But I want to tell Costa Mesa something else, just as important: We need more of you to get involved. If you are proficient or professional in something – playing guitar, a certain sport, art, photography, business, anything – reach out to us. Come teach those skills to our students. We will give you a workshop and you can show a couple of kids what you do. I don't care what age you are, if you know math or history, come donate some time and tutor a Costa Mesa kid.
"We would love for more of you to make time for our events. Come to our Fiesta Fundraiser. Come to an outdoor movie night. Bring your beach chair. Bring your family. Come sit down and watch a movie with us.
"We must always remember that reaching out to our neighbors is what community is all about. This city may have lots of different kinds of people, but we are one, whole Costa Mesa." ♥