Member-Based Maker Space

When was the last time you crafted something from scratch? Built something by hand? In a world where "liking" or "sharing" or snapping a pic of other people's work gives us the same zing as if we'd made it ourselves, are we losing what it means to create something all our own?
Here at I Heart Costa Mesa, we're big fans of "making" and anyone engaged in the courage, commitment and (let's be honest) dedicated drudgery of it. So it's no surprise we fell for Steve Trindade – and his Urban Workshop – after visiting the 18,500-square-foot makerspace on Clinton Street (by the airport).
Urban Workshop bills itself as "a membership-based workshop facility that provides modern equipment, tools and training to enable members to design and build whatever project they desire. A wide range of basic instruction classes are offered to introduce members to all of the equipment and provide the skills they need to safely use the tools."
All we can say is: Where do we sign up?


Builders And Small Businesses Make Up The Membership Mix At Urban Workshop in Costa Mesa
photo credit: brandy young
Steve Trindade is one of those enthusiastic storytellers whose compelling narrative – coupled with interesting life choices –  weaves in such a way you could listen to him all day.
"I grew up in a rural area, so as a kid I was always outside taking something apart," said Trindade. "Club house, tree house, bicycles… it wasn't like I had engineering aspirations, I was just a bored kid who would tinker and race BMX bikes to pass the time. As I got older, I got into dirt bikes. Of course, I couldn't afford one, so I found a junker and fixed it up myself."
Trindade's life went on like that – racing and tinkering – until a high school drafting class changed his fate forever.
"When I was in school they still had shop class, but they were starting to phase them out," said Trindade. "I got in right under the wire before they went away completely. So I sit down in this drafting class and from day one, that was it. Everything just clicked for me and I knew instantly that was what I wanted to do."
So Trindade finished a one-year drafting program in just seven months and quickly graduated to the working world, where he soon realized he would have to boomerang back to school if he hoped to move up the ladder.
"Without the engineering degree, the beginning of my career felt like the end; there was nowhere to grow. So, I started taking engineering classes at night and going to school for mechanical engineering part-time while still working."
Trindade also started doing some amateur car racing in his free time, driving competitively and even taking a regional championship. It was during this time his life "clicked" again.
"I came to the conclusion I wanted to go into the motor sports industry, and use my skills in that arena. It combined the competitive driving with my love of tinkering. Add in the engineering and the whole thing just fit. The technical aspects of it, the driving, the competitiveness, I loved everything about it."
So Trindade worked his way though a series of jobs – both corporate and consulting – eventually heading up the Automotive Technology Group and then buying the TruSpeed Autosport racing team.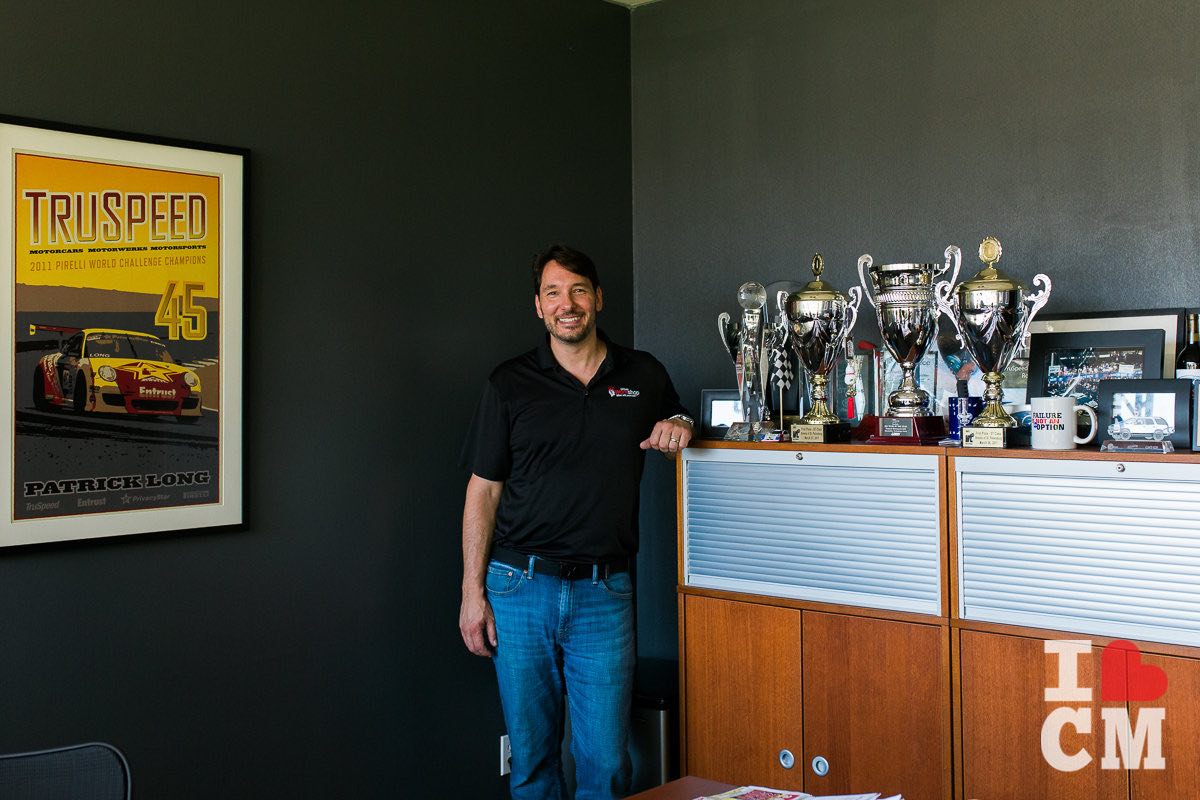 Trophy Life: Engineer And Owner, Steve Trindade, At Urban Workshop in Costa Mesa
photo credit: brandy young
"For a few years, life was really good with ATG – and racing, both. Because of my background, I started getting invited to come speak to a few of the schools around here. UC Irvine, and some local high schools, wanted me to come talk about the engineering, mechanics and STEM skills that go into racing. You know, to help inspire the kids and get them more excited about math and science.
"At one of these events, before I go onstage, I was talking to a teacher about the rise of maker spaces. So as a joke, he gets on stage to introduce me and says, 'This is Steve Trindade. He's the guy who's gonna be opening up the shop.'
"I was like, 'Haha, yeah guys, whatever,' and I didn't think anything else of it. But then within a week, I had kids start showing up at my engineering company asking, 'Hey man, is this the shop? Is the shop open yet?' I was like, 'It doesn't exist, dude. That was just a joke.'
"It was crazy, the response, because it was just a thing one teacher said one time, but word got out somehow. A year after that talk, I still had people showing up at my door looking for 'the shop' and I kept having to turn them away.
"Life went on like that for a while until one day, the economy turns south and the auto industry was especially hard-hit. My customers just started folding, one after the other. I was getting screwed left and right – and we went from twenty-seven employees down to three – but we kept pressing on.
"So January 2014 rolls around and I'm in my office like any normal day, and that's when I get word that Fisker Automotive filed for bankrupcy. Our big client just went under and boom, I'm out hundreds of thousands of dollars. So I'm sitting at my desk, head in my hands, staring out the window – just trying to figure out how I can stay in business – and a guy walks in and says to me, 'Hey man, is this the shop?'
"I looked up at him in that moment and I said, 'You know what? Yes. Yes, it is. This is the shop.' And just like that, Urban Workshop was born."
Trindade Takes Us on a Cell Phone Tour of the 18,500-Square-Feet Urban Workshop Facility
These days, word-of-mouth referrals keep Urban Workshop humming along. But in the early days, bootstrapping was the name of Trindade's game.
"When we first got going, I was hustling hard," said Trindade. "Every event, every group meeting I could find, I would crash it and hand out flyers. I'd literally be flyering up neighborhoods every free moment I had. Total grassroots."
Getting the word out wasn't the only hustle, the makerspace itself needed a fair amount of work. Fortunately for Trindade, the kinds of people interested in joining Urban Workshop were also the kinds of people who love to help out on a job site.
"We had people show up in those early days like, 'Hey, can we help?'" said Trindade. "I would say, 'Heck yeah, you can help! Grab a paintbrush.' Ninety-nine percent of setup was done by volunteers who just walked in the door and offered to help. It was crazy – I'd never seen such enthusiasm for a place. The idea of Urban Workshop definitely had a gravitational pull around it since before it even existed. I guess people needed a space like this in their lives."
The workshop officially opened up in July of 2014 and has averaged 25-30 new-member signups per month since then.
"We're a community now," said Trindade.
The membership model is pretty similar to a gym membership: Patrons come and go as they please, work on whatever they want, and use the Urban Workshop equipment to do it. Members are responsible for their own materials, but Trindade has negotiated discounts with all the suppliers around town.
Urban Workshop also offers a full suite of classes to help its members bone up on the necessary skills before using the machines.
"That the part I totally underestimated when I got this going, how much time it would take to bring the classes online," said Trindade. "Setting up the space and moving in? That took about four days. But I'm still writing the bloody classes."
Trindade is documenting and systematizing a curriculum for each core skill set members need to become fluent in using Urban Workshop's equipment; and it's a lot. With every engineering and manufacturing machine under the sun – all housed under one roof – Trindade and his team currently offer about one hundred classes a month to keep up with the educational needs of their customers.



Commercial-Grade Equipment Means The Sky's The Limit On What You Can Create At Urban Workshop, Costa Mesa
photo credit: brandy young



We asked Trindade to give us a full rundown of capabilities at Urban Workshop and the list was unbelievably long:
"Starting up front, we've got the computer lab with all the engineering design software, Solidworks, then design stuff like Illustrator and Photoshop. We have our cutter for doing stickers, graphics, we use that also for a t-shirt silk screening. We have a production-quality 3D printer.
"Then going out into the shop area, we have a big work area with hand tools, a bunch of big tables, we have WiFi through the whole building. Then we have our laser etchers – two at the moment – probably get the third one here, soon. Basically you can cut and mark wood and plastic, etch in glass, things like that. Those are definitely the most popular things in the building.
"Going over to the next area is the fabrics department, we've got four-color silk-screens, industrial sewing machines, big layout tables, irons, dress forms, things like that.
"Then on to our plastics area: We have everything you need to do composites, so vacuum pumps, resin traps, vacuum bagging, all that sort of stuff. Big layup tables. Our vacuum former, works for everything from cosplay to product packaging. We also have an injection-molding machine."
The list of equipment goes on and on, including: an electronics area full of current, state-of-the-art equipment, a full auto shop with five lifts and a variety of tools, a complete metalworks shop with all the bells and whistles, an entire woodworking shop full of gear and a welding section complete with torches, rod and gasses.
And it's not just the breadth of equipment that's impressive, it's the quality, too.
"At a lot of makerspaces, they're prohibited by cost when it comes to equipment," explained Trindade. "Often, they're stuck using salvage-yard stuff, hobby-level gear, because the barrier to entry is the high cost of those machines. I think that is our biggest differentiator. Because I used to own an engineering company – because we were manufacturing for some top-shelf clients – we only have production-level equipment here at Urban Workshop."
Trindade is also currently in talks with the National Institute for Metalworking Skills, the American Welding Society – and other, similar, professional certification organizations – about conducting training and testing at his facility.

Makers Make Good Use of Urban Workshop, Costa Mesa – in Orange County, California
photo credit: brandy young

With so many possibilities open to his members, Trindade has definitely seen some unusual projects roll through the workshop.
"Every day is completely different," said Trindade. "Around the holidays, people are doing Christmas decorations. One time I came to work and somebody was cruising around with a six-foot gingerbread man they cut out on the router – but they were carrying it from behind so it looked like a giant gingerbread man was walking through the shop.
"There was this other member whose father fell ill. He told his son, 'Don't waste any money on me. Just bury me in a pine box when the time comes.' So when the dad passed away, the son came in here and started building the pine box. By the second day, some of the other members found out what he was doing and a bunch of them ended up jumping in to help get it done. One guy found out the dad was a marine, so he programed our CNC router to etch the Marine Corps emblem onto the lid of the coffin. It was super cool to see the community rally around one of its own, that way. Just meaningful."
The community vibe is a big part of what Trindade is going for, those maker connections that elevate the experience for everyone.
"I say that people sign up as individuals, but end up as friends," said Trindade. "And there's a big benefit to having a community like this because we have an expert in everything, in house. If you get stuck on the electrical portion of your project, guaranteed there's somebody here that's already done it ten times and can walk you through it. People pitch in on each other's projects all the time – it's really cool to see that."

The thing that's surprised Trindade most about this journey, is how appealing Urban Workshop is to the small-business set.
"When I first started, I thought we'd appeal more to the hobbyists and tinkerers," said Trindade. "But already probably a third of our members are small-business guys. It makes sense, though – very little overhead for them which means virtually no risk. A lot of them are when I call 'accidental entrepreneurs' who came in one day to prototype an idea they've had for twenty years – and finally they have an affordable way to build the thing.
"But the more I thought about it, the more it made sense. If you're starting a product business, there's no better place to do it: production-grade equipment, no insurance, minimal overhead and you can keep your day job. We're like the perfect incubator for that little side business you always wanted to start."
Trindade chalks up so much of the easygoing, creative, entrepreneurial vibe of his shop to being located in Costa Mesa.
"Costa Mesa is definitely more creative than most of Orange County," said Trindade. "There are a lot of creative types around here, it's a fun place, and it's close to the beach which makes everyone happy. There's a certain something here, a vibe I can't put my finger on. It's a really good thing. People are interested but not judgmental – it's pretty chill.
"That energy makes it so great to come into work, each day. People are excited to be here because they are usually working on something they are passionate about. It's pretty impossible to be here and not be in a good mood. I have members come knock on my office door on a regular basis to say things like, 'Hey man, just wanted to say thanks for opening this place up.' I never had that happen with any of my other businesses or jobs. It's nice to be so appreciated."
We asked Trindade if he had any final words for Costa Mesa, and he said he really wants to make sure you reach out or swing by to take a tour.
"I want Costa Mesans to know there is something innate in all of us that wants to create," said Trindade. "So many people these days are dissatisfied with their situation and feel out of control in their lives. They just spend their days reacting to stuff.
"I invite you all to come in here and find your creative outlet. Mess around with stuff, tinker – engage in some maker therapy. Come build something with your hands and see how it opens up your heart to the possibilities all around you." ♥