SoBeCa Brewmeisters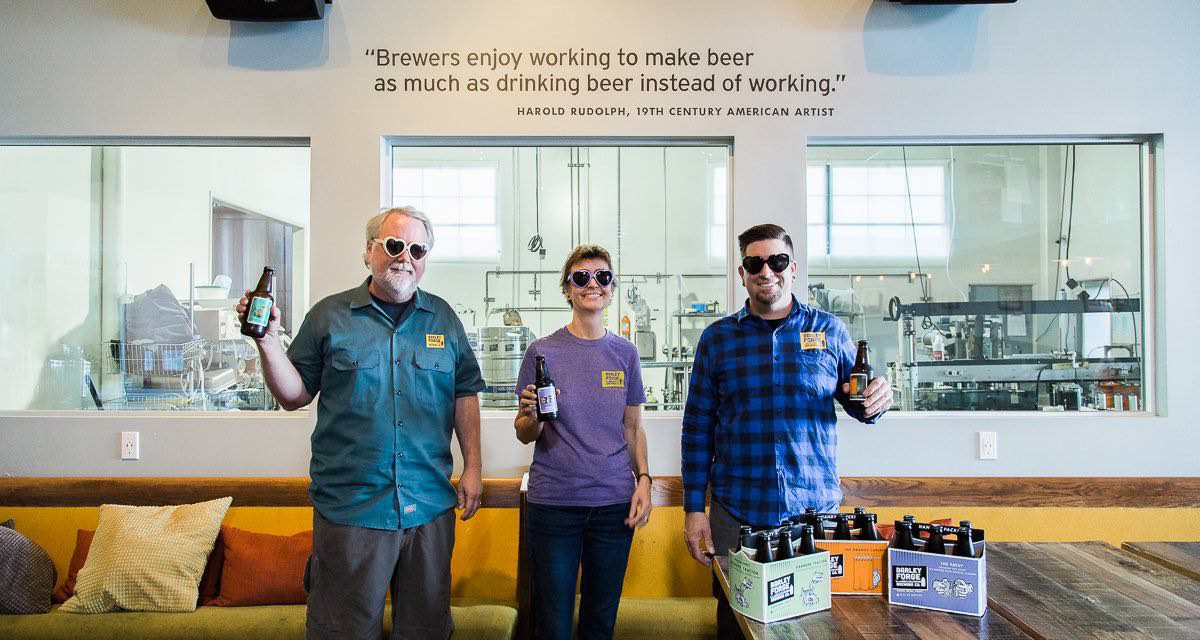 Costa Mesa is a study in contrast. Artistic, yet unpretentious. Independent, yet connected. Cozy, yet cosmopolitan.
And just when you think you've got us pegged as the family-friendly city with that small-town feel – we open up a big ol' can of Culture and all bets are off. Because while we may be home to some of the cutest, little, ocean-kissed neighborhoods ever to grace a mesa, we're also rockin' world-class theater, live music, award-winning restaurants, action-sports industry, SCP, OC Fair and soon the OCMA – to literally name just a few. We're so packed with culture, our city limits are fit to burst.
But until recently, there was one missing ingredient in our cultural cocktail, a key point of omission often used to separate the cultural wheat from the chaff: Costa Mesa's distinct lack of a brewery. Fortunately, in Fall of 2014, Barley Forge Brewing Co. opened in our SoBeCa district, effectively leveling-up our cultural game and adding kegs full of flavor in the process.
We met up with husband-and-wife brewistas and co-owners, Greg Nylen and Mary Ann Frericks, to get the delicious deets on Costa Mesa's first-ever craft brewery.

Although Nylen and Frericks are new to the "owning a brewery" game, craft brewing has been a running theme for most of their lives.
"I'm a lawyer, been practicing law for about 26 years," said Nylen. "But when I was an undergrad in college, I traveled abroad to London and discovered British beer. It was there I first realized that beer can actually have great flavor, great body. That trip was the first of several life-changing, beer-related events in my life.
"A few years after that, between my first and second jobs, I went up to Portland when the city was in the early days of its craft-brew scene. We'd visit these small, independent breweries and there'd be two jazz musicians cramped on a tiny balcony with a tip jar. We'd drink beer and listen to music and it was just a great energy, really exciting to be a part of it.
"The beer in Portland was unlike anything I'd had in the States. It reminded me of the rich flavors I'd had in London – but with more carbonation. It was a different character than what I'd tried abroad, but equally good in its own unique way.
"That trip put the spark in me to get more into beer, so I began home brewing as a hobby. Eventually I got so into it, I passed the Beer Judge Certification exam and started entering competitions. It was about that time I started thinking about opening my own brewery. I mean, every time I embarked on a vacation or business trip, I was finding ways to hit up the local breweries while I was there. That was life trying to tell me something, it just took a while for me to listen."



While Nylen brings the brewing background to Barley Forge, his wife, Mary Ann Frericks brings the art.
"Opening the brewery meant a huge change for us," said Frericks. "We'd been living in Topanga and I worked as a professional artist from my home studio there. I did fine art, jewelry-making, teaching. I thought, 'Oh, the brewery is Greg's thing. I'll just be supportive from the sidelines.'
"But when it became apparent that Costa Mesa was the place we needed to be in order to bring this dream to life, well, that meant basically closing my home studio and leaving my students – not doing that kind of art for the foreseeable future. But you know, I've since realized that this kind of entrepreneurship – starting a brewery and restaurant – is actually an extremely creative endeavor. My artistic and creative muse is being heavily tapped. The sky's the limit in terms of what you can do when you're creating a new brand.
"Maybe this is just my jewelry background talking, but I'm a huge believer that the devil is in the details. There is really no small aspect that should be overlooked. Be it the color of a pillow, the font on the menu…they all add up to create an overall impression that's really the accumulation of a thousand tiny decisions. At Barley Forge, we want that experience to begin the second you pull into our parking lot."
That creativity came in handy when choosing the name of the brewery.
"One of the images we wanted to draw on was blacksmithing," said Frericks. "There's a strength to it. I remember the day we came up with the name. It was a Saturday morning and I lugged all my blacksmithing books up from my studio. We were flipping through and suddenly it clicked. 'Barley,' of course, from the world of brewing; and 'forging' is one of the principle techniques for smithing, for making something. From there we came up with the iconic logo of a forging hammer and the brand just took off from there."
"We weren't just blazing new ground in that starting a brewery was new to us," said Nylen. "We're trailblazers in Costa Mesa, too. A business like this has never been done before in this city. So while the Planning Commission was very supportive of the idea from day one, the planners hadn't dealt with a brewery before. We all had to figure out what we were doing – and get comfortable working with the planning department – not just to comply, but almost help put new processes in place."


Forging The Way: SoBeCa's Barley Forge Brewing Co. is the First Full-Production, Craft Brewery of its Kind in Costa Mesa
photographer: brandy young


So now that we know the beginnings, what about the beer? Barley Forge is not just a labor of love in the branding department, the brewers behind the brew are all deeply passionate about their craft.
"Almost half of the recipes are based upon homebrew recipes I improved repeatedly before we opened," said Nylen. "Dave Chapman and I would get up at the crack of dawn and brew together. We'd enter it in a competition, get feedback, take notes on what the judges thought, modify the recipe and enter it again. These recipes have been well perfected over time.
"We also want to give a regional, Southern California twist to our beers. So while you might traditionally have bitter orange peel in a Belgium Ale, our Don Perfecto is a Belgian-style beer, but made with horchata-like flavors of Mexican cinnamon and vanilla. It pairs great with spicy food. We also do a Mango Hefeweizen that's extremely popular in our tasting room, often the most popular beer of the night, most nights.
"The rest of the recipes are the brain children of our Head of Brewing Operations, Kevin Buckley, who is an amazing brewer. He came up with The Patsy, which is a Coconut Rye Stout, and The Orange Curtain, which is our version of an India Pale Ale that pairs so naturally with Thai and Vietnamese cuisine.
"These beers are not the standards you see in most breweries. Our beers are tailored for the area and our regional affinity for Asian cuisines and Mexican food, which are so huge here in Orange County. This unique approach has really helped us get shelf space and tap handles outside the tasting room."
"Coming up with the beer names are such an interesting part of the process," said Frericks. "For me, that's where the poetry comes in. I'm constantly keeping an ear out for something that would make a good beer name. I have a running list on my phone of great concepts so I don't forget them. Sometimes the beer name is the inspiration for the recipe. Other times, the recipe begs for a great name. But as long as we keep that sense of humor and 1940s-style Barley Forge imagery, we really are open to anything."
Travel With Taste: You Can Also Find Barley Forge at Local, Beer-Lover Events Like the Popular Brew Hee Haw at the OC Fair:
Along with the originality of the craft recipes and unique 1940s vibe of the labels and tasting room, Barley Forge puts other varieties of unexpectedness into action.
"One thing people might not know is that our tasting room is totally family-friendly," said Frericks. "We get families, especially families with really young children, in the afternoon. As a mom myself, I fully appreciate those toddler years and how it's easy to feel like you can't go out and enjoy yourself. But here at our tasting room, we have games and lots of space and there are things for the kids to do. I have parents tell me the kids beg to come here because of the free popcorn.
"So that's our afternoon crowd, and then as the day goes on into the evening hours, we tend to get more of the date crowd and the dinner crowd. Then once our kitchen closes at 10 o'clock, we get a whole other kind of crowd. That's when our younger customers come out and it really starts to feel like a pub.
"On any given day I'm working the tasting room, I scan the crowd to get a sense of who we're bringing in. And really, we get everyone in here from infants on up to people well into their golden years. I think it gives the experience of Barley Forge a great, community feel."
And if you'd rather enjoy the beer in the privacy of your own home, you can grab a growler-full to take with you.
"We sell two different sizes, 32 ounce or 64 ounce, and you get to have it filled with the draught beer of your choice," said Frericks. "In beer, freshness is everything – and these growlers are getting filled with the freshest beer we have. Then, when your growler is empty, come back and we'll fill it again. It's a great option for Costa Mesans who live close by, and we love that it's totally environmentally-sound because our customers reuse the same container over and over again."


Beyond The Beer: Board Games and Growlers Are Some of the Unexpected Touches That Make Barley Forge So Fun
photographer: brandy young
"This whole adventure, moving down here and starting a brewery, it's been like a sprint," said Frericks. "There is a steep learning curve and we have to be quick on our feet. But when people ask me why we do it – why all the hard work – I always say it's our customers. The people in Costa Mesa are overwhelmingly appreciative, gracious, respectful, and I can't say enough good things about them.
"And that matters, you know? Because when you're having the worst day ever, with every unimaginable thing going wrong, it can be easy to lose sight of why you're fighting the fight in the first place. But all it takes for me to turn it around is to walk into the tasting room and see a table full of friends playing board games together. A bar full of people just enjoying each other's company in this place we worked so hard to create – well that just does it for me, every time.
"Costa Mesa is an accepting place and Costa Mesans seem really comfortable just being in their own skin. I think the city has such a wonderful demographic precisely because there's no specific demographic. There's something for everyone here and we're so glad to be a part of it." ♥