Like Taking Milk From An Almond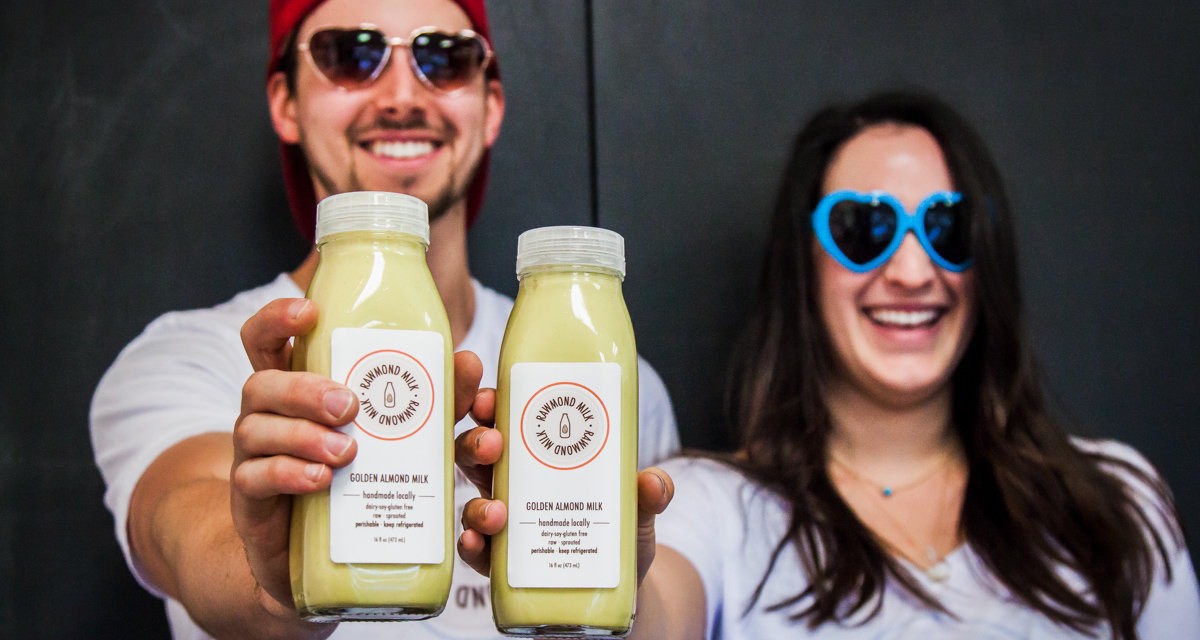 Pull up any Instagram feed or Facebook page, these days, and it seems our culture is obsessed with travel.
And hey, we love a good convoy through the congo or selfie from the fjords as much as the next American. But in between international escapades, consider stepping outside your own front door – and comfort zone – to do something new in your very own city. You never know what you might discover.
Like the morning of our interview with Rawmond Milk, for example. We thought we'd seen all Costa Mesa has to offer, we really did. But then we found ourselves sitting at a long, shiny counter watching co-owners – Roxanne Golkar and Bradley Reitler – quite literally milk almonds.
(You don't see that everyday.)
The painstaking process involves raw ingredients, a blender, and an udder-like sack – called a 'nut-milk bag' – used to hand-squeeze the contents and release the pure, creamy end-product.
Say 'Squeeze': Rawmond Milk Co-Owners, Roxanne Golkar And Bradley Reitler, Are Totally Milking It
photos: b. young forever photography



So how did two, local twenty-somethings find themselves on the squeezing end of an almond-milk company? Like most innovative business ideas, it was first born of pure necessity.
"I can't drink any dairy because I'm lactose intolerant, and he's allergic," said Golkar, gesturing to Reitler. "So I've been making my own almond milk for a while, just so we had something to drink and cook with. Over time, friends and family would try it and they totally loved it. We were surprised by the hype and thought, 'Whoa. There's a business here. We should start taking some to the Farmer's Market and see what happens.'"
What happened is people went nuts for Rawmond Milk.
Seemingly overnight, Rawmond Milk grew from home-based, small-batch bottlers to the almond-milk supplier of respected, artisan establishments like Fermentation Farm, Portola Theorem Bar, Farm & Culture Co., Common Room Roasters and NEAT Coffee.
(The Yelpers raving here about five-star NEAT Coffee are almost as crazy for the Rawmond Milk inside their caffè latte as they are for the coffee shop itself.)

The secret of this sudden success? Well, isn't so much what's in the bottle, it's what they leave out. Golkar explains:
"I am both passionate about nutrition and I have to be careful what I eat. When I first switched to drinking almond milk, I tried all the different, major brands; but they just weren't good.
"First, they taste terrible. Then, when you start digging deeper, you find out how few nutrients are actually in these supposedly 'healthy' store-bought drinks. They're all pasteurized, so there's no health benefit. Some can actually even be harmful because they're adding binders, fillers and artificial flavoring. And worst of all? Most of them don't even contain many, if any, almonds.
"Our milk is totally raw and unpasteurized. We start with sprouted, raw almonds – sprouted so your body is actually able to absorb all that nutrition. We don't add any binders or fillers; nothing artificial. Each glass bottle contains a full cup of almonds, filtered water, Himalayan sea salt – that's all. Then, depending on which flavor you choose, maybe one or two natural, organic ingredients like local, raw honey or raw cacao powder."

It Really Is That Good: Although We Can't Prove It, We Think Our Photographer Took A Swig Of The 'Matcha' When We Weren't Looking
photos: b. young forever photography

As their popularity grew, so did the menu.
"We developed the recipes through trial and error," said Reitler. "Roxanne was doing multiple variations on her recipes every day, really. 'Try this one. Now, try this one.' We'd make note of the subtle differences and keep refining until we hit on something we really liked. Then we'd serve it to friends and family to get their feedback, too."
"We don't like our almond milk to be super sweet, even the flavored ones," said Golkar. "We add a bit of sweetness, but we don't want to mask the flavor. If you add too much sweetness, it totally overpowers the experience and you can't even taste the almonds."
Current Rawmond Milk offerings include: Pure Unsweetened, Chocolate,  Sweetened, Turmeric (Golden), Matcha, Coffee and Dandelion.
"And at the holidays we'll do a seasonal, holiday flavor like our Peppermint Chocolate," said Reitler.
The purity, taste and health benefits of Rawmond Milk have given the brand an almost cult-like following  – with some retail locations selling out nearly the moment shelves are restocked. Golkar and Reitler admit it's been a scramble keeping up with demand as they figure out how to scale.


"We're definitely at the tipping point," said Reitler. "We still make it all by ourselves, totally by hand. But it's physically demanding and we can't do it this way forever. We're looking at hiring at least five or more people to help us; and saving our money for a cold-press to do all the squeezing."
"And we're learning from our mistakes all the time," said Golkar. "Remember that one time we accidentally shipped 600 lbs. of almonds to my house instead of the kitchen?"
"Yeah," laughed Reitler. "We put them in my trunk to drive over here and my car bottomed out. We thought we'd need a tractor to move them."
If you want to enjoy Rawmond Milk from the comfort of home, here, perhaps, is the best news of all: They will soon be offering local delivery of their fresh, delicious milks…if your address is within Costa Mesa limits.
"That was actually one of our original thoughts when we started Rawmond," said Reitler. "We had this idea of, 'How cool would it be to be the milkman of almond milk?' We've been working out the kinks this past year, so it will be cool when it starts happening."
"We also recycle our bottles," added Golkar. "So the plan will be if you leave out your empty bottles when we come deliver your next batch, we'll give you back 25 cents per bottle. It really will be just like the old milkmen that used to deliver door-to-door."
There will be a minimum order amount required to qualify for delivery. But if almond milk is a staple in your kitchen – we honestly can't see a downside to the convenience and quality of Rawmond delivery.

So what do Golkar and Reitler love best about running Rawmond from Costa Mesa?
"I grew up in Costa Mesa, in the 'Lower Birds,'" said Reitler. "I love it here, and what a tight-knit community it is. I mean, you're still in Orange County, but you feel like it's a smaller community where you know a lot of people. Costa Mesa is like a mini melting pot."
"I really love the customers," said Golkar. "We have this one mom, her son is autistic so they have to be very careful what he eats. She came up to me and said, 'Thank you so much for doing what you do. This is the only thing my son can drink because it doesn't hurt his stomach. We're so grateful.'
"You don't get that kind of response doing just anything. Moments like that make all the hard work worth it." ♥