The Mini-Mart With Heart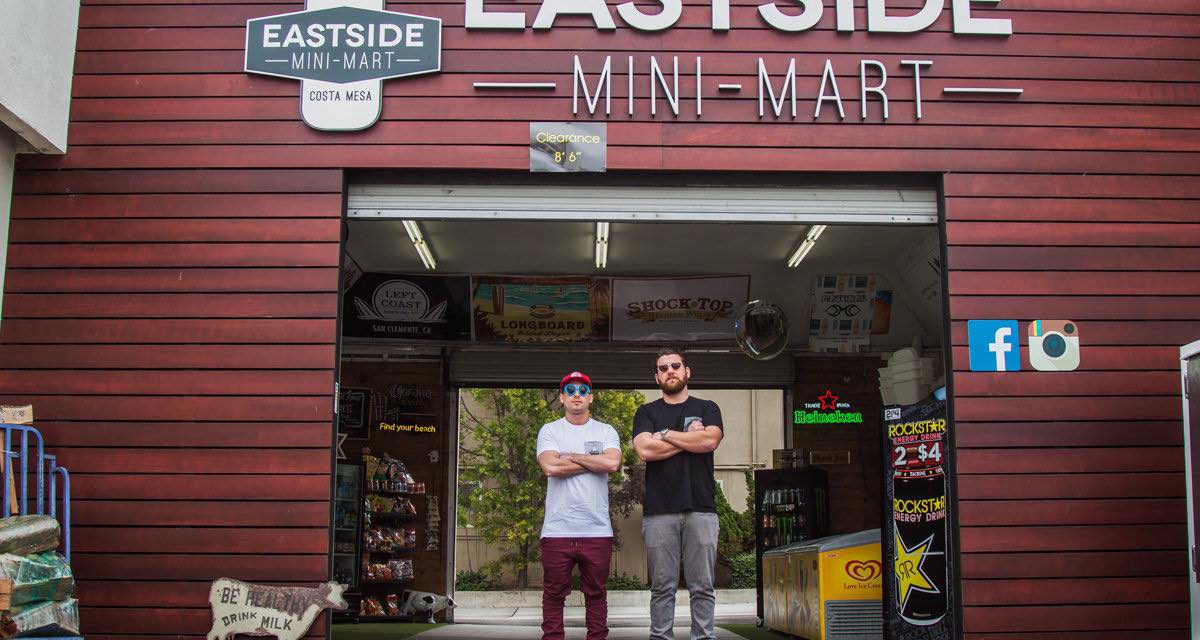 Hearting Costa Mesa is hungry, thirsty work.
(You know the feeling, right?)
You're out shining smiles up and down 17th Street – just beaming bliss all over paradise, per usual – when suddenly, hanger strikes. The smile turns snarly as your heart-shaped glasses slowly slide off your face. You're so depleted you can barely even cartwheel with Costa Mesa pride (let alone double-pike-triple-layout-tuck.) It's a sad state of affairs, indeed.
Well, fear not, faithful Costa Mesan. You haven't lost your love of city; you just need to get your snack on. And nobody brings the blood sugar back up to blissful quite like Eastside Mini-Mart at 1712 Santa Ana Avenue.

Snacktastic: Rory Campbell and Colby Reedy Bring An Array Of Edibles To Eastside Costa Mesa, Calif.
photographer: brandy young

While managing partners Colby Reedy and Rory Campbell only recently re-launched the business, the mini-mart itself has been around for decades. But then, so have both the Campbell and Reedy families – with multiple generations living in the Costa Mesa / Newport Beach area.
"This store has been here for, like, 50 years," said Reedy. "Me, Rory – my wife, Krista – we're local kids. We all went to Newport Harbor which is right down the street from here. So we've been coming to this mini-mart forever. We're definitely what you'd call 'frequent customers.'
"One day, my father-in-law, Kevin, drove through and they had a little sign up that said, 'Business For Sale.' He approached me and Rory to ask if we'd be interested in partnering on something like this; a family business, a new adventure. We decided to give it a try and here we are. I never thought I'd be doing something like this, but it's been really fun, so far. We're having a good time with it."
Eastside Mini-Mart is truly a family business. Colby Reedy and Rory Campbell run the day-to-day. Rory's sister, Krista (who is also Colby's wife,) does the social media and marketing. They make all big, business decisions together. Even the retro-mik-bottle logo was created family-style.
"My cousin, Christine Crosson, is this awesome graphic designer," said Reedy. "She's done great work for local places like Wild Goose Tavern, Malarky's and Dory Deli. We had kind of an idea for the vintage milk bottle, so we sent it over to her. She did her magic and made it into a real brand. We just fell in love with what she did. It's awesome."


All In The Family: On The Left, Colby and Krista Reedy with their adorable daughter // On The Right, The Man Who Started It All, Krista's Father, Kevin Campbell
photographer: brandy young

We asked the guys what makes them different from other mini-marts around town.
"There are a lot of differences," said Reedy. "For one, we are pretty much one of the last drive-thrus in Costa Mesa. If you need a quick bottle of wine for dinner as you head home from work – if you need to grab a snack on the way to the beach for after surfing – we're all about convenience. Whatever can make us more convenient for Eastside moms or dads or dog owners or customers, we're into it. I mean, if you've got the kids and the dog in the car, you don't want to leave them in the parking lot at Ralph's. So just come drive through here for your milk or bread or whatever.
"It's not just drive-thru. We get tons of people riding their bikes through here. Lots of dog-walkers; or just walkers. We can always tell when school gets out because we get a ton of junior-high kids. They'll come through on their bikes and buy up all the candy and soda."
Both Reedy and Campbell have backgrounds in hospitality, and it shows. Eastside Mini-Mart really shines with customer service. Reedy, especially, has the jovial, bartender back-and-forth down pat. His genuine, easy manner speaks to a gifted way with people.
"I tended bar at The Cannery for years, and Rory had worked in all kinds of restaurants. I think it helps us know how to pay attention to our customers in a way most mini-mart owners don't. Whoever you are, when you come here you're going to get great service.
"Some people are embarrassed to have us waiting on them, but we don't mind. When you drive up, you'll hear, 'What can I get for you? What do you need today? I am happy to help.' You don't even have to get out of the car. But you can if you want. We're open to whatever makes people happy; and if you come in here grumpy, we're going to do whatever we can to turn that frown upside-down."
The way the team stands behind the freshness of their products is also, well, refreshing.
"All of our products are totally guaranteed," said Reedy. "Whether it's milk or beer or cigarettes, whatever. If you don't think it's fresh, we will replace it or refund your money, no questions asked."

Drive-Thru Service With A Smile: Eastside Mini-Mart Is The Consummate Convenience Store
photographer: brandy young

The level of service isn't the only uniqueness going down at Eastside Mini-Mart.
"Our philosophy is local and experimental," said Reedy. "We are totally open to carrying new, local products and seeing what works. Some things don't work out, and that's ok. But if we have the shelf space, we might as well give it a go. We are 100% about supporting locals, supporting local businesses, supporting our community."
The Mini-Mart bills itself as a cross between 7-11 and Whole Foods. "7-11" because they carry the tried-and-true chips, candy bars, cigs and snacks ubiquitous in the industry. "Whole Foods" because they carry some wholesome and local options you won't often find in a mini-mart.
"We've got Purps by the case and My Favorite Indulgence granolas," said Reedy. "Three Jerks Jerky which is this really delicious, high-end, filet mignon beef jerky. We've got Shakti cold-press, organic juices, too.
"I almost forgot to mention Dean Tompkins and  ThunderKing Brewing. That guy is awesome. He's been a staple in the Costa Mesa forever – with Network 17 Skate Shop and he's a barber – and now he's doing coffee. He approached us with his cold brew coffee and we were like, 'Absolutely, let's do it.'
"ThunderKing is just flying off the shelves. We're supporting him, he's supporting us; we just love that local, community feedback."

A Mini-Mart With Heart: Locally-Made Products And A Treasure Box Full Of Free, Little Gifts For The Kids
photographer: brandy young

"Having been born and raised here, I couldn't be more proud to have our business be based in Costa Mesa," said Reedy. "We put 'Costa Mesa' right there on the sign, on our logo. There's no city like it.
"We're close to the beach but not at the beach. You've got the industry on the Westside, the beautiful residential on the Eastside, the college, the OC Mix. You've got the Fairgrounds and the OC Fair with the farm and all the events they have over there. I grew up working and volunteering at the Fair since I was, like, 13 years old.
"The people who live in Costa Mesa really care about their city. They take ownership. If I'm walking down the street and I see someone with their dog and they don't pick up afterwards, I'm going to say something: 'Hey man, pick up after your dog. This is our community.'
"If a newspaper gets loose in the middle of the street and it's blowing all over the place, Costa Mesans will take action. If you don't clean it up, the person behind you definitely will. There will always be someone who's going to pull over and be like, 'Let's clean this crap up. This is our city and this litter looks bad.' That ownership factor is huge. It's something you just don't find in other places around here.
"Costa Mesa has history; there are deep roots here. Half the residents have been here for a really long time. They have true respect for Costa Mesa – for being Costa Mesan – and I think that's the foundation for what makes our city a very strong and real community.
"We want our neighbors to know that we are here for them. We want them to come in with their ideas and suggestions. If you can think of something that would make our store better – or if you want our help with a school carnival or sponsoring a local soccer team or whatever – we are into it. That's what's we're here for." ♥