Rolling In Dough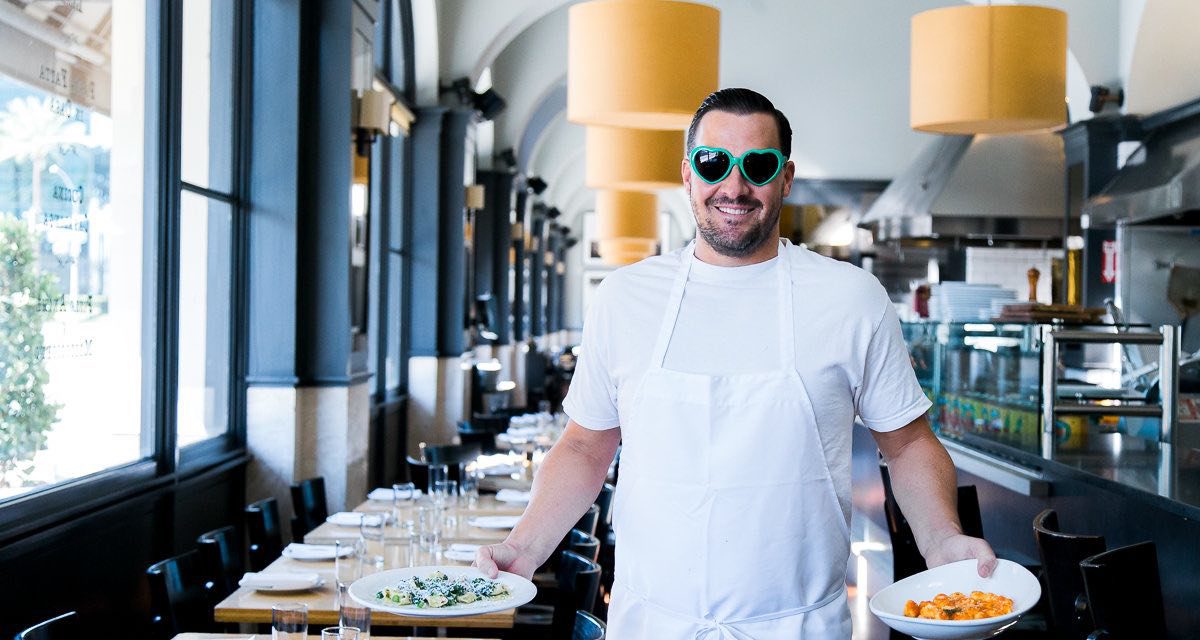 One of the 5,378,253 things we love best about Costa Mesa has got to be the culture.
Despite our city's smallish size (somewhere between 15 and 16 square miles, depending on who you ask) we pack one heck of a cultural wallop. Costa Mesa is brimming with industry, creativity, education, action sports, mom-and-pops, big names, history, diversity, craftsmanship, generosity, performing arts and food, glorious food! 
Our minds (and mouths) can't contemplate performing arts and food without wandering on over to the Italian aficionados of Pizzeria Ortica at 650 Anton Blvd. – mere steps from the Segerstrom Center for the Arts.
A Modern Take On Traditional, Italian Cuisine Near South Coast Plaza And Segerstrom Center
photographer: brandy young


Under the guidance of Executive Chef, Justin Miller, this upscale, Italian eatery works hard to elevate your evening to a next-level night-on-the-town. With sleek, modern dining rooms – well-crafted, traditional-esque, Italian fare – and enviable proximity to the Segerstrom suite of theaters, Pizzeria Ortica is the consummate choice for a pre-show meal or an après-théâtre nightcap. 
"You won't find shortcuts in my kitchen," said Miller. "We keep it really authentic in that we're cooking from scratch. Every night we're putting out something that we're proud of. That's how we're able to consistently give such a good experience."
With "pizzeria" right there in the name – and dough made with a 300-year-old biga – we had to get the behind-the-scenes pie scoop from the chef-man himself.
"We specialize in Napoletana-style pizza which means we're working with wood most of the time," said Miller. "About 90% of what we make is in that wood-fire oven, right there. There's definitely a learning curve to cooking with an oven like ours. This guy is the real deal; there's no gas connected to it.
"You can't phone it in; you have to always be thinking about it, always keep it top-of-mind. In the wintertime, the wood can get wet and start to smolder. Or if you're not careful, the oven gets too hot and you can burn the bottoms of the pizzas."
Speaking of burnt pizza, Chef Miller wants to emphasize that's not what's happening with your crust.
"We get people returning their food saying the pizza is burnt, but it's absolutely not," said Chef Miller. "That leopard-spotted look of our crust is the hallmark of a true Napoletana cornicione. We're going for a crust with a chewy texture, and those smokey flavors that come with just the right amount of char."

Executive Chef Justin Miller Has Mastered The Art Of The Napoletana Cornicione
photographer: brandy young
If you're not a fan of char on your crust, there are plenty of alternative deliciosities to be had.
"I love the pasta," said Miller. "We do gnocchi marinara, tagliatelle bolognese and I just came out with a new dish that's kind of cool: an artichoke and ricotta agnolotti with a rapini ragu. So you have the bitterness of the rapini, along with a touch of saltiness from some anchovies, a little garlic – and it's all playing off of the earthiness of the artichoke-filled pasta. It's more of a true, regional-Italian dish.
"We also do proteins and side dishes, if that's your thing. Antipasti, salads… and all our desserts are made in-house. There's something for everyone.
"You never know when new dishes will pop up on our menu. I'm a visual person so I'll go to the farmer's market and draw inspiration from what's in season. Or, I'll go to the 'farmer's market' inside my own walk-in and see what we can put together from that."


One of the best things about Pizzeria Ortica – besides the food, of course – is its close proximity to the Segerstrom Center For The Arts. (They even share the same parking garage.) So come early, park, eat, then stroll through the beautiful, performing-arts campus as you leisurely head to your theater.
In fact, the restaurant is so tied to the Segerstrom schedule, they even do a reverse Happy Hour meant to be enjoyed later in the evening, after final curtain.
"We love our theater scene, it's a huge drive for us," said Miller. "I tell people to make sure and have a reservation on show nights. Give yourself at least an hour and a half to dine with us, so you can take your time, enjoy the food and relax into the evening. After that, it's an easy, 7-minute walk to any performance; super simple."
But you don't need to wait for date night or Hamilton tickets to enjoy Pizzeria Ortica, they do lunch Monday through Friday – and even a lunchtime, prix-fixe menu for that total-package experience.
"I know lunch people," said Miller. "They want to come in and get something, quick. They're on a lunch break from work. They're entertaining a client. We're really able to beautifully accommodate that 45-minute reservation."


Down To The Details: Fresh-Baked Bread, A Full Bar and Made-From-Scratch Food Make Pizzeria Ortica a Must-Try
photographer: brandy young


So why do scratch-cooking, artisan restaurants – like Pizzeria Ortica – work in Costa Mesa?
"Costa Mesa isn't really overcome with chain restaurants and homogenized food like so many places in Orange County," said Miller. "There's a taste level, here. People in Costa Mesa are actually cooking – engaging in the craft of it – and that's about as far away as you can get from those microwaving, 'turn and burn' style chains.
"Plus, there's a uniqueness here. It's not just a bunch of strip malls and 'safe places.' It's got more of an urban vibe than you'd otherwise find this close to the beach. I think there's more focus on community and living an enriched life, here.
"There's no denying this city has a strong identity, and I think it's pretty cool." ♥