31 Bits: Haute With A Heart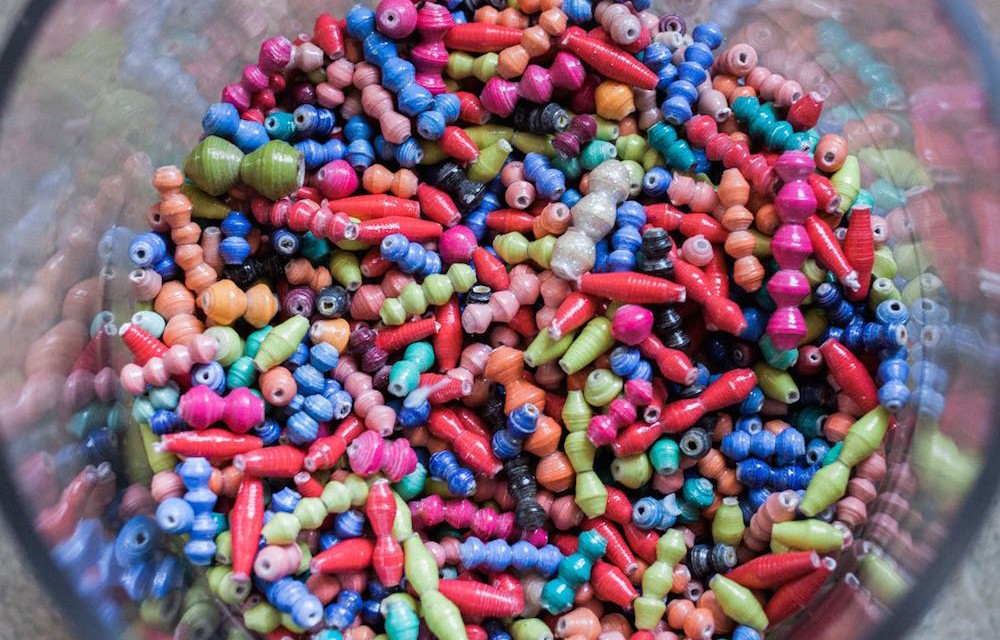 One of the best things about living in Costa Mesa is the sense of adventure and discovery each sunny day brings. There is always something new, exciting, different, creative or heartfelt happening here!
Take 31 Bits, for example…
CMA* Photographer Brandy Young and I were driving down Superior Ave. – you know, just hearting Costa Mesa, per usual – when the sight of previously undiscovered cuteness brought us to a screeching halt.
"How is this so adorable?" we asked ourselves. "And how did we not know about Midway Market, sooner?"
As we got out of the car to further explore and adore, a chalk-drawn sign "31 Bits" beckoned us toward the rustic, quonset hut sandwiched between Waffleholic Cafe and Viridian; so we entered.
What greeted us was an enchanting, little retail boutique as colorful as it was eclectic. Beads of every size, shape and color were strung about: earrings, necklaces, bracelets, even intricately-beaded clutches. It was an accessorizer's paradise!
But don't let the sweet space fool you. 31 Bits is doing serious work across continents to end poverty and empower women living in war-ravaged regions. As we would later learn from speaking with two of the founders – Alli Talley and Jessie Simonson – what appears to be a small shop on Superior is actually the headquarters of a large, socially-conscious company with truly global reach.
31 Bits is a local success story, through and through. It all started at Vanguard University, right here in Costa Mesa. It was there that five college friends accidentally stumbled on the idea that would change their lives – and the lives of countless women – forever.
"Here we were in college, and our friend, Kallie, got an opportunity to go work at an orphanage in Uganda," Brand Director and Co-Founder, Jessie Simonson, told us. "She had it all set up to go and then when she got over there, the orphanage position fell through. She had nothing to do for two months, so she traveled to Gulu in Northern Uganda – and ended up meeting women who were making jewelry out of recycled paper.
"Kallie thought the jewelry was awesome, brought a bunch back and started selling it to friends, family and people at school," Simonson continued. "At the same time we were studying international development and what it would look like to have an education-plus-employment model for helping people out of poverty. We put both ideas together and made a business out of it.
"At first we thought it would be more of a side project; like, 'All right, here's a few women in Uganda that we'll be able to help.' But we quickly went from six ladies to 15 or 20 in the first year; up to 35 by year two. The interest kept growing and growing, and we realized pretty quickly this isn't a part-time thing, this is full-time.
"We now have 170 women going through our program in Uganda. It has developed into a full 5-year program to help the women there."
Upcycling paper, upcycling lives; we see so many parallels between the practice of making the beads from recycled paper, and the program 31 Bits has developed to restore hope and dignity to war-torn people in poverty.
Both processes take something that might otherwise be scattered, lost or discarded; but when placed in the loving hands of true compassion and creativity, it is reshaped, repurposed and solidified until a new, inner beauty shines through.
The 5-year, holistic program in Uganda doesn't just provide steady work and a steady wage. Classes on nutrition, entrepreneurship, self-care, parenting, financial education and psychosocial issues are all part of the 31 Bits process; along with ancillary opportunities, like micro-financing bikes or other small-but-vital assets, to serve the practical needs of participants.
"We've become really well-known in the community," said Director of Public Relations, Alli Talley. " We have a positive reputation of helping people with the right kind of development work. In Uganda, they're so used to people coming in, giving handouts and leaving. It's created this dependency on the West, so people aren't discovering their skills and implementing businesses in the community. 31 Bits is different. We've got a really great reputation of employing and educating people, and getting more money circulating in that economy."
Socially-conscious companies, like 31 Bits, make shopping good for the soul; and trust us when we say it's not a fashion sacrifice. Their designs are amazing! Buy some bits for every occasion, because every little bit helps someone in need.
You can buy their jewelry online, through college campus reps, at house parties – or stop in to see the little shop on Superior Avenue for yourself. But hurry! Because for the next two weeks, our readers get 15% off at 31 Bits with the promo code "IHEART15" – or just say "I Heart Costa Mesa" at checkout when you visit the store. (Offer good through Sunday, June 14, 2015.)
I know Brandy and I will be back for more bits to go with all our favorite I Heart Costa Mesa gear. We had some fun brainstorming how we might wear our philanthropy around town. What do you think of our ensemble?
Thank you, 31 Bits, for all you do for Costa Mesa… and the world! ❤
*Costa Mesa Adjacent: Brandy lives at the very edge of Huntington Beach, 989 steps away from Costa Mesa. (Yes, we counted!) 
---
Want to see more bedazzling photos from our visit to 31 Bits at 1663 Superior Avenue in Costa Mesa? Check them out in the I Heart Costa Mesa Photo Gallery!