Fro-Yo Favorite: America's Cup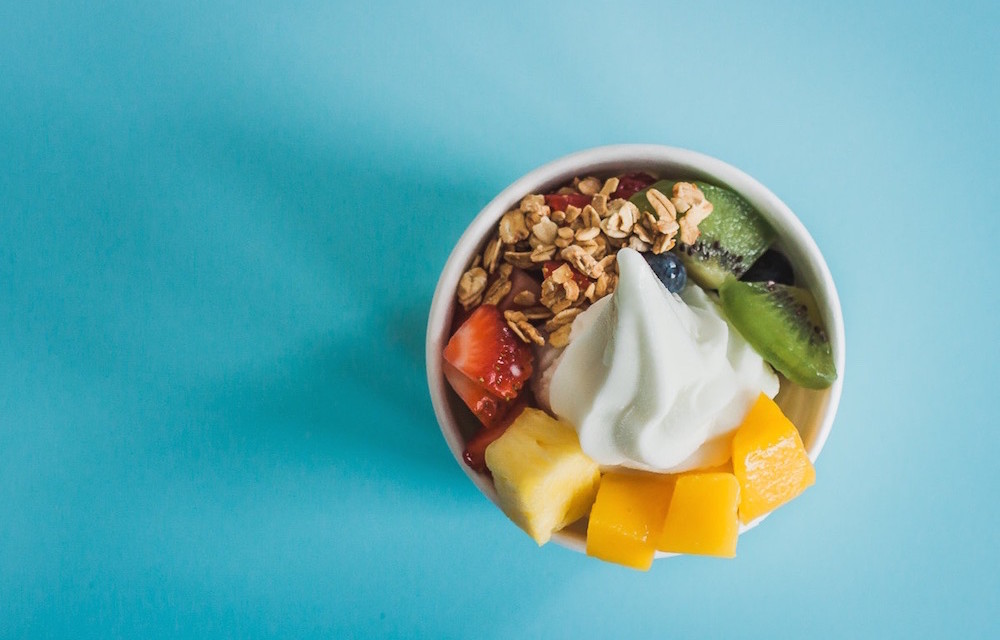 Do you ever find yourself driving home from a weekend soccer game, a matinee, or lunch with the kids, when suddenly the idea of a sweet treat takes hold?
"Wouldn't that be nice," you think to yourself.
"Let's stop for a little something," you say to the family.
But what started out as goodness and light quickly devolves into ardent debate. Susie wants doughnuts. Pete wants gelato. Grandma doesn't even like sweets, but could maybe go for a slice? Chaos ensues. And as the arguing escalates, you regret ever broaching the topic.
Maybe it's because headaches feel a bit like brain freeze – or maybe you're driving down Harbor Blvd. or 17th Street and you see the signs – but in the midst of cacophony a crowd-pleasing solution suddenly strikes: Of course! America's Cup!
America's Cup is a locally-owned, independent, build-your-own frozen yogurt shop – with two locations (both in Costa Mesa.) It's also the kind of place you can pile in with a group and everybody's happy. That's because they feature flavor after flavor of delicious fat-free and low-fat yogurt – with more toppings than you can shake a spoon at – all made even more blissful because you get to make it yourself.
Your preferences. Your proportions. Personalization, party of one.
So Susie can add all the donut-y fudge and sprinkles she wants to her cup full of Cake Batter. Pete can go creamy-classic style with Vanilla and Strawberry. And grandma's missing sweet tooth? Well, they've got tangy "Original Tart" for that!
America's Cup does truly runneth over with options.
To get the full "the more the merrier" experience of America's Cup, we rounded up our own passel of Mini Mesans – five very different, little taste-testers – to investigate.
The kids were instantly engaged in filling colorful cups with hand-selected swirls of all their favorite flavors. (You can even customize the color of your spoon!) And as the wee ones carefully deliberated over just the right combination of toppings, we sat down with the owner of America's Cup, Steve Song.
"We have been here, on 17th Street, a long time," said Song. "Almost twenty years. Then I set up the other store on Harbor Blvd. about five years ago.
"The best thing, for me, about doing this business for so long is that we get to watch the kids grow up. We have so many regular customers – and now the kids from the early years have grown up and they are coming in with the second generation. Now they are married and they bring their own kids in for some frozen yogurt after school. I love to see that.
"The people of Costa Mesa are really nice. We love our Costa Mesa customers."
We'd imagine America's Cup does especially well with the after-school crowd. Both locations are central to lots of schools. It's a natural snack stopover between final bell and soccer practice.
"Frozen yogurt is a fun outing for families," said Song. "There are a lot of choices here and people like to be in control of the cup. The kids can make a treat. Mom can make something healthy. You can come in with your friends and everybody is happy.
"Every day we serve the same six flavors – our bestsellers – Vanilla, Chocolate, Cookies 'n Cream, Strawberry, Cake Batter and Original Tart. Then we also rotate in some unique flavors every few days. We love our customers and we listen to them. So if a customer comes in and requests a special flavor, we will do our best to make it available for them."
And Song's personal favorites on the menu?
"I eat Cookies 'n Cream on a sweet day," said Song. "Original Tart on other days. And I'm not much of a toppings guy. Maybe a little hot fudge or fruit?"
We followed up with our kids – ranging in age from three to nine – to see what they thought of the yogurt. Here are the crucial, kid-on-the-street tidbits they wanted to pass along about America's Cup:
"Get lots of toppings. The sour patch kids and gummies are really good on Cake Batter."
"The lady who works here is very nice and very, very pretty."
"Chocolate sprinkles plus brownies, plus mini peanut-butter chocolate cups, plus coco-krispies, plus Cookies 'n Cream yogurt… equals yummy!"
"Mom, can we come back here again when you're not interviewing someone?"
"It tastes really good and I love it!"
"I 'heart' it. Get it? Because of I Heart Costa Mesa? Ha!"
"If someone wants something, they can probably find it because there is so much stuff."
"Try the vanilla! The vanilla is really good and Costa Mesa people will like it."
"Here is what I saw: coco-krispies, gummy bears, nuts, fruit, chocolate sauce, chocolate sprinkles, jelly beans – they have a whole aisle of all different flavors of jelly beans!"
"Kids should come here and try it. It's so worth it."
"They have soda and juice and water, so if someone gets really thirsty they can have something to drink. Thirsty people will like it here, too."
So there you have it, folks of Costa Mesa; the final word on America's Cup from our five, local little fro-yo aficionados. There's something for everyone, gummies are great on Cake Batter and – oh yeah – don't be afraid to come thirsty. ♥