The Dream Makers: Davis Ink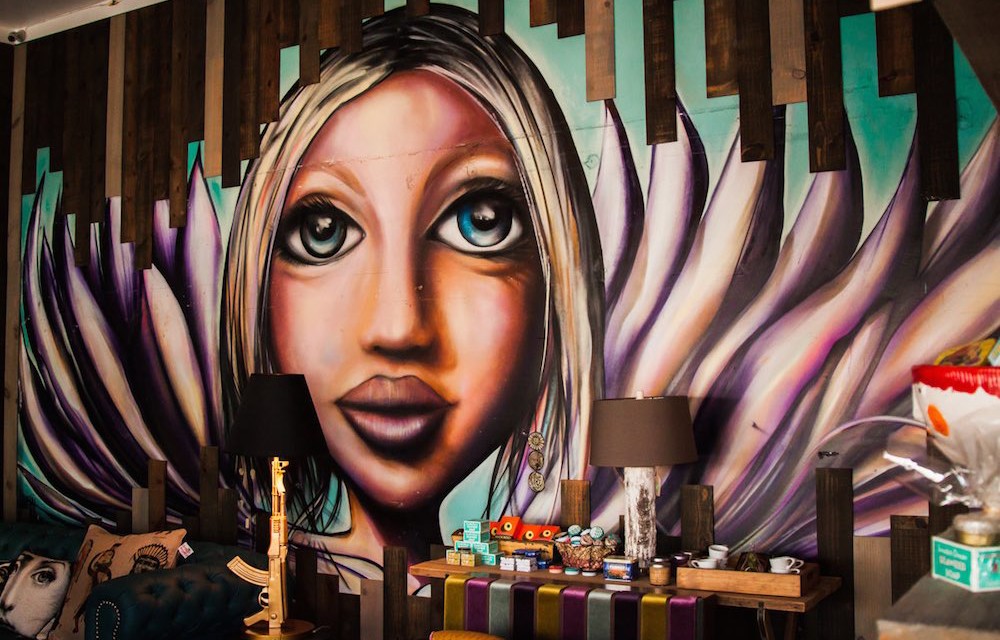 What is it about Costa Mesans and courage?
Do our soft ocean breezes awaken the inner adventurer? Does the lofty elevation of our Mesa get us one step closer to greatness? Or maybe it's simply that people brave enough to take a chance on their dreams are people cool enough to live here.
Whatever the reason, Costa Mesans are not afraid to take chances. Our latest costamazing example of this is the strike force of wild visionaries behind Davis Ink Ltd. – headquartered at the Midway Market off Superior Avenue in Westside Costa Mesa.
Whatever you think you know about Orange County designers, just throw it out the window. The portfolio of work at Davis Ink is unlike anything we've ever seen. The firm has built its reputation on edgy concepts and outrageous creativity, tempered by skillful restraint (the kind that only comes from years of experience) and an "all in" commitment to detail.
With a background in furniture design, and an advanced degree in architecture, head designer Davis Krumins brings a lot more to the table than just interior design. It's a powerful combination of raw talent, craftsman know-how, and an almost Tim Burtonesque level of playfulness and imagination that make Krumins the belle of San Diego's Gaslamp Quarter, and an in-demand, design virtuoso for nightclubs, restaurants and boutique hotels the world over.
Examples of their work include a Marie-Antionette themed nightclub called Cake, an alien-inspired hookah bar called Area 51 and an Americana-style restaurant and nightclub in Moscow, Russia – just to name a few.
The international design world has also taken notice of this hometown design firm, most recently awarding honors for Parq Restaurant in San Diego.
We sat down with Davis and Andrea Krumins – the husband-and-wife dynamic duo at the helm of Davis Ink – in their gorilla-adorned conference room, to learn more about this hardworking, local firm established in 2002.
"Back in the day, I was working at a design firm that I really liked; but I'd been there a long time and was beginning to move on artistically," said Davis. "I felt the pull to do more challenging, fun, crazy things. One day the president of the firm called me into his office and he goes, 'You have really great design ideas, but they are way too out there. These ideas will never come to be. They'll never get approved. You're going to have to tone it way down.'
"My lovely, beautiful, encouraging wife Andrea said, 'Go out on your own. Life is too short. You have to do what you want to do.'  I probably wouldn't have done it myself. She just gently pushed until we finally went for it. It was scary at first, but we've been busy ever since day one. We launched and we never looked back."
"It's important in life that you love what you do," agreed Andrea. "That you go do great work and you come home happy. We took a big leap and we put ourselves out there, and then the vey first project we did got voted Best Nightclub In San Diego. That's some pretty high recognition, right off the bat. So, suddenly we were like, "Whoa. Okay, we're onto something. We could really do this for a living. This could be real."
If you can value a design firm by how busy they are, then Davis Ink is a smash success. (Apparently "out there" design is more popular than some former bosses believe.)
"At any given time we're working on multiple projects," said Davis. "If you look on our board, right now, we have, seven or eight ongoing projects. They're in various stages; probably two or three are close to done, two or three just starting, and a few in the middle. It's pretty crazy. Actually, it gets really crazy. But the fact that people pay us to come up with really funky things and give us the freedom to design out-of-the-box is the coolest thing ever."
"Plus, we're used to working fast and multitasking," added Andrea. "We harness that crazy energy and just go, go, go."
Projects can take anywhere from three months to a year-and-a-half to complete, depending on the size and complexity of the job – and how motivated the client is to finish quickly.
"When you're doing a nightclub or a restaurant, the owners are highly motivated to get the doors open as soon as possible, so decisions are made really fast," said Davis. "It's a whirlwind. You've got the initial excitement of creating it, then you're on location and you see it all come together. Everyone's running around to get it finished for the opening, and we're all kind of stressed – but it's a fun stressed.
"At this point, we've done about 50 nightclubs and restaurants, some boutique hotels. We've done twenty-million-dollar projects and we've done little hookah bars. It's all about the energy for us. Really, we'll try a lot of things as long as it's unique and fun. Our whole vibe is that we want to keep making awesome things, keep doing WTF design."
If you're not personally a club owner or restauranteur – but you'd still like a taste of the "awesome things" Davis Ink does, you can shop their quirky, curated retail space at 1661 Superior Avenue. There's always something new, different and unexpected going on.
"We just carry what we think is cool, what makes us happy" said Andrea. "We're always changing it up, moving furniture around. If we see something funny or unexpected, or something that makes us smile, it's like, we can't not bring it here."
And really, that's pretty much the grand takeaway from our morning with the Krumins and Davis Ink: Do what you like, do what makes you happy, do something to make the world a more beautiful place.
"The one thing I love more than anything else is when a project finally opens," said Davis. "It's packed with people and they're all laughing, happy and having fun. Sometimes we'll just quietly sit there for a while, watching people interact with our space; really enjoying something we've worked so hard to create. That feeling is like the most beautiful thing in the whole world.
"However people experience my work – whether it's a space I designed or furniture or a lighting fixture or whatever – I just want them to be affected, you know? I want them to be changed in some way, to walk away going, 'Wow.'"
I Heart Costa Mesa is pretty amazed at what this College Park, Costa Mesa couple has managed to build in a little over a decade. A local inspiration, to be sure! Thank you, Davis Ink, for letting us share your story and your beautiful space.
We're definitely walking away going, "Wow." ♥