Cultured Costa Mesa: Fermentation Farm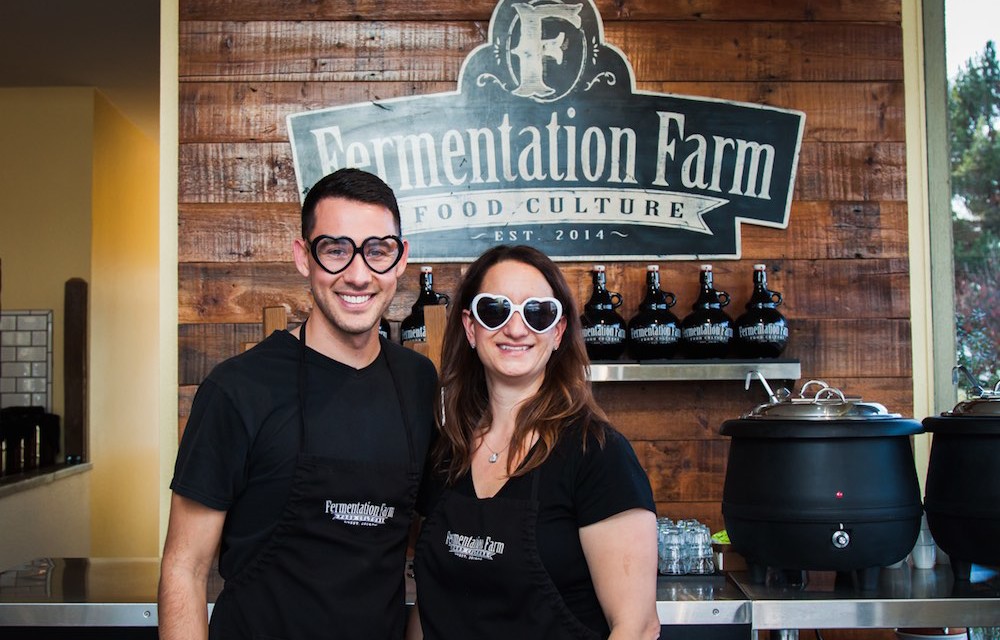 When the Midnight Muncheez off Victoria and Valley closed about a year ago, we were eager to see who would move in. So, imagine our curiosity and delight when a tasteful, black sign reading "Fermentation Farm" went up over the door.
"What is this mysterious, new 'farm' gracing our beloved Costa Mesa?" we wondered. "Tractor-themed wine bar? Field-to-table brew pub?"
We were dying to discover what puts the "Fermentation" in "Farm" – so, of course, we went to investigate. What we found was not at all what we expected, but definitely beyond anything we could have imagined.
Fermentation Farm is actually a member-based, private club that offers fermented food and drink like sauerkraut, dill pickles, kombucha and ginger soda – all made in-house. They also sprout raw almonds, prepare their own bone broth and make their own zingy yogurt. Anyone can join for a small membership fee.
"I grew up on a farm," said owner, Dr. Yasmine Mason, DC. "My dad's a chef – and my mom is French – so I grew up eating good food; we're all total foodies. Couple that with my husband and I being Chiropractors, and it's like we've married the foodie side with the health side at Fermentation Farm. We're bringing it all together.
"Back when I was working with patients, so many people would come in with gut-related problems and immune-system problems. I'd always encourage them to learn to make their own fermented foods. But making these kinds of foods, slow foods, is time-consuming and most people just don't want to do it. So now, you can come here and get it – we make it for you. And I have very high standards, so we make it the right way.
"All of the foods we make are based on traditional recipes, but I tweak them to make them even healthier," said Dr. Mason. "Like our Master Tonic; traditionally, it's nine vegetables with apple cider vinegar added at the end. But here, we take organic, raw, root vegetables from local farms and we ferment them in our salt brine for ten days so they become probiotic, with lots of B vitamins. Then we blend it and carefully squeeze it through cheese cloth to get all that nutrition out."
As two large crocks of bone broth bubbled away in the corner, filling the store with a delicious, homey aroma, Dr. Mason offered up some samples of house-made, fermented foods.
Now, the Mesa Maven has a confession to make: she has never really tried fermented foods! Not a drop of kombucha, not a whiff of sauerkraut… so most of Fermentation Farm's offerings were a new and curious experience.
I didn't know what to expect from my first mason-jar full of kombucha. I knew what it was – fermented tea – but nothing could have prepared me for the clean, refreshing, fruit-infused, soda-like experience of Fermentation Farm's artisan kombucha. With my surprise showing, Dr. Mason patiently explained that all sodas – the real, soda-fountain pop our grandparents enjoyed as kids, like root beer, ginger ale and sarsaparilla – were actually fermented drinks!
"People get thrown off by the word soda, because we now associate it with chemicals and high fructose corn syrup in a can," shared Dr. Mason. "Carbonation and corn syrup are just ways to mimic the experience, do it in a fast, cheap way. But it's terrible for us; it's not real soda.
"Real sodas are fermented, so they take time to make. For example, my personal favorite, ginger soda, is a fermented drink that's super high in probiotics, B vitamins, electrolytes, organic acids. We make it here with what's called a ginger bug, which is fermented ginger root. It's basically an old-school ginger ale. We make it the slow way, how they used to make it back in the day. It's delicious and it helps boost the immune system and overall health."
Everywhere we looked – and through everything we tasted – we could see Fermentation Farm's dual commitment to "nutritious" and "delicious" shining through. The collection of krauts were crunchy, tart, colorful and invigorating; while house-made, gluten-free beef jerky, a large freezer full of pasture-raised meats, and overflowing baskets of farm-fresh eggs rounded out the rustic presentation.
"On our farm growing up, we had chickens and the egg yolks were so orange," remembered Dr. Mason. "I've never seen eggs like how I had them when I was a kid, until now. The chickens who lay the eggs we sell eat a lot of bugs. When they eat more bugs they have more fats. All of the essential fats that are in the yolk are healthier for us, and no soy. We have really, really good eggs.
"And duck eggs! People who are allergic to chicken eggs can have duck eggs most of the time. They can have them in baked goods and eat eggs again – it's like a revelation."
We could go on and on about all the interesting offerings at Fermentation Farm, but with the array always changing and their membership always growing, you will just have to find the time to pop in for yourself.
Plus we needed space to make a quick mention of the classes, because foods aren't the only thing on the menu at Fermentation Farm. Members enjoy occasional free lectures, as well as classes on topics such as fermenting vegetables, gluten-free baking, yogurt-making and how to brew kombucha at home. They also hope to add a bone broth class in the near future.
Even though Fermentation Farm has only been open for less than a year, their reception in Costa Mesa has been warm and, well, off the charts. Their roster just recently broke through the 1,000-member mark – and their popularity shows no sign of slowing down anytime soon.
"I'm shocked by how many people come in here, actually," said Dr. Mason. "It's shocking how many members we've gotten in just nine months. Hundreds, and hundreds and hundreds of members. I didn't see it coming that so many doctors from the chiropractic and nutritionist community would be sending their patients to us for all these products that are hard to find. We have people driving down from LA, and driving up from South County, on a regular basis. We're so flattered, but really, I just can't believe it!"
Dr. Mason may be surprised, but we're not. Her depth of knowledge and obvious commitment to make food full of flavor and integrity clearly speaks to so many people in Costa Mesa and beyond. If you, dear reader, want to join the Fermentation Farm fan club – and help them reach their next thousand members – be sure to mention I Heart Costa Mesa for a $5 discount off a lifetime membership!
A huge thanks to Fermentation Farm for spending the day with I Heart Costa Mesa. We'll definitely be back for some more of that delicious, refreshing kombucha, soon. ♥
---
Fermentation Farms isn't just great for you gut flora – feast your eyes on other fabulous finds in our Photo Gallery.