GRIT Cycle: Pedal To The Metal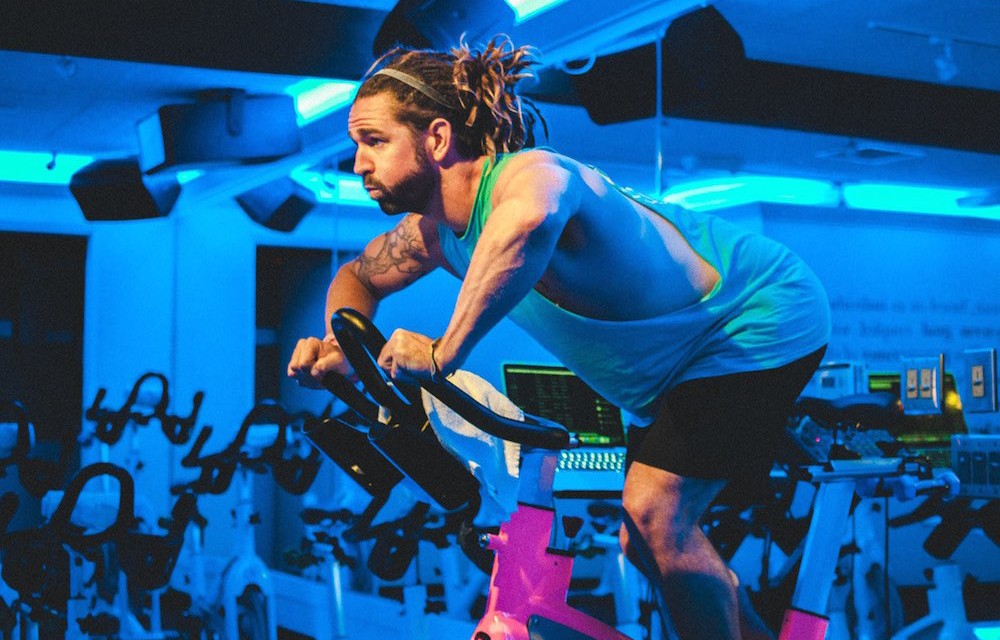 It's no wonder Costa Mesa translates to "table on the coast" – our city is all set for snacktime! We're surrounded by deliciousness on nearly every city block. From the fluffy euphoria that is Sidecar Doughnuts, to the authentically creamy-dreamy Vitaly gelato – and every mouthful in between – ours is truly an eater's paradise.
But with so many om-noms (and calories) beckoning with their siren's song of sumptuous, how do Costa Mesans keep from becoming Costa Massive?
For many locals – along with moderation – the secret is in the sweat. And no one gets their sweat on quite like the GRIT Cycle spin studio on Costa Mesa's Eastside.
Don't let GRIT's calming, blue-and-wood exterior fool you. There is some serious ab-packed, calf-chiseled, deltoid-defined sweatmongering going on just inside these walls. One spin 'round a GRIT cycle class and you'll walk away – if you can walk at all – with a newfound appreciation for everything your body can do.
So whom do we have to both thank (and blame) for pushing our physical prowess to leaner new levels of fitness, via stationary bike? Meet GRIT Cycle's Co-Owners, Marisa Wayne and Matt Bourne, and Director of Operations, Dani Wellbrock-Gallinger.
"GRIT is all about intense cardio," said Wayne. "It's quick and you get your heart pumping really fast. Whenever we get someone trying it for the first time, especially people who are in otherwise good shape, they come away surprised by the intensity. People say things like, 'I couldn't go for a 45-minute run and get a sweat like that.' There is just so much strength involved.
"Everyone seems to assume we named the studio 'grit' after my dad," continued Wayne, referring to her famous father, John Wayne. "I guess it's cool that it's a little bit related to him and his movie True Grit, but honestly, it's just a good name that describes what we do. To us, 'grit' is the difference between success and failure. We're here to get through it, get the work done, express our passion and support each other in achieving our goals."
But the intensity of the workout, and the consequential physical contouring, aren't the only reason GRIT groupies faithfully fill the saddles, each week. Dedicated locals love the experience, too! GRIT classes have all the fun, energy – and even lighting – of a live show or concert.
"We really value creativity here," said Wayne. "Each instructor expresses it in their own, unique way. I tend to like older rock songs and country, so I don't go super, super fast. My classes are really accessible. Dani used to do roller derby and is a total performer, and that really comes through in her class; it's like a high-energy rock concert. And Matt is just extremely motivating; he's our spin guru."
"I like my classes hot and loud," said Bourne of his teaching style. "I crank up the kind of pop music everyone knows and we all just sing our hearts out as we ride. And you know what? It puts a smile on people's faces. When you can do that, the 45 minutes feels like 20 minutes. You don't even realize you're working out because you're having so much fun."
"When you get in that room, it's your 45 minutes to just let loose and forget it all and to focus on getting healthier," added Wellbrock-Gallinger. "We are a group. We ride together. We can do powerful things when we support each other that way."
GRIT Cycle may seem like they are all about spin, but the workout itself is just one facet of what they do.
"We have a huge heart for charity," said Wayne. "I have been working with the John Wayne Cancer Foundation since shortly after my dad died. I really wanted that to be a part of what we do, so we host our annual Gritty Up event to support it.
"The first year, we had the goal of raising $40,000 for the Foundation. But Matt said, 'No way. We can break $100,000. Your dad would have been 107, this year, let's shoot for that.' And we ended up raising about $200,000 for cancer research, support and awareness. We have all been touched by cancer in some way, so we had people coming out of the woodwork, wanting to help.
"Then we also do special classes on a more regular basis called 'Karma Rides' – and the proceeds from those go to help local causes. We switch up charities, each month. Riders can pay $10, $20, $30, $50 or more to reserve a bike. We don't pay the instructor for Karma Rides; they donate their time and we donate the studio. Everything that we raise during those classes goes to our charity of the month."
"People around here are so unbelievably generous, you just have to ask," added Bourne. "The outside world has this misperception of Newport Beach, Costa Mesa, Orange County – that the locals here are stuck up and rich, but in a cheap, 'I am all about myself' kind of way. That is not my experience at all. You would not believe how giving these people are, how generous they are with their charities, and how welcoming they are to each other – and new people – on the patio after class. It's pretty amazing.
"Sometimes I can't believe that all it took was a room with some stationary bikes in it to build this community. A few years ago, we weren't even here. And now my 10 best friends are people that I met through GRIT. So many friendships have been made here – people that never would have hung out together, or even met each other –  now they are calling each other every day. That's pretty rewarding for me to look around and see. I mean, how did a silly studio accomplish all of this?"
With such an intense workout and tight community on the table, I Heart Costa Mesa asked if newbies should be intimidated by their first spin.
"No way, definitely not," they all agreed.
"Dani has thought of every little thing," said Wayne. "She wears, like, 400 hats and has trained our staff to be great, especially with new people. We give you your shoes, we set up your bike for you. If you have an issue with clipping in, we'll get you going properly. We are all about personal, customer service here. GRIT is very welcoming, very supportive and your experience will just be really good."
If reading about GRIT has piqued your interest in achieve peak fitness, they have a generous offer for I Heart Costa Mesa readers! Try your first class, free, with the promo code iheartCM. Just register on their website and then enter the code when you check out.
"Let people know Sunday is the day to sign up for the next week's classes," said Bourne. "It's become its own phenomenon, like getting concert tickets. People post pictures of themselves with three iPads, wanting to make sure that they get into all three classes they want that week. The clock strikes 4:30 and it's on."
So at the end of the day, how are they handling becoming so popular, so fast?
"It is hard to wrap my head around, actually, that any of this is real. Sometimes, it doesn't make sense, but it is pretty cool."
Thank you, GRIT Cycle, for strengthening our hearts both physically and charitably. As motivating, welcoming and heartfelt as you are, your success is no mystery to us. We're excited to see what the next few years hold for you! ♥