Carried Away: LOVE Reusable Bags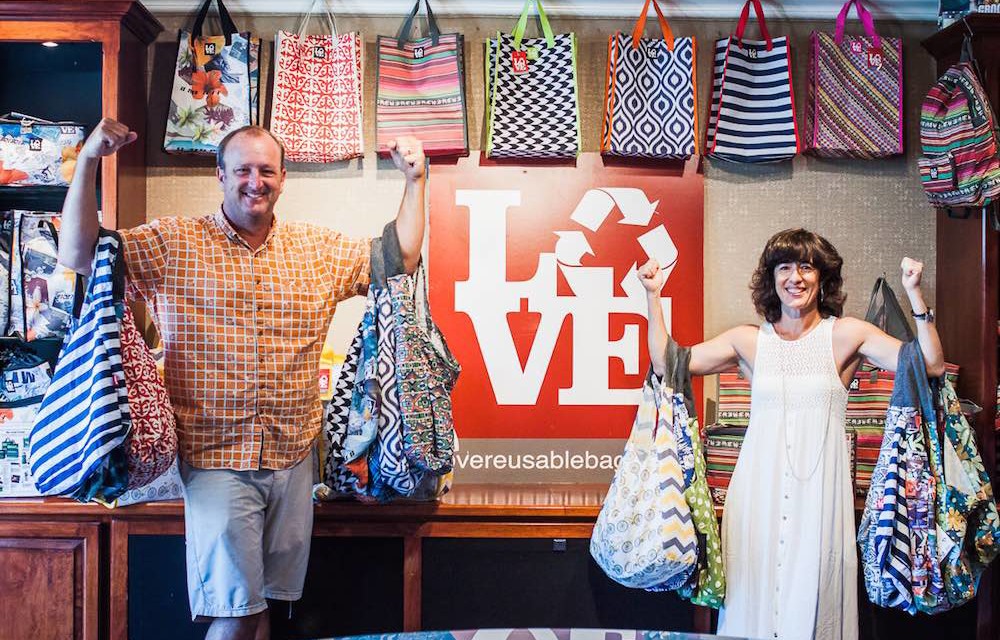 If you ever bump into the I Heart Costa Mesa team around town – and you're in a rush that day – for the love of brevity, please don't get us started on the topic of Costa Mesa. We will go on and on (and on) about how much we adore this city, especially the people in it.
Costa Mesa is filled to the absolute brim with innovative, impassioned, independent people quietly doing amazing things. Today's feature just further underscores our infatuation and perfectly proves the point: when it comes to creativity and entrepreneurship-with-a-heart, Costa Mesa's got it in the bag – in this case, the LOVE Reusable Bag, that is! A full line of haute, handheld haulers as beautiful as they are well-made, functional and environmentally-friendly.
Maybe you've already fallen for LOVE Bags on your own. They are involved in lots of fundraisers for schools and scouts, nationwide. You can also find them in stock at big-name stores like Container Store, Whole Foods and Mother's Market. But did you know they were a Westside Costa Mesa company?
We caught up with c0-founder and co-owner of LOVE Bags – and lifelong entrepreneur – Joe Rogers, to learn more about his work.
"I'm always designing, always creating," said Rogers. "I've designed lots of things. I had a surf/volleyball apparel company in the 80s and 90s called Trunks – we did that for 8 years. That was right out of college. And then in the late 90s I started doing American Joe. That is our manufacturing business and it's still ongoing. We are fortunate to work with really great,  fashion-forward companies on the American Joe side like Billabong, Quiksilver and Volcom."
"So I was sitting here one day, working, and my friend Gary Crane came over," said Rogers. "He knew I had a lot of business happening with American Joe, so he popped in and said, 'What do you got going on?' I told him about this back-burner idea I had to do a line of reusable bags and he loved it. So we decided to do it together.
"We were both busy on other things, so it was just an idea for a long time. We'd put a few hours against it here and there and it just kind of slowly built up. It started gaining momentum and at that point we decided to take it more seriously, refine the products, figure out how to market it. It's probably been four years since we first really started selling LOVE Bags to boutiques around town; and now here we are."
Despite its casual beginnings, LOVE Bags has quickly grown into a substantial brand. The prints range from beachy to modern, whimsical to classic, so you can find the perfect satchel to suit your personality. They make all kinds of carryalls, including coolers, lunch boxes, backpacks, shopping totes, pencil cases, wine bags, iPad cases and more.
"Our Stash It Bag is really the hit product," said Rogers. "That's a convertible tote that just tucks into its own pouch. So when you're not using it, you can stash it away. It's got a little carabiner so you can clip it inside your purse or on your key ring. But when you need it, it pops out and becomes a full-sized bag.
"We know a lot about bags and definitely have expertise when it comes to manufacturing and design. The Stash It Bags are so well made, they can hold up to 35 pounds. It's got a wide shoulder strap that's comfortable to wear – so it doesn't pinch – and the fabric is really nice and soft. It's made from this cool, stretchy material so you can just stuff it. You don't have to fold it nicely or anything.
"I love the idea of bags that can stash away when you don't need them. We have a Stash It Backpack, too, for travel. You can clip it on your luggage when you don't need it. But when you do, it pops out and becomes a day pack.
"And then our Chill Set and Coolers are awesome, they are so useful. You can take them shopping and your cold food stays cold. You can take them to the beach, pack a lunch, bring your picnic. Design is so important to us. We want it to be functional, but look great, too."
It's not all about design for Rogers and the rest of the team at LOVE Bags. Doing away with plastic and protecting the environment are both big motivators.
"There is so much data out there that plastic is terrible for the environments, terrible for our oceans," said Rogers. "It first came on my radar years ago when I got home from work one day and my wife had been watching…Oprah, I think.
"Anyway, Oprah had a show all about the great Pacific garbage patch; this giant mass of plastic and trash floating in the middle of the ocean. I looked it up online. When you start doing research on it and see how plastic is killing the sea life and littering the world, it makes doing something simple like bringing your own bag to the store a real no-brainer."
As if the beauty of the bags, and their eco-friendly impact, weren't enough to make a customer out of you, LOVE Bags is also the kind of company you can feel good supporting. They are working to make philanthropy an ongoing part of their business plan.
"We launched a great program, last year, that we're working to revise," said Rogers. "We called it 'The Give Back Sack'. A local artist from Laguna beach named Chris Gwaltney – he's actually a pretty renowned painter – he donated an art piece that we translated into fabric and we made it into a full line of bags. For every bag we sold with that special print, we gave a second bag to a needy child. Last year alone, we ended up donating thousands of bags and shipped them to kids in Fiji. It was so cool to give back like that."
Stateside, what inspired Rogers to make Costa Mesa the headquarters for LOVE Bags and American Joe?
"I've worked within two blocks of this building my whole life," said Rogers. "I love the Westside. It's a great neighborhood. I love the mixed use of everything, and obviously the weather, you can't beat it; two minutes and you are at the beach. All the best action sports brands are over here, too. For a guy like me, Westside Costa Mesa is the place to be.
"I also love to eat and, man, there are so many good places to eat around here: El Toro Bravo, Outpost Kitchen, Taco Mesa… The Boathouse Collective is great, which is across the street. Boathouse is so close I just hop on over, just cartwheel across the street and I'm there.
"This area has changed a lot since I first started working over here in 1987. Luckily there are still a few pockets of 'old school'. I think the mix here really works for the Westside.
"I hope that part stays, though, the balance. I hope we can keep the balance of old and new." ♥