Shhh! It's A Secret.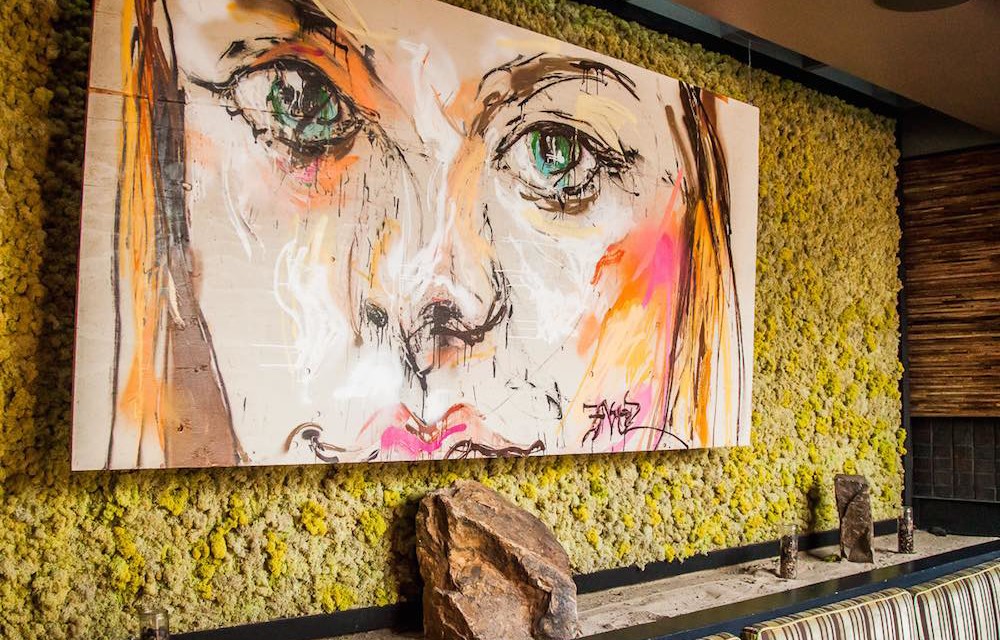 When we first launched I Heart Costa Mesa almost a year ago, we thought we knew our city. I mean, we heart Costa Mesa, right? What possible awesomeness could there be that we didn't already know about?
Well… mea culpa. We stand corrected.
Through neighbor nominations, word of mouth, heartfelt emails and friend-of-a-friend connections, the true Costa Mesa – the one happening right under all our noses every day – has unfolded before us like a living tapestry of energy, creativity and delight.
Today's feature really underscores how much we have left to learn about this city we call home. Welcome to Mesa; the lounge / restaurant / hangout you're not supposed to know about.
We sat down with Mesa Bar Manager, Julia Arjune, and Executive Chef Niki Starr Weyler, to get the hush-hush details of its clandestine beginnings.
"About seven years ago, Mesa very quietly opened its doors," said Arjune. "We started as an underground experience with food and drink, working out how to give that 'wow' experience to our guests. In those days, we actually offered a lot of it for free. If you found out about us – and came – it was probably comped.
"Slowly, word spread. Then we officially opened about five years ago. At least, that's when we finally put a sign on the building. But still, we never advertised.
"What we do is work really hard to cultivate relationships and the community builds from there. It's not about getting people in the door and serving it up. We're really about the experience, quality over quantity."
If Mesa's popularity is any indication, the covert approach is working. We think the secret to their success starts with the ambiance. The space has a fresh, open, indoor-outdoor feeling thanks to a sky door that welcomes the night sky in; and a live tree grows beautifully and prominently in the center of the dining room. A nice balance of sleek and modern, but warm and inviting, too.
Overall, Mesa is a must-see the next time your gang is looking to unwind and imbibe. And imbibe you will – oh, what cocktails they have! Here are just a few of their current, creative concoctions:
Kurosawa: Sake, Coconut Rum, Fresh Jalapeno, Fresh Mint, Fresh Pineapple Juice

Strawberry Fields: Strawberry-Infused Gin, Fresh Lemon Juice, Egg Whites, House Simple Syrup

The Clash: Tangerine-And-Arbol-Chili-Infused Vodka, Fresh Cilantro, Vanilla, Lemon Juice, Lime Juice
"Mesa is a neighborhood spot and we do get a lot of regulars that live around here," said Arjune. "This is their little spot. They might walk over or meet up after work to enjoy a cocktail.
"We do a great Social Hour from 6-8 pm – which is our version of a Happy Hour – and people love it because they can get a well-crafted Old Fashioned and a pizza for under twenty bucks."
If cocktails ain't your thing, Mesa also features a respectable array of draft beers and boutique wines. Or wet your whistle with a house-made Basil Lemonade Soda – yum!
Mesa has more than just the aforementioned pizza to keep your beverage company. Chef Starr is locally renowned for her fresh, delightful offerings that are approachable enough to be crowdpleasers, but fancy enough you'll feel like a real grown-up ordering them. Check out the descriptors on these dishes:
Grilled Marinated Shrimp: Sweet and Spicy Bilbao Chorizo, Corn, Heirloom Tomatoes, Chimmichurri Sauce

Heirloom Apple Salad: Pink Lady Apples, 5-Year Aged Gouda, Marcona Almonds, Cider Vinaigrette, Tarragon

Wine Braised Short Rib: House-Made Gnocchi, Mushrooms, Sherry Cream Sauce, Parmesan, Micro Greens

Vanilla Bean Panna Cotta: With Fresh Market-Berry Compote, Cashew Powder, Mint Tops
"Your first time in, you should definitely go for the mussels," said Chef Weyler. "Mesa's been known for their mussels pretty much since they opened. You could try our Cast-Iron Mussels, which are on the menu; but my Chef-Style Mussels aren't. They're like this secret item you have to know about to order. I do them with smoked Spanish paprika, Bilabao Chorizo, a bit of green onion, chili flake, deglazed with white wine. They're just super yummy.
"It all really started when my chef friends would come in to eat. I would want to make the mussels a bit more fancy for them, show off a little bit. But then, people started asking for them. So we named them Chef-Style Mussels and they're becoming pretty popular – they're even getting their own press now."
Dinner service starts at 6 pm and goes until 11 pm – and then the kitchen switches to a Late Night Menu to keep you going until your Uber arrives.
"Mesa has almost two faces, a split-personality," said Chef Weyler. "We start every evening with dinner and it's a very restaurant vibe. But once it gets dark, we cover the place in candles and everything lights up. The music gets going and it morphs into a really fun lounge where people can hang out, socialize, even dance. You can come in early, have a nice, mellow dinner, then stay all night dancing with friends."
But even if you don't want to stay into the wee, lounge hours, Mesa is right down the street from Segerstrom Center For The Arts and would make a great opening act for a contemporary, Costa Mesa, dinner-and-a-show kind of evening.
"There's so much culture over on this side of town," said Arjune. "I live just down the street and my husband and I love this community. There's a lot of diversity in the Costa Mesa community, a lot of different things, exciting things, going on.
"And I think that's one of the reasons for Mesa's longevity. We don't have to adhere to one way of thinking in Costa Mesa. We don't have to put ourselves into a box. We get all kinds of people coming here: business people, travelers, tourists, gamers, surfers, theatergoers, friends, co-workers… We're excited to have them all in here and show them what we're all about."
"Costa Mesa is definitely eclectic," added Chef Weyler. "It's very creative and there's a lot happening here, but it's still small enough that it's easy to get around and everything's close. I really love Costa Mesa and, let's be honest, the artistic scene in this city is totally up my alley." ♥
Thanks for reading. If you'd like to support I Heart Costa Mesa, here is our Patreon.