OCME: Come On Ride The Train!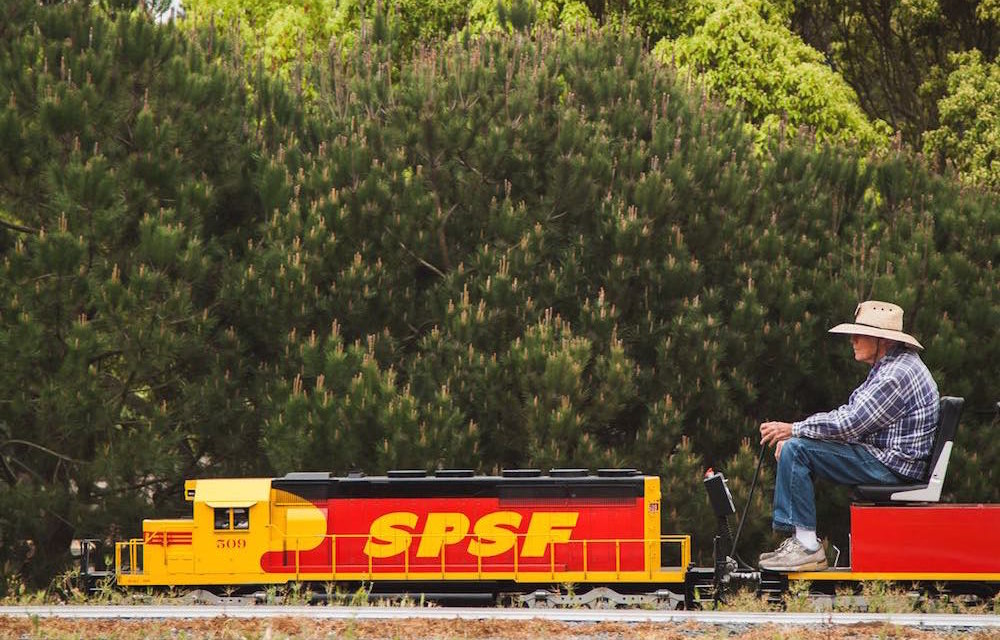 If you didn't love Costa Mesa before, you'll flip for her now. That's because on the third weekend of every month, you can have a free date with a model…
…a model train, that is!
The handsome gents below have been hosting dates with models for years, in our own Fairview Park.
You should see these models in action: beautiful, graceful, elegant, well-accessorized and sometimes, quite-literally steaming hot!
All cheap model jokes aside (and believe me, we had more) the brilliant bunch behind the Orange County Model Engineers train club are some of the nicest, friendliest, most talented and gracious folks you could ever hope to meet.
OCME is an all-volunteer organization dedicated to preserving the nation's rich heritage of mechanical engineering, and sharing the proud legacy of the railroad with riders of all ages. Anyone with an interest in engineering, construction, operation, travel or history is welcome to join. This club really puts the passionate in compassionate – tying their love for trains, with their love for community, into one seamless track.
Speaking of tracks: So much of what's laid down at Mackerel Flats and Goat Hill Junction was conceived, designed, provided and built by club members themselves. OCME Railroad is truly a grassroots labor of love. We heart that!
They unfortunately have to deal with a fair amount of vandalism (come on, people, keep it classy). But even so, month after month, year after year, members quietly repair, replace and retool so the train can go on. The train must go on!
The OC Model Engineers don't just offer the aforementioned Free Train Rides to the general public. They also do a fair amount of outreach and altruism. On the day we visited – and thanks to the big heart of their very own Bob Harrison – OCME opened an hour early to give rides to families from the OC Rescue Mission's Village Of Hope.
You'll also find their trains at local fairs, festivals, fundraisers, community events; really, anywhere model-train rides make sense! You can check their calendar for more details.
The storied history of the Orange County Model Engineers is interesting, too.
They originally founded back in 1977 – an impressive, 38 years ago – as the OC Live Steamers. Not long after forming, the club began scouting locations for a track.
After initial plans fell through with parks in Fountain Valley, Huntington Beach – and while negotiations were still ongoing with Irvine – OCME was contacted by the City of Costa Mesa (hurray!). Costa Mesa agreed to give the club use of the 40-plus acres of Fairview Park on the east side of Placentia Avenue.
The OC Model Engineers held their first public run in August 1989. And the rest, as they say, is history.
So plan your date with a model, and check out the free model-train rides at Fairview Park, Costa Mesa. They happen the third weekend of every month (weather permitting) from 10am – 3:30pm both Saturdays and Sundays.
Even though the rides are free, your tax-deductible donations are thankfully encouraged to help keep things chugging along. Every little bit helps!
If you'd like to learn more, you can check out their website, give them a call at (949) 54-TRAIN, or follow them on Facebook. ❤
---
Want to see more photos from our trip to visit the OC Model Engineers? Click here to go to our photo gallery!