All Fired Up: Pitfire Pizza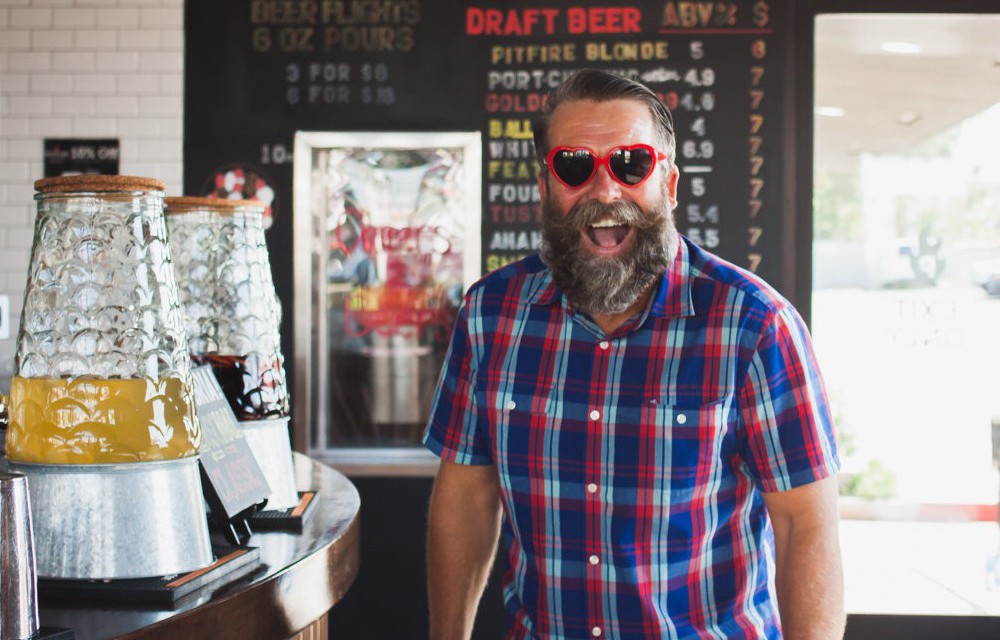 I don't know about you, Costa Mesa, but when this Maven is hungry like a bottomless pit, she makes an immediate pit stop at Pitfire Pizza. What was once an aging Marie Callender's is now a rustic-but-modern, family-friendly restaurant specializing in wood-fired pizzas, salads, sandwiches, pasta, beer, wine and more.
We sat down with Pitfire's Assistant Director of Operations, Rodney Fodran, in their Eastside Costa Mesa restaurant, to talk dough room, pizza crust, speakeasy, community involvement and recycled vinyl – just to name a few.
First off, in our humble opinion, you can't talk about Pitfire Pizza without talking about the crust… oh, sweet marinara, that crust!
"Crust is everything," agreed Fodran. "Ours is a special, blended dough that we make fresh here, seven days a week. We even have a dough room on site. Our recipe involves a secret process, developed by our founders, that gives the crust its unique texture and taste. The integrity of the dough is everything. In pizza, it's is probably the most important ingredient of all.
"When it comes to pizza crust, there's two main players. You've got New York style which is thin and crispy, almost like cracker. Then you have Neapolitan style, which is very doughy with not a whole lot of structure to it.
"Pitfire dough is the artisan difference between New York and Neapolitan. It's got a crunch on the outside that's almost singed with the wood-fire flavors. But once you get inside of our crust, it's very soft, chewy and doughy."
Pitfire tops their delicious dough with a wide variety of seasonal produce, creamy cheeses, aromatic sauces and mouthwatering meats – one pizza we tried even came with a fried egg on top! From classics like a simple, tasty Margherita Pizza, to gourmet combinations like the Burrata Pie, to fun-to-order items like the Sausage Party Pizza – there's an option for every vegetarian, meat lover, connoisseur and minimalist.
"I tell people that we are almost farm to table," said Fodran. "The season will start to change and so will the available ingredients. The Chef will make up a number of new plates; we'll try the food and make a decision of what to put on the menu.
"We're not just about great pizza. We also do some incredible salads. We have a tasty, veggie, Chopped Italian Salad – you can add either pepperoni and salami to that, or chicken. We also have the best Kale Salad around anywhere. We get rave reviews with that. It's a shredded black Kale with a champagne vinaigrette. It's a really clean salad, great balance, and you can add chicken or steak to that, too.
"If you love pasta, you absolutely have to try our Spaghetti with Housemade Chicken Meatballs. The meatballs are incredible! It's spaghetti topped with house-made marinara sauce and those delicious chicken meatballs.
"Our menu is always changing so you can come often and try new things. Everything here is super fresh, mostly made in house. There's not a single microwave in the whole place."
To round out your meal, Pitfire offers a respectable selection of beer and wine. But if you are in the mood for a nightcap, or something a little stronger, we've got a local hush-hush to share with you.
"It's the best kept secret in Costa Mesa," shared Fodran. "There's a speakeasy called Pie Society in the back of this building. It got its name because it was the Marie Callender's pie room where they would store all their pies. We converted it into a cozy, little bar, back there.
"We don't advertise it. There's no sign outside. But word is spreading and it's getting more popular. It's our secret, local spot."
If you're less of a barfly and more of a Happy Hour hound, Pitfire does a great one Monday – Friday from 3:00 to 6:00 pm.
"We've got specially-priced beverages and food," said Fodran. "The menu has slightly smaller portions of some of the most popular items that we serve, all at Happy Hour prices."
With cocktails well covered, what about kids?
"We have Kids Eat Free on Monday nights between 5:00 and 9:00 pm," said Fodran. "Kids are out of school, it's Monday – who wants to cook? So we get a lot of families that come in here. We actually have a hidden kids menu. You can order a cheese pizza, pepperoni pizza, kid's spaghetti and meatballs, kid's mac n' cheese, or noodles with buttered parmesan. Super clean, super simple.
"We love kids and we love doing any kind of community outreach. We sponsor sports teams, we do soccer banquets, school fundraisers, coaches meetings. We've got a community room in the back of the restaurant with long tables that's perfect for team dinners, church groups, club meetings.
"We're always looking to be more involved in the community. So if anyone in Costa Mesa is interested, they should absolutely reach out to us. We want to be the place where the community comes and gathers, and we've definitely got the space for it."
Cuisine, cocktails, community and kids – what more could we possibly love about Pitfire Pizza?
"Well, here's a couple of fun facts that most people don't know," said Fodran. "Our booths are made out of recycled vinyl from old VWs. And those headlights on the wall? They spell out 'Pitfire' in Braille."
There you have it, Costa Mesa; down to the last detail.
So the next time you get a fire in your belly for pizza, consider your own pit stop at Pitfire. ♥