Fairview Park Fly-By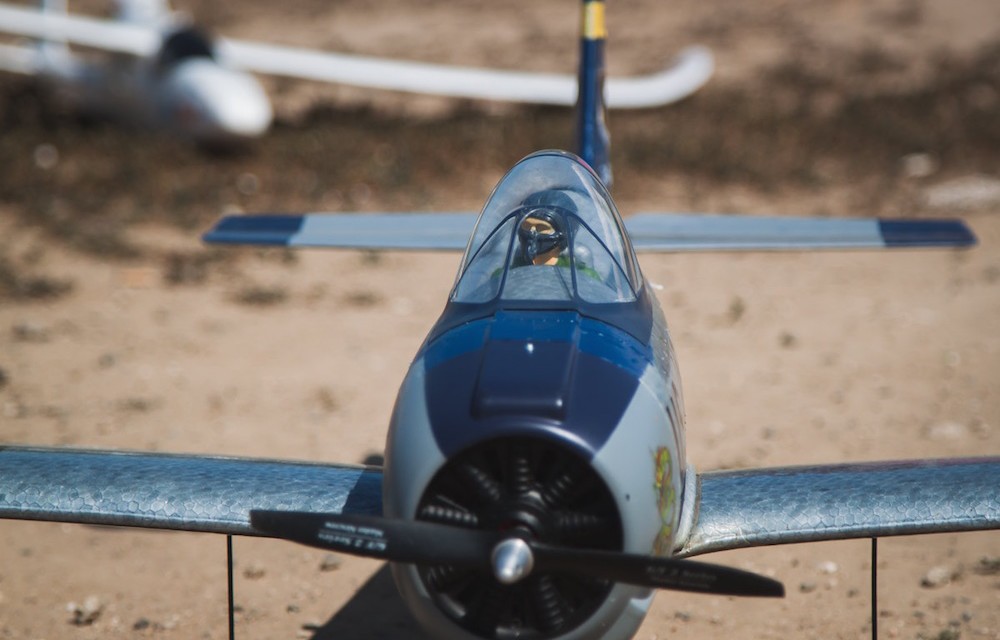 Have you ever been down to Fairview Park in Costa Mesa? 'Picturesque' doesn't even begin to describe. Rolling hills, natural terrain, ocean breezes, pick-up soccer games, meandering walking paths, bikers, hikers, beautiful sunsets and bzzzzzzzz bzzzzz.
What's that sound from overhead? It's a bird! It's a plane! It's…
Well, yeah, actually it is a plane: a radio-controlled plane! Fairview Park is full of them because – according to the flyers here – it's one of the last, great, model aircraft flying fields in coastal Southern California.
"You can find more fields inland, but not many along the coast. They've slowly disappeared," said Steve Lonn, a model airplane pilot and resident tech expert. "I live in L.A. and drive down from the South Bay because the people here in Costa Mesa are great, and it's hard to find fields like this anymore."
All day long, model aircraft dive and dip, curve and climb – buzzing happily over their wide swath of park. The fun doesn't stop at planes – radio-controlled helicopters, drones and a variety of homemade and custom-built aircraft takeoff and land on the same dirt runway.
There is even a special section of the flying field designated for model gliders.
These sorts of grassroots, interest-based communities are part of what makes our beloved Costa Mesa so authentic, heartfelt and real. People are just doing their thing – all over the city – with creativity, passion and a sense of genuine connection.
Costa Mesa's Harbor Soaring Society is one such organization: they are the very reason the flying field exists and – by providing ongoing operation and maintenance – are why it continues to this day.
"This site has been used for model aircraft for at least 40 years," said HSS President Henry A. Smitth III. "When the Master Plan for Fairview Park was created, the Harbor Soaring Society worked closely with the city to include a flying field. It's not required to belong to HSS when using the field, but we encourage everyone to join."
Newly-minted, radio-controlled-aircraft enthusiasts needn't be intimidated. Everyone down at the Fairview Park airfield is very friendly and welcoming. And to get you started, the Harbor Soaring Society even offers free flying lessons to anyone interested.
"We furnish the airplane or glider, and instructor, all with batteries included," said Smith. "You just need to make contact with one of our instructors, through our website, to arrange a time for lessons."
But if you do decide to try it, fair warning: you'll likely get bit by the model aircraft bug! The Maven, herself, had a chance to briefly fly a beautiful, remote-controlled Cessna. Modern flight-control systems make learning easy; and after willing the plane to cut through the bright, blue sky in lazy, graceful loops a time or two – with nothing more than the flick of both thumbs – it was really hard to hand over the controls.
"I come down here and meet up with the same group of guys pretty regularly" said Bill, who declined to give his last name. "Some of us are veterans so we tell old stories. We work on the planes, hang out, shoot the breeze."
Okay, he didn't say 'breeze' – but I think you get the idea.
So if you already have an aircraft and want to come check our the Fairview Park scene, there are a few things you should know: First, no noisy, gas engines or internal-combustion aircraft are allowed. Also, you must show proof of adequate liability insurance. which can be easily satisfied by just joining the Academy of Model Aeronautics (AMA). And lastly, you must buy an annual flying permit through the City of Costa Mesa; the cost is $25/year.
We want to thank the Harbor Soaring Society and all the Fairview Park Model Aircraft Flyers for taking the time to hang out with us. We hope our readers will go by and say "hello" to these flighty neighbors the next time you're on that side of town. Tell them I Heart Costa Mesa sent you! ♥
---
Want to see more photos from the Fairview Park Model Aircraft Flying Field? Take your flight of fancy to our Photo Gallery, here.