Mouthful Of Madness: Taco Asylum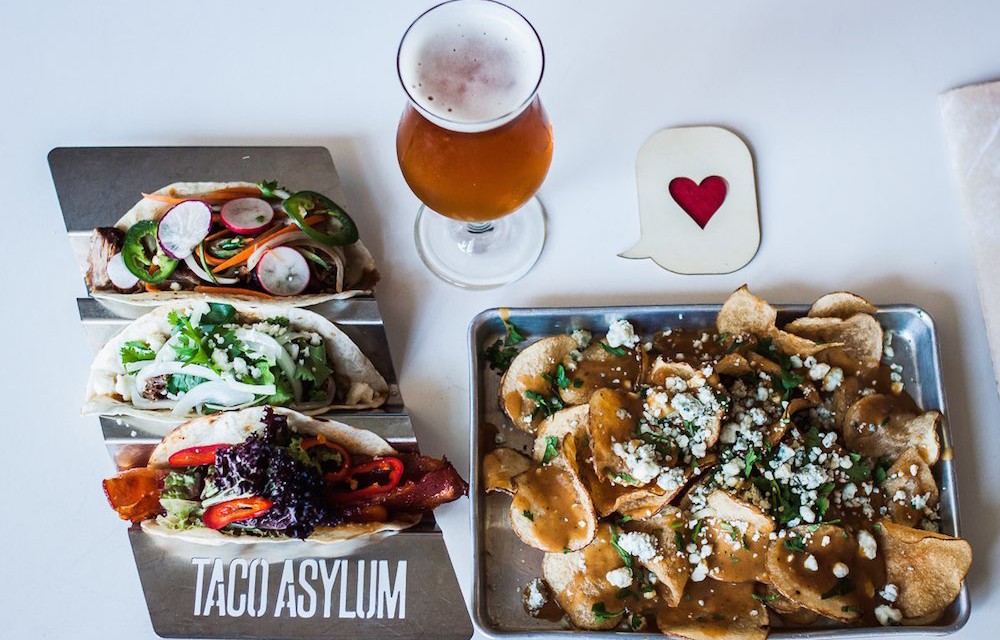 Costa Mesa is teeming with tacos. As delicioso as that may be, Costa Mesans do sometimes weary of the same, old standbys.
So if you're suffering from an acute case of taco rut-itis – feeling like lunch has got you one chip short of a nacho – we suggest you immediately check yourself into the soothingly toothsome Taco Asylum.
Nestled in the beautiful serenity of The CAMP, Taco Asylum has been medicating hunger with an irreverent blend of aguas frescas, artisan hot sauce and unconventionality, for over four years.
These definitely aren't your abuela's tacos. Even though the menu does rock a few tacos tradicionales, Taco Asylum is best known for its crazy-delicious, unexpected flavor combinations, each wrapped in their own, personal tortilla straightjacket.
We sat down with Executive Chef Carlos Anthony to get the deliciously-demented details on Taco Asylum.
"We are hands-down all about uniqueness," said Chef Anthony. "We love the surprise, taking people out of their comfort zone with ideas that are pretty foreign to a tortilla. Bahn Mi, Jamaican Jerk Chicken, Duck Mole, these things are all very outside the realm of a traditional taco.
"People in Costa Mesa love variety; when they come to a taco place they want twenty different kinds to choose from. We offer that kind of variety but we make it fun. Like our Bacon PB&J Taco, it's very unexpected but people love it. Or our Short Rib Taco – which is brazed beef short rib with salsa verde and a little queso fresco – so very simple, classic flavors, but with a much sexier protein.
"Obviously we still have classics like Carnitas and Pollo – and we do those really well – but what we're known for is those outside-the-box, very original tacos that you can't get anywhere else in the country."
If you're a hard-core tacophile – the kind that believes it isn't really taco time until someone's tongue catches on fire – Chef Anthony definitely brings the heat.
"If you like it spicy, we've got spicy," said Chef Anthony, "Taco Asylum is not afraid of heat. We like to say our mild is hot and our hot is fire. So, one of our staple tacos is the Fire Pig Taco. The pork is brazed with ghost chilis, which are at the tippety-top of the Scoville Scale. They are one of the hottest chilis around. If you like heat then we're really going to give it to you."
Taco Asylum also offers a full line of house-made hot sauces of varying degrees. So if you want to enjoy the subtle flavors of, say, a Mushroom And Brie Taco – but need to kick up the temperature – you can spice your food as much, or as little, as your palate can handle.
"You won't find Tabasco or Cholula on your table," said Chef Anthony. "We do all of our hot sauces here, in house. We have Honey Habanero, Chipotle, Red Savina, a really nice Ghost Chili sauce. You can buy bottles to take home, too – and believe me, you'll want to.
"Making hot sauce is a labor of love for us. Our Sous Chef, Sean, is really the brains behind it. I think people are unaware of how much effort it takes to make a delicious batch of hot sauce. It's not just about the burn, we want the taste of each chili to come through. During our process, we ferment the chilis to allow the nuance of the flavors to shine; creating something that tastes unbelievable when you put it on a taco."
And when you go a little too crazy with the hot sauce, and need to douse the flame, Taco Asylum has all manner of beverages to ease your pain.
From classics like Mexican Coke and refreshing Lemonade, to one of the widest selections of "beers by the can" we've ever seen, you won't want for thirst-quenching during your stay at the Asylum.
"We have a fantastic selection of can beers, really phenomenal," said Anthony. "Beyond that, we have five drafts that are amazing and we're constantly rotating them to keep it fresh. What we've come to discover about Costa Mesa is there are a lot of beer aficionados here. They're sophisticated and they know what they're drinking.
"So just like with our tacos, we offer uniqueness and fun with our beer selection. I mean, beers and tacos are a marriage made in heaven, right? So we put our everything into making the two work together."
If you're ready to get crazy with some unexpected tacos and beer, you're in luck. Because every night is like Taco Tuesday at Taco Asylum. They do Happy Hour Monday through Friday starting at 3pm – with discounts on tacos and beer, of course.
We couldn't let Chef Anthony get away before answering the most important question: What's his favorite taco on the menu?
"Oh man. That's like asking a mother what's her favorite child," said Anthony. "For me, our Duck Mole Taco has to be it. The mole is my great grandmother's recipe that we've passed down through my family. It's a Oaxacan mole negro that takes a lot of time. It's a four hour sauce. Then you're using a great protein like duck where we take a lot of love and care. It has fantastic flavors of peanut and chili and cinnamon. It's an ancient recipe, and it's a real labor of love. It's just my favorite.
"I'll tell you what, I eat a taco every, single day. But I never get bored. That's what awesome about Taco Asylum. You can go one day and get a Philly Cheese Steak Taco and the next get a Shrimp Pad Thai. Everything is so different, and there's so many tacos to choose from, you could eat here all the time and it's never the same lunch twice."
The choices aren't just limited to what appears on their everyday menu. The team at Taco Asylum is constantly working on special editions and seasonal offerings – like Thanksgiving Tacos, Jambalaya Tacos, Reuben Tacos – to name a few.
So now that we know his favorite taco, what does Chef Anthony love most about Costa Mesa?
"I think Costa Mesa is absolutely fantastic," said Anthony. "It's close to the excitement and culture and noise, but the city itself is still very down-to-earth and low-key. There are a lot of wonderful craft restaurants around here, and the people are really unique and creative. People who live here aren't afraid to slow down and enjoy life; they're a bit more in tune to what's going on. I love that about Costa Mesa." ♥