Vitaly Caffè: The Joys Of Gelato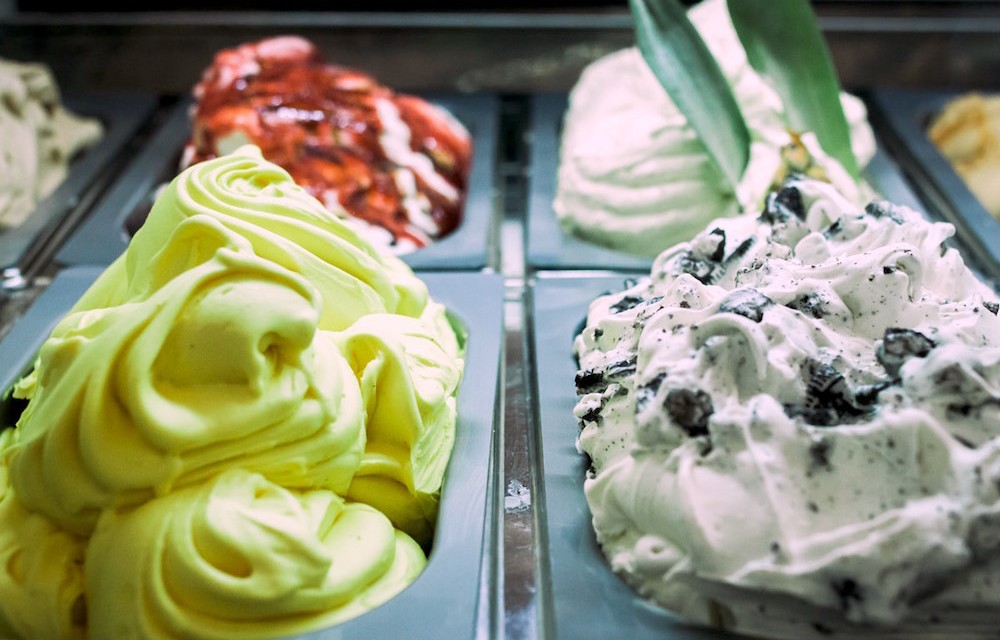 As our weather slowly melts into Costa Mesa's hottest time of year, this Maven was hungry for a fresh way to beat the heat – something new (and hopefully air-conditioned). And with summer being the "season of kids," could we keep it family-friendly, too?
So, resident C.M.A.* Photographer, Brandy Young, and I packed up our passel of Mini Mesans and headed out in search of Costa Mesa cool. What we found was Vitaly Caffè!
The name is a play on vita – the Italian word for "life" – and Italy. So, add a "V" to the front of "Italy" and you've got a clever, blended way to covey "The Italian Life".
When we first arrived at Vitaly, the beautiful, modern, European design both impressed us and worried us. After all, we had five kids in tow, all under the age of nine. Was this place too classy for the ten-and-under set? Had we made a mistake in thinking it was a kid-friendly venue?
Well, five seconds with Vitaly owner – and Italian native – Maurizio Cocchi, and our parental concerns were quickly put to rest.
"Kids are our great customers," gushed Cocchi about his youngest patrons. "They pull their family in because they like our gelato, they like our pasta. Our place has a homey, Italian feel. Families can come here and the kids can run in the courtyard or play with the water. We love kids, we love every age. My wife, Barbara, and I have three kids – but if it had been possible for us, we probably would have had twenty!"
With "kid friendly" covered, we wanted to learn more about Vitaly and get the scoop on their homemade gelato:
"Vitaly Caffè is a bubble of Italy in Costa Mesa," said Cocchi. "I used to travel from Italy to Orange County for business, and when I would come here I was never finding the really good coffee, the really good gelato, the really good pasta. I noticed there was no piadina. So I thought Costa Mesa was a great place to start this adventure!
"The idea was to bring here a few Italian specialties executed in the maximum quality possible, and what is more Italian than gelato? Before we opened, gelato existed in California, but probably not of this quality. I make all the gelato recipes myself. My wife and I, we actually studied Gelato Science in Italy for three years at a university in Bologna. There's a lot more behind how to make the perfect gelato than people may think."
This Costa Mesan definitely never considered the science behind gelato, let alone what it would entail. So I asked Cocchi what made gelato different from your typical, American-style ice cream.
"Gelato is basically the grandfather of ice cream, the origin" he explained. "Related but not the same. Gelato is served at a slightly warmer temperature. It has a lot more content and a lot less air than ice cream – almost half as much. Ice cream was invented because gelato is more sensitive, which makes it more difficult to mass-produce.
"When you buy a pint of gelato, 80 percent is true content and only 20 percent is air. When you have a pint of ice cream, half is air and only half is content. That's why American-style ice cream is usually cheaper.
"At Vitaly, our gelato starts with milk, sugar and local fruit; we use local ingredients whenever possible. But a few things come straight from Italy because of the quality: like the pistachio paste that come from Sicily, and the hazelnuts that come from northern Italy, in the Piemonte region.
"The best gelato is cooked before being frozen. So, when you cook it you pasteurize and you perfectly melt the sugars and all the elements. You link the ingredients and what comes out is fresh and delicious!"
With so many flavors to choose – from classics like pistachio and vanilla, to unique offerings like Oreo and pineapple-coconut sorbet – we asked the Mini Mesans to sample them and tell us the ones they liked best. After all the giggling and twirling, mmmmmm-ing and ahhhhhh-ing, a few crowd-pleasers bubbled to the top. So here, in no particular order, are the kids' recommendations for your next visit to Vitaly:
"I like yellow. I really liked the yellow… the custard cream. It tastes like caramel, only fruity!"
"I liked the chocolate best. It is soooo good. I kind of licked a tiny bit to be sure and it was so good I ate the rest in two seconds."
"Oreo!!! So yummy."
"I think that I really liked the mint the best."
"I like the vanilla because it was so sweet; oh, and I liked the strawberry. Actually, I can't choose because I liked them all."
After discovering what the Mini Mesans liked best about Vitaly, we wanted to know what Cocchi liked best about Costa Mesa:
"Definitely the people. The people in Costa Mesa are fantastic. Our customers are really wonderful. They are friendly and I think they are culturally ready for this kind of food. Oh, and obviously I love the weather and this climate."
And what's his own favorite flavor of gelato?
"Probably pistachio. It's a classic."
I Heart Costa Mesa would like to extend a great, big grazie mille to Cocchi and the rest of the staff at Vitaly Caffè for inviting us to dip into some homemade deliciousness.
If you and your own passel crave a new adventure during the long, hot, final days of summer, swing by The Camp and check out Vitaly for yourself. Go for the pasta, coffee or piadina – but definitely stay for the gelato. ♥
---
*Costa Mesa Adjacent: Brandy lives at the very edge of Huntington Beach, 989 steps away from Costa Mesa. (Yes, we counted!)