Fall Into The Trap

One of the best things about Costa Mesa is that there's always something fun to do. Golfing, mushing, felting, sweating, rocking out – the list goes on and on! Just when you think you've seen it all, something new comes to town and the thrill of discovery begins again.
So we were thrilled to discover a fun, Costa Mesa first, when we popped in on TrapZone Escape Rooms in the SoBeCa District. While escape rooms have been trending over the past few years – with a hearty helping just down the road in nearby Irvine – TrapZone is the first of its kind to call Costa Mesa home.
Julie Hom: Game Lover Turned Escape-Room Designer (Costa Mesa, California)



TrapZone is the interactive brainchild of Julie Hom who, along with her partners, Allen Hibanada and Norman Nie, has created a puzzle room full of locks and clues – with just enough 'creepy factor' to make it fun.
"It all started with a love of board games," shared Hom, from the yellow-and-black, caution-tape-themed waiting room at TrapZone. "Norm, Allen and I met as coworkers at another job. We soon discovered our mutual love for board games – the challenge, the camaradarie, the interaction – so we started an unofficial game club. We'd meet up after work, or on our lunch break, and play games together.
"One day, we went out and tried an escape room and absolutely fell in love with it. We started enjoying them more frequently. Soon, we came up with the idea of opening our own."
"I created the story with lots of feedback from the team," continued Hom. "I'm focused a lot on the creative, visual side. Norm is really good at construction and Allen is more on the financial, or operational, side. All those efforts put together created this story, brought it to life. Many of the props inside the room were also created by us."
Hom sees the move as less of a departure from board games and more of an evolution on a common theme.
"My favorite board games are game like The Resistance, Deception and Sequence," she said. "I like games where every player has a role and you're trying to figure out the spy in the group. Escape rooms are fundamentally very similar, except you're playing against the room instead of the other players."


Riddle Me This: Puzzles Within Puzzles in "The Asylum" at TrapZone Escape Rooms in Costa Mesa


Although the plan is to eventually have two different puzzle rooms going at the same time, TrapZone currently only offers "The Asylum." It's a spooky, escape-the-abandoned-insane-asylum experience that's getting rave reviews on Yelp.
"Escape rooms are live adventure games," said Hom. "A group of friends, or family, gets together, gets locked in a room and has to work together to solve riddles, puzzles and clues within the game to essentially break out of the room.
"Our first room is called 'The Asylum.' It's the story of an ex-doctor, turned patient, who created a unique disease that is spreading. You have to solve the cure before it gets out and infects all of society."

Given the theme and subject matter, is it family-friendly?
"We say it's good for ages 12-and-up," said Hom. "I almost see it like the Haunted Mansion at Disneyland. It's not too gory. Parents usually have a good sense of whether their kids can handle the 'haunted house' vibe. Lots of families come in because it's a fun bonding experience for both parents and kids. Plus, kids tend to see and solve the puzzles well before the adults catch on."
That bonding factor also makes it a great outing for coworkers, friends, social groups, sports teams and the like. Groups go in with as many as eight people at a time. If you have more than that, you'll be broken into smaller groups to enjoy the room in shifts. (The waiting group can play board games, or just hang out, in the lobby.)
Under Pressure: Teams Have 60 Minutes to Solve The Room, or Solve Riddles to Earn Bonus Time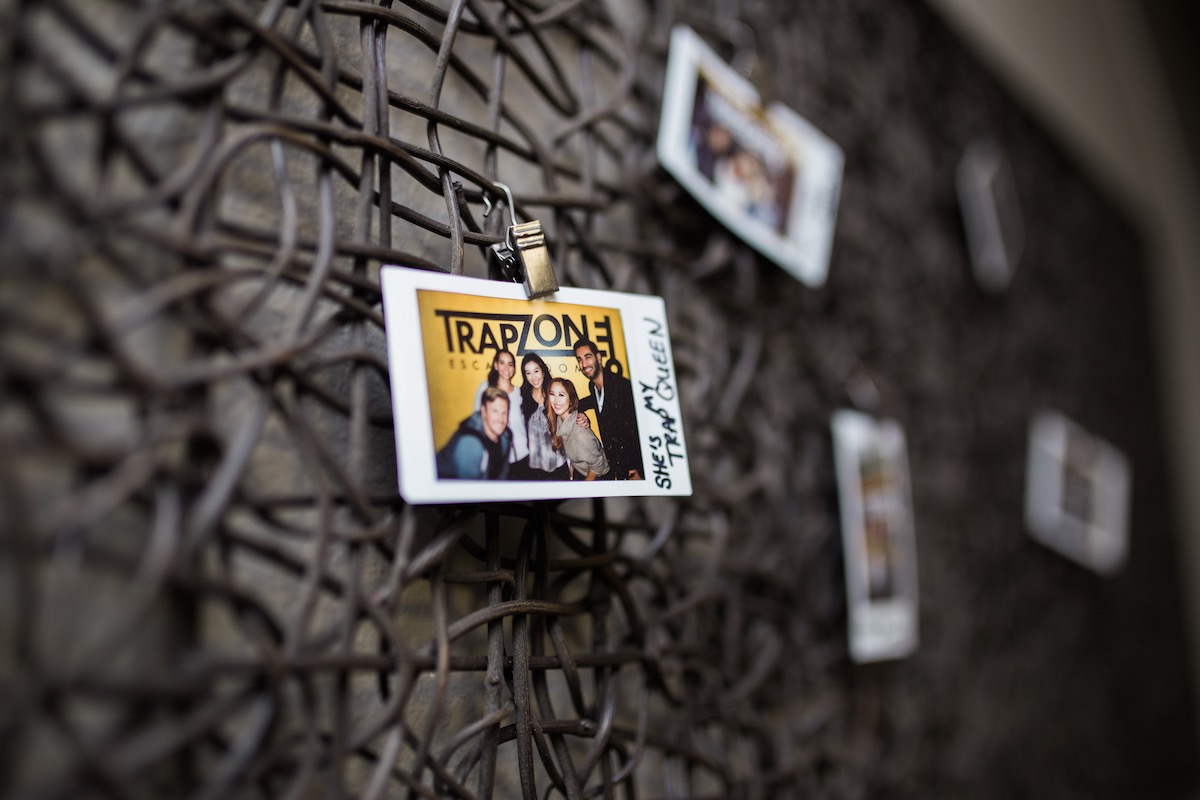 Players have 60 minutes to solve the room. The TrapZone lobby sports a wall of photos, victorious teams who've solved the puzzle in record time.
"It's the pressure of the clock ticking away," said Hom. "It adds urgency and excitement, for sure. We do allow you to earn bonus time by solving riddles, so you can get up to 65 minutes total if you crack them.
"It's always a surprise to me to see who gets out and who doesn't. You can never tell, going in, which teams will make it through. Either way, I love their reactions when they come out of the room. It's priceless!"
We asked Hom to tell us the best thing about the TrapZone experience.
"It's almost like therapy in a way," explained Hom. "You get people in a room and you put them under pressure. You see different personalities and different characteristics come out. Everyone thinks so differently. When you look at a puzzle, you might see it one way and I would see it another.  The best teams are the ones that can harness those differences and all work together.
"Working with others towards a common goal is really fun, and it strengthens relationships. I always tell people that escape rooms are all about the Four C's: communication, critical thinking, challenge and camaraderie. You'll come away having made some great memories, too."
Thank You, Julie Hom and TrapZone Escape Rooms, for Bringing Fresh, Puzzle-Solving Fun to Costa Mesa

TrapZone's SoBeCa location – a stone's throw from The LAB and The CAMP – makes it a great double-date night or evening-out adventure.
"People can solve the room, then head over for dinner or drinks," said Hom. "You'll definitely be talking and laughing about the puzzles afterwards.
"We are so happy to be here in Costa Mesa. We love being in this area because the community itself is just so artsy. It's so fun, youthful and vibrant. I always use the word 'vibrant' for Costa Mesa because there are so many things to do here, and so many different type of people.
"Plus, the food around here is absolutely amazing." ♥