The Face Of Flawless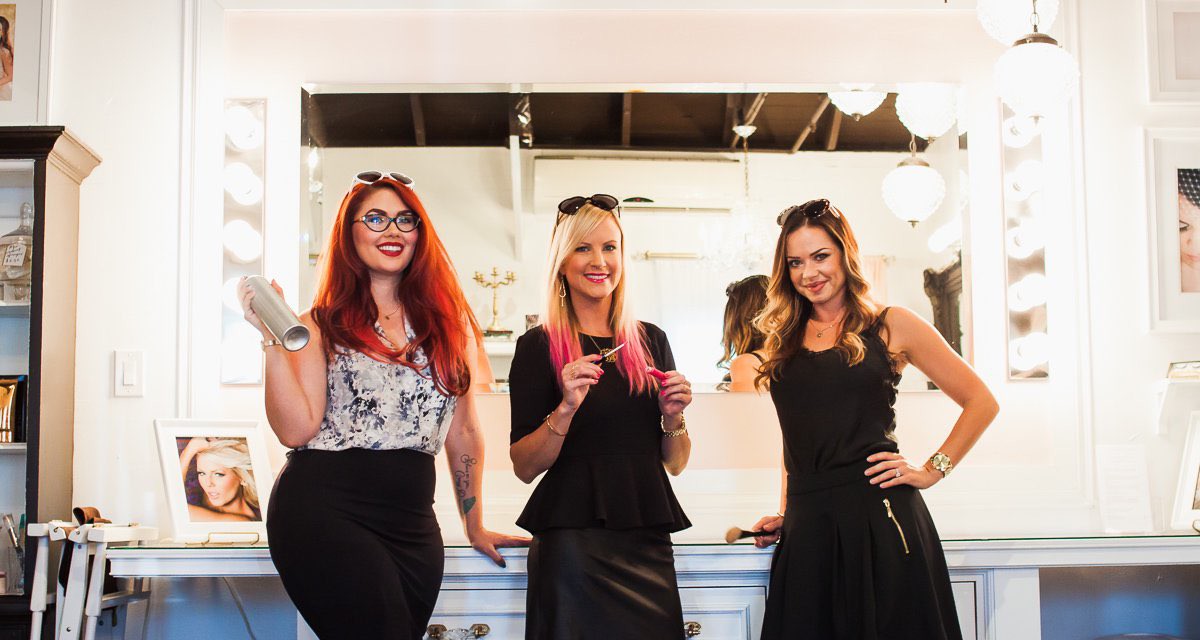 Patently Perfect: Flawless Faces Beauty Lounge at 124 Broadway in Eastside Costa Mesa, California
photo: b. young forever photography


"I started out in the Fashion Program at Orange Coast College," Lindgren began. "They have a 2-year program for design. But I found I had way more fun at the photo shoots; I just loved being on the set. And truthfully, the design stuff was hard for me, it wasn't my forte.
"So one day I just got really frustrated thinking, 'Great. Two years of my life I'll never get back.' My good friend was there and said to me, 'What about makeup? You're always talking about it. You spend all your money at MAC. You're always doing your roommate's eyes.'
"At the time, I didn't even know you could make a living doing makeup. But clearly it was meant to be because six weeks later, I was working at MAC Cosmetics. Then I got hired as an assistant to a celebrity makeup artist and my first big job was the Grammys. There I was backstage with Madonna thinking,'This is so fun. This is the job for me!'

An Impeccable Twist Of Fate: Lindgren Didn't Set Out To Be A Makeup Artist, But Now She Owns It
photo: b. young forever photography

Lindgren spent her formative years honing her craft backstage at shoots, music videos, commercials and fashion shows. But eventually, she was ready to mix it up and get back to OC.
"After so many years of that starving-artist, Hollywood lifestyle, my mind started wandering back to the beach. My friends were starting to get married and doing other kinds of grown-up stuff I was missing. So I moved back down here and eventually ended up living in a little apartment on the Eastside. I didn't really know Costa Mesa the way I know it now, but I lucked into a really cute area.
"I actually looked at this space several times from the outside, thinking, 'Oh, it would be so cute to have a business there. That's a really cute place.' I never thought it would be mine. But one day I was walking to the donut shop to get my morning cup of coffee and I saw the photographer who was using the space. We started talking and he said he was moving across town to share a bigger studio. So I jumped in and rented it out."
As Lindgren was coming up with names for her beauty lounge, she initially gravitated to wedding-themed monikers – since weddings were, and still are, a big part of her business.
"But then I realized I wanted the business to be more than that," said Lindgren. "I wanted it to be a girly hangout for everyone, not just brides. Come in and get pretty because you're having family photos taken or you want beautiful headshots. Come in just because you're going out with your husband for the night and want to feel great.
"When I was working at MAC, the guys would always say, 'That's flawless!' It was a high compliment. So I just put it together with 'Faces' and here we are. I still think Flawless Faces is the perfect description of what we do."
If you scroll through the Flawless Faces social media feeds, two elements of their work immediately grab you: perfect skin and THOSE EYES.
"Every artist has their thing," said Lindgren. "For me, it's eyes. It's what people notice when they're first talking to you. So we really focus on the eyes; and then we go for flawless skin by using as little coverage as possible to still get that perfect look. We always try to achieve it with the least amount of coverage so people don't feel 'cakey.' We don't want to cover you up. We want to enhance your natural assets and help them shine through."
Shake Up Your Makeup: Lindgren Has Developed Her Own, 'Flawless Faces Standards' For All The Artists, Stylists And Aestheticians That Work For Her
photo: b. young forever photography


Makeup may be the main event at Flawless Faces, but it's certainly not a solo act. There's a full buffet of beauty at your disposal.
"We do hairstyling, so you can have loose, beachy waves or a full updo or crazy photoshoot hair," said Lindgren. "We have aesthetician services like facials and brow shaping. We also do a lot of airbrush spray tanning. We even have a doctor who does Botox and Restylane, laser hair removal and all that good stuff.
"None of this was really around when we started. It just evolved into existence because my clients kept asking for these additional things. As people demanded it, we delivered it."
Lindgren also teaches private makeup lessons, so you can learn to achieve a "flawless face" on your own.
"Lessons are two-hours and very hands-on," said Lindgren. "I do one side of your face while you do the other side step-by-step with me. You'll leave with a typed-up lesson plan of steps and colors and a detailed 'recipe' for what to do.
"Whether you come in for lessons or full-service, we want you to know we are professionals. This isn't department-store makeovers. I've trained everybody to my very-high standards; we call them our 'Flawless Faces Standards.' If you like what you see on our website, that's what you're going to look like when you leave here."

After eight years of Flawless Faces, is Lindgren still as smitten with the Eastside as she was in those early days?
"Oh, I love Costa Mesa, and it's just gotten better since I moved here" said Lindgren. "Look what's happened over at The Triangle. It's totally redone and now it's a happening spot. They totally redid Newport Boulevard with palm trees and tile and it looks so much better.
"But I think the coolest part about Costa Mesa is that there are so many small nooks and crannies. Homegrown businesses that are super stylish and cute, or just unique and local and different.
"Costa Mesa feels like home to me; and don't even get me started on 17th Street. That's my absolute favorite place to be. I could just hang out on that street all day long." ♥