A Friend In Bead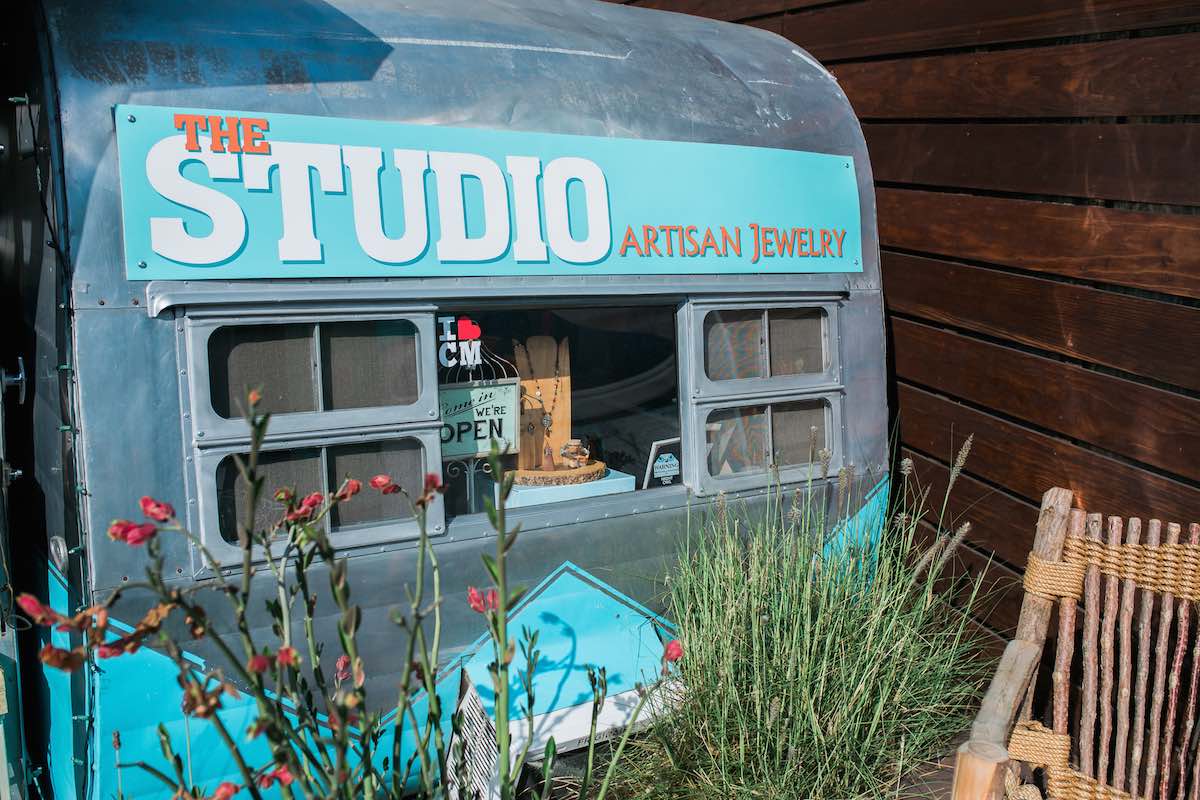 It's another beautiful day, here on the Mesa; another beautiful opportunity to get out on the town, meet people, try things, and connect with a yet-undiscovered corner of The City Of The Arts.
And if, like us, you're uniquely interested in the very human, the very local and the very creative, we can't think of a better way to while away the afternoon than over at The Studio in SoBeCa. It's a welcoming, little, artisan alcove etched out at The Camp by jewelry designer (and occasional armchair therapist) Stacey Peterson.
We found Peterson to be as warm, engaging and lovely as the handmade, one-of-a-kind bracelets, necklaces, earrings and statement pieces she creates. Her caring spirit shines through both in person and through the wearable art she designs.
An Artist's Heart: Peterson Can't Remember A Time When She Wasn't Creating

"I've been this way since birth," Peterson told us from the cozy courtyard outside her airstream-trailer business. "I was one of those kids who stayed indoors and didn't really go outside to play a lot. But I'd spend hours and hours just sitting my room, drawing or listening to music – maybe half-playing with my hamster. I was happiest when I was coloring, listening and exploring the rich, inner world of my imagination."
Though she's held many jobs throughout her lifetime, jewelry-making was always a common thread – a creative outlet and happy distraction she'd turn to as time allowed.
"I started making jewelry when I was ten years old and basically never stopped," said Peterson. "So for forty-four years now, I've been a jewelry maker. I worked tons of jobs – in cosmetics, in a bank, in HR – I never stuck with any of them. But I'd always come home and make jewelry to wind down. I guess I should have seen the clues that it was what I was meant to do, but it took a while for me to get it."
All of that changed when Peterson took a new job as manager of a pro shop at a sports club. She started selling her jewelry in the store and was surprised when it took off.
"I added my jewelry on a whim, but it very quickly became a thing," said Peterson. "I thought to myself, 'Whoa. I might have something here.'"


Beads Of A Different Color: No Two Pieces In Peterson's Collection Are Alike


What makes Peterson's wearable art and jewelry especially unique is the level of care and craftswomanship she puts into the process.
"Whenever possible, I don't just design the jewelry but the components of the jewelry, too," said Peterson.
Using a process called "lamp-working" – the ancient art of melting down glass over an open torch and forming it into various shapes – Peterson patiently hones individual glass beads to later use in her creations.
"Lamp-work is so meditative, it's the best," said Peterson. "The only downside is you can't do it in the summer because the whole process is too hot. I mean, you're sitting in front of a blazing torch and a kiln. So I work on handmade beads all winter long to make sure I have enough for the whole year."
You won't just find Peterson's handiwork in the glass-bead elements of her jewelry, but in the silver components, too.
"People think all silver is the same but that couldn't be further from the truth," said Peterson. "I spend a fair amount of time educating people on the difference between base metal, Sterling silver and pure silver. Sterling has copper and nickel in it, which can be allergenic. With Sterling, you have to use solder, pickling acids and these poisonous, terrible things. Pure silver is so, so preferable."
Peterson partners with a company that upcycles old machine parts into their pure-silver elements. Not only is this method better for the environment – because she's using materials that would have otherwise gone into a landfill – but Peterson feels it's a better experience and higher-quality outcome for her customers.
"Pure silver is so clean, you only need a simple flame to fuse pieces together," said Peterson. "You're not using any chemicals or binders. The jewelry is not going to come apart. It's not going to flake off. It won't tarnish. That quality is so important to me. I am putting my name on this piece and I want it to last a lifetime."

The Trappings Of An Artisan: Peterson Is A From-Scratch Jewelry Designer

There's a palpable level of thoughtfulness and concern-for-detail in Peterson's shop that goes far beyond what you'd find at a typical jewelry kiosk.
"If all you do is take a passing glance at my displays, you might just think to yourself, 'Well, jewelry is jewelry,'" said Peterson. "But spend a little more time with each necklace, each set of hoops, each charm bracelet and you'll see the difference. I believe that because we are all individual people, what you wear to adorn your body should reflect that individuality. Every piece here is special edition and one-of-a-kind."
While Peterson lives for the creative method of designing her own jewelry, she is also open to collaborating with clients to bring their ideas to life.
"It makes my heart happy to hand people a piece of jewelry that came from them, their own idea," said Peterson. "If people are into that – working together on a concept – I'm open to discussing it with them."
In fact, on any given work day, Peterson might find herself discussing any number of topics as she sits and makes jewelry outside her airstream.
"I love sitting here and people watching, getting to be outside all day," she said. "People see me sitting here and sometimes they'll just come up and start talking to me. We might discuss what I do or the jewelry, but other times it can get deep or even a little odd. I'm kind of like the unofficial therapist at The Camp. People will pull up a chair and tell me all their problems. You might think that sounds horrible, but I actually really love it. I have regulars now that stop in to catch me up on their lives."

Working outside and being accessible to people is one of the many reasons Peterson chose The Camp for her shop. She loves the casual, friendly vibe of her Costa Mesa location.
"I've been here over three years and I still love it," said Peterson. "I'm on Etsy and I did the art show circuit for a while – traveling around – but nothing beats my little corner of Costa Mesa.
"It's always been my dream to have my own shop. When you travel around, it's hard to connect with people and build a friendship with your customers. Now I have such lovely relationships with my regulars and this shop is what makes it possible."
At first blush, it may seem like Peterson is in the jewelry business, but as we spent more time with her it became clear her mantra is more like "people first."
"Even if my customers are just here for lunch, they'll still swing by to check on me," said Peterson. "They'll come by with their kids or their grandpa and say, 'This is the lady that makes the beautiful jewelry.'
"They'll ask how things are selling that week, or come see if I'm doing ok. I know when their dog passes away, when their grandkids graduate high school – all those highs and lows. And isn't that what this life is really all about?
"What other job is there where you get to hear about people lives, share about yours, and then just quietly create work that makes the world more beautiful? I get to spend my days connecting with people and helping them feel pretty. I wouldn't want it any other way." ♥