The Work Of Faith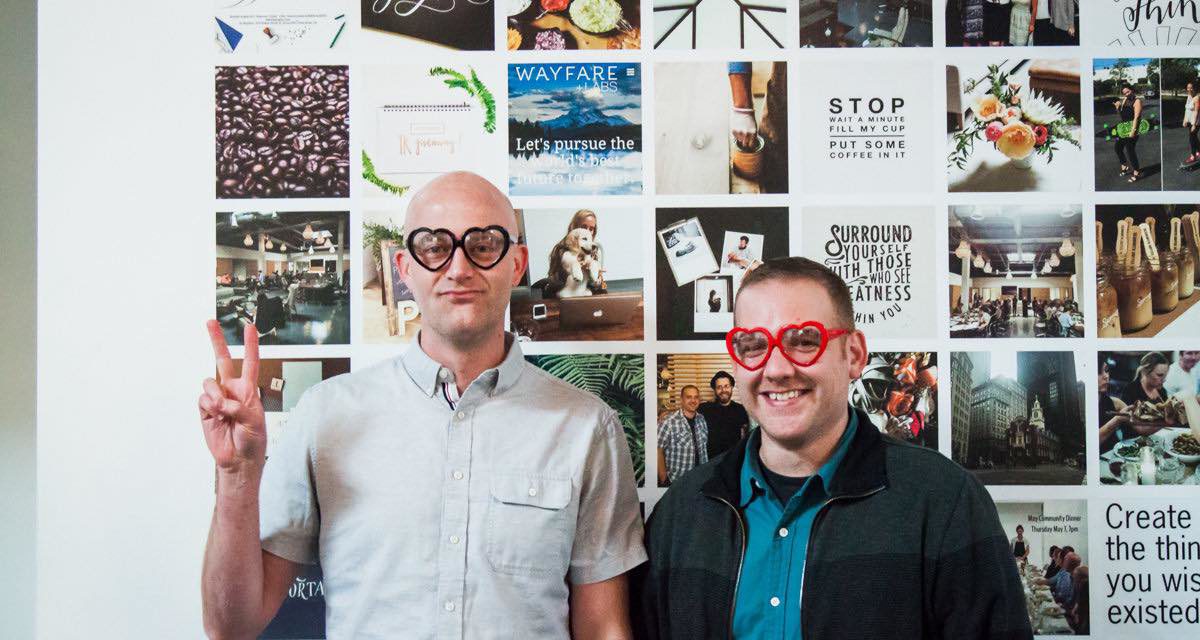 We're not the only ones asking questions in Costa Mesa.
So often, before an interview begins, we get positively peppered about the I Heart Costa Mesa project: How did we find the courage to start? What does it mean to us? Why do we do it? Why Costa Mesa?
And while we have lots to say on the subject – you can ask us yourself when we meet you – one point we're sure to emphasize is our belief that Costa Mesa is a subtle-but-smoldering hotbed of independence, creativity and fruitfulness.
All over the city, Costa Mesans are quietly, passionately "doin' their thing." Not looking for praise or fanfare, per se – just taking steps of action, day after day, in the direction of their hearts.
And you can't tell the story of Costa Mesans walking the path of passionate pursuit without highlighting the founders of Wayfare HQ and Wayfare Labs, Jeff Tanner and Brandon Arbini.


Tanner, and his brother-in-law, Arbini, are devout Christians who find great purpose marrying conviction with vocation. (In other words, doing work they can literally believe in.) Throughout their respective careers, they've managed to combine "the meaning" with "the doing" at most junctures.
Tanner, especially, seems to find purpose in faith-based employ. In addition to his role as Executive Director at Wayfare Labs, he serves as the Executive Pastor of Redemption Church, which meets Sundays at the Costa Mesa Senior Center. He also acts as Board Chair of Mika Community Development Corporation, a Christian organization whose stated mission is "to restore the broken relationships that directly affect economic poverty in Costa Mesa."
Arbini has a more technical background in web design and software engineering that's led him around the country (and through the prestigious Y Combinator) before he landed in the Costa Mesa area. He is also on the board of Deidox Films, a non-profit documentary company that uses the film medium to answer the question, "If people believe in a 'higher power' then where is that higher power in the midst of the important stories in our world?"
A Vision For A Better World: A Wall Of Photos And Inspiration At Wayfare HQ
photos: brandy young

The pair got the idea for Wayfare after visiting the Q Ideas Conference – a kind of TED Talk conference for Christians.
"I'd been attending the Q for 4 or 5 years," said Tanner. "It explores influencing culture in a number of different ways and really working to make the world a better place for everyone. One of their taglines is: 'Think well. Stay curious. Advance good.'
"In 2013, it was going to be in LA so I got tickets for me and my wife to attend. But, as it got closer to conference time, my wife gave birth to our daughter and wasn't able to go. So I called up Brandon, who was living in Wisconsin at the time, and I convinced him to come with me.
"The conference itself is always really inspiring. But at this particular one in LA, something just hit us between the eyes. During the talks, there was a pastor named Erwin McManus from LA Mosaic Church. He got on stage and asked the question, 'What if the church became the human incubator for creating the world's best future?'
"Brandon and I both really resonated with that. We couldn't stop talking about what it would look like for us to put that into practice. We had this idea of birthing new movements for the common good, but as we discussed it we quickly realized we'd need a community to pull it off.
"So we started exploring this co-working thing that was popping up all over the place. We thought that could be a really cool mechanism for creating a platform. It could create the foundation of a community that would provide not just practical resources – like ergonomic furniture and cool design – but also the emotional and spiritual support to help people to advance good in their vocations, in their creative endeavors, or their start up organizations.
"I don't think Erwin was literally thinking of an incubator when he spoke, but we definitely translated it that way. Now here we are, and Wayfare Labs is happening. It's real."
Cacti And Coworkers: The Light, Bright, Modern Coworking Space at Wayfare HQ In Costa Mesa, CA
photos: brandy young


Wayfare itself is actually broken down into two, major parts. The first is membership-based, co-working space Wayfare HQ, housed in the the modern, designed, ergonomic building that was formerly Sevenly Headquarters.
Neat Coffee is currently camped in the front entryway to keep you sufficiently caffeinated while you work; and conference rooms and private offices are also available for rent.
Tanner and Arbini want to stress that people of all beliefs are welcome to come and co-work.
"Wayfare HQ is for everyone, not just Christ-followers," said Arbini. "It's not exclusive. Anyone can come. We think the people who will get the most out of it are people who are working in non-profit, social enterprise or are pursuing some sort of good in the world. That's the community we're trying to build, but we are absolutely not excluding anyone. All faiths and beliefs are welcome to just come and co-work."
Wayfare HQ also hosts the occasional yoga class, design seminar or watercolor workshop – and you can rent the entire space for your own fundraiser, mixer or event.

The incubator program, however, is a non-profit specifically targeting Christian startups.
"Incubator programs can be really intense," said Arbini. "We put a lot of ourselves into it. It's personal. So we want to make sure the people going through our program are wrestling with similar things. It's not out of a desire to be exclusive. It's simply that we need to connect with them on that deeper level in order to do the most good."
Wayfare Labs offers practical guidance for new organizations to get off the ground; then up and running. Their three core programs include:
Pilot: Helping articulate the mission and hone the ideas behind the fledgling organization
Launch: Building and refining the business model, developing a pitch deck, raising funds, launch night event
Growth: Now that the organization has launched, how does it scale into something sustainable
""Having gone though the Y Combinator startup accelerator, myself, I think we are uniquely suited to help," said Arbini. "I am always asking myself, 'How can I draw from my experience in the accelerator to then create an incubator or accelerator for others?'  We're taking Silicon Valley ideas that are proven to work, and we're applying them to the space of advancing the common good.
"The bulk of what we do at Wayfare Labs is give practical guidance to participants. We want them to have full understanding of what it takes to not only launch an organization – but make it viable, then sustainable, then scalable. We're still pretty new, so our Batch 1 participants are just starting to take it out of Pilot Stage and grow into viability. I think it could take another year or two, in some cases, before they're really ready to scale."
"We are here to help keep them on course as they grow," added Tanner. "Over time, a lot of startups become just an organization with a mission attached to it. Our perspective is, 'No, you should flip that. You need to be a mission with an organization attached to it.'"
Tanner And Arbini Hearting Costa Mesa In Style…From Their Co-Working Wingback Chairs
photo: b. young forever photography


So when Arbini and Tanner were looking to bring their vision to life, what lead them to Costa Mesa?
"I live here and have grown to love this city," said Tanner. "When we were looking at buildings to launch the co-working space, our broker kept trying to show us spaces in Irvine or Santa Ana or Newport or wherever. We said, 'No way. This is very specific. We're not going outside city limits.' We absolutely needed to be in Costa Mesa.
"There's a long history of originality and arts and giving in Costa Mesa. There are so many pockets of really healthy creativity and I think it's because of the rich diversity here. We've developed a heart for all people in Costa Mesa. This city has got a uniqueness about it you can't find anywhere else." ♥