Heart Art? It's All About Location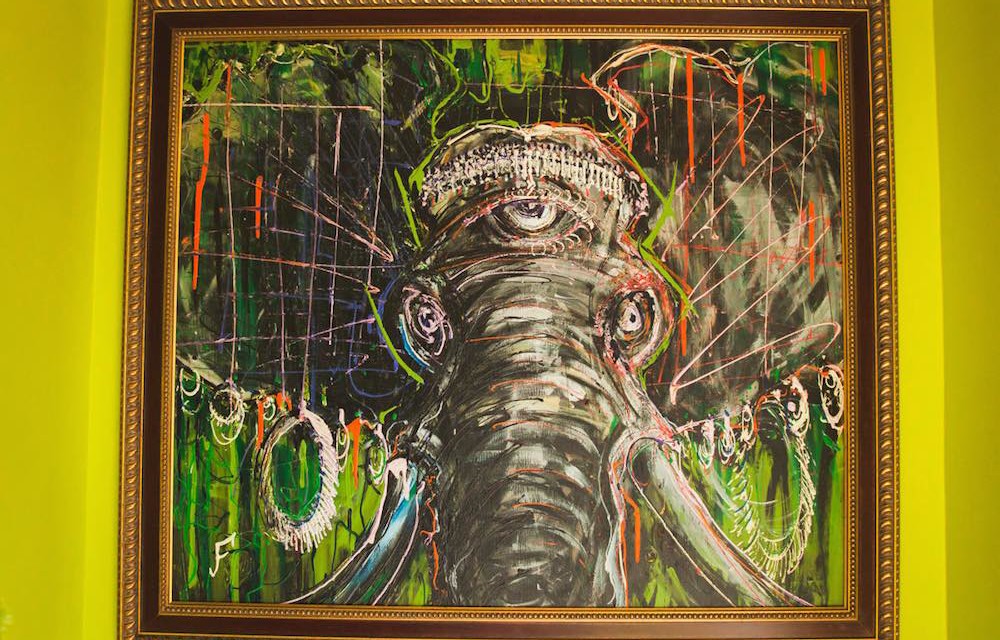 Do you ever find yourself driving down Placentia – you know, just unabashedly adoring Costa Mesa – when you notice that mysterious, lime-green building with this stenciled on it:
How did it get there? What does it all mean?
Well, friends, that stenciled, green building at 1980 Placentia Avenue is the brilliant Location 1980!
Given its unique appeal, we were shocked to discover that – despite tremendous popularity in the art world – not all Costa Mesans know about it. (Don't worry, you'll soon know plenty and will want to explore and adore this wonderful space, yourself!)
To understand what Location 1980 is, we first must talk about what it is not. This ain't "gallery as usual" by weekend artists. Now in its fifth year of operation, Location 1980 is hard-core creativity; an embodied idea that art, life, design, fabrication, music, celebration and community – when given the space to blend fully and organically – will lead to unimaginably self-actualized places we might otherwise never have known.
Upon first impression, Location 1980 seems to have been displaced from Bohemian-era Montmartre (if 19th-century Paris had Instagram, Facebook and Twitter) – and the entire experience of visiting is like a study in contrast. Walk up: it's an aging warehouse. Walk in: it's an enormous, spacious, light-infused gallery on par with the best in SoCal.
And while it may be a working studio complete with paint, tools and materials – the artists there practice a minimalist philosophy, giving the whole property a very clean, visually-pleasing, uncluttered-yet-creative vibe.
The owners of Location 1980 are not without contrast, too.
When you first meet Brett Douglas and Jesse Fortune they appear cool, laid-back, relaxed. But beneath the casual exterior simmers the smoldering drive of devout impresarios. These Missouri transplants are dyed-in-the-wool makers / artists / visionaries. They walk the talk of the path less-traveled: exuding a deep commitment to their shared creative vision. Not to mention, exemplifying the kind of unwavering, ironclad work ethic necessary to build a thriving business while repurposing an entire warehouse by hand.
Under their mindful direction, the space itself is constantly transforming, growing and improving. Most of the furniture is on castors to be moved at a moment's notice, and new projects are always in curation. Really, the only constant at Location 1980 is the name. Everything else is organic, fluid, and in purposeful flux.
So what happens at Location 1980? Well, how much time do you have?
Aside from the amazing art shows and special events you have to read their blog to believe, this self-described "content juggernaut" truly has something for everyone.
First off, Location 1980 offers weekly Life Drawing & Painting Workshops every Wednesday night from 7-10pm, complete with top-notch models, music, and creative kinship. Anyone – even the most paint-phobic beginner – is welcome to join. (But space is limited, so RSVP in advance.)
If you'd like a little more instruction, try a Mixers With Masters Workshop. They materialize once a month, or you can plan your own with a group of friends! Canvas, brushes, instruction (and good times) provided.
For more serious artists and makers among us, there is studio space available for rent and private lessons to help take your skills to the next level.
But one of the most exciting things we learned about Location 1980 is that you can now rent it out for your own private events…what!?! (Your friends, family, coworkers and clients will marvel at your cultural prowess over this swoon-worthy party.) Location 1980 has hosted wedding receptions, baby showers, mixers, fashion shows, birthday parties, music performances… just to name a few. They are super open to event ideas, why not bring them yours?
So now that you know all about Location 1980, you can schedule your own visit. (Let us know how it's changed since we last stopped by.) Visits are by appointment only, so please call (949) 491-0616 or email info@location1980.com.
Whether you're going for the drawing classes, workshops or any number of unique events – make time to experience it. Because when it comes to the local, grassroots, creative life, it really is all about Location, Location, Location! ❤
---
Want to see more photos from our day with Location 1980? Your wish is our command.