Open House Creative: Home Is Where The Art Is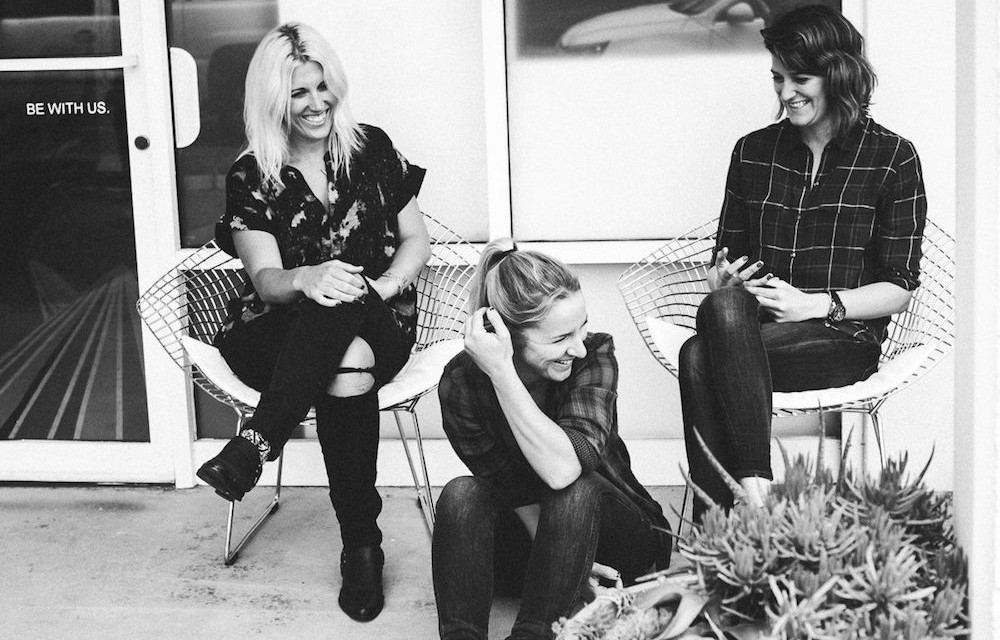 "Costa Mesa's official motto is 'City of the Arts,' a title befitting of its world-class cultural scene," declares our city's "dot gov" website.
After I Heart Costa Mesa's many months of meeting, interviewing and photographing the city in action, we would definitely agree. Costa Mesa's art scene is creative, edgy, innovative, diverse and – if not world-class – then certainly in a class all its own.
But like all grassroots, cultural phenomena, you have to dig a bit to find the good stuff. Which is why we were thrilled to recently unearth one of the Westside's latest additions to our city's burgeoning art cred – Open House Creative!
Part gallery, part studio, part venue – OHC is the quirky, imaginative brainchild of Sophie St-Onge, Kameron Campbell and Michele Lujan; three creatives who love to tinker and simply won't take "bored" for an answer.
"I probably made my first business card when I was seven and it read: Kameron Campbell, Artist," said Campbell, the Art Program Director. "Somewhere deep inside I think I knew I could be creative, I just didn't believe in myself. I never had people believe in me as a kid. That's the whole reason we wanted – even needed – to start Open House Creative. The world is missing out on great art because artists don't believe in themselves. We are big on instilling creative confidence."
"Our main thing is no experience necessary," added Lujan, the Studio Director. "We don't want people to feel intimidated. We don't want them thinking, 'Oh, that's for artists and I'm not artistic, so I can't go.' Yes, you can go! Come on in and try something."
"Ask yourself if you wish you could do something creative," said St-Onge, the gallery's Creative Director. "Do you want a taste of the artist life without being judged? We will show you the technique. We'll introduce you to something you've never done before and change your 'I wish I could do that' into 'I just did that.'"
"It's very empowering," agreed Campbell.
To appropriately prime your creative juices, the Open House space is light, airy, angular and clean, with punches of color and graphics in imaginative places.
"We love putting our touch to the space," said St-Onge. "Anything uncommon or unexpected. Normally you're not going to paint words all over a door, you're not going to have a mirror that is painted and scratched up.
"We want to surprise you when you come here for the first time. People get all excited about the weirdness and the details. It's a space we'll keep exploring, expanding and changing as we go."
The space isn't just a studio, you can rent it out for private parties or dream up an artistic event of your own.
"From art gallery exhibitions to new brand-launch parties to marketing events, we want to make our space available for it," said St-Onge. "You know, birthday parties… or really anything people want to host that fits our vision of creative, exciting, fun and happy.
"Aesthetically, all three of us like very similar things, even though we have different tastes. So whatever we do, we make sure we're on the same page; because if we weren't, I don't know how we'd make any of this happen."
So what are some of the happenings going down at Open House Creative? The "art full" calendar is always changing – with topics like color exploring, printmaking, marbling, mask-making, makeup artistry, portfolio building, sculpting, textiles, calligraphy, collage, cocktail-making and terrarium craft – just to (whew!) name a few. There's something for every adult, family and child to create or learn at Open House.
"Kameron comes up with all these amazing classes and she puts her unique spin on everything," said Lujan. "She inspires me, especially when I see what she does with kids.
"Kids have an almost genius level of creativity when they are young, and unfortunately it seems to slowly dwindle with age. But if you catch them when they are really young, you can tap into that creative confidence. With these kids, we can trigger a lifetime of creativity and keep that linear thinking from taking over."
"Young children are still spontaneous," added St-Onge.  "They're brave and unafraid of doing a mistake until hitting a certain age. What is it, Kameron? Seven or eight?"
"It's seven," said Campbell. "Seven is when they start to criticize themselves."
"But maybe, what the best artists in the world do is just never lose that childlike genius," continued St-Onge. "Our favorites are all very youthful and they embrace humor. They're very loose and natural, and not afraid to have their personality come through the art. I think kids do that naturally.
"Our kids' art classes are not just scribble sessions. We're tapping into their natural creativity, but we're teaching the real, college-level, art technique."
"As a society, we kind of write kids off sometimes," added Campbell. "We discount what they can do. But kids are amazing and they are capable of wonderful things. You catch them when they're young and show them that their idea of a horse – while different than a traditional horse – is just as wonderful, just as valid.
"To us, it could look nothing like a horse. But in their little head? It's 100% a horse and it's amazing. Believing in a child's creativity gives them the courage to share their ideas is all areas of life, not just art. That's why I love to teach our kids classes, personally.
"And then for our adult level classes, well that's a totally different spectrum. For those classes, we reach out to our community, our artist network, and source people who are doing wonderful things. Maybe we bring in a really cool, contemporary watercolor painter who is also a tattoo artist. Maybe it's the creator behind a great new brand. It's a mindful selection process. We try to find people with stories who want to come and share their skill. It's not just finding just any old artist to teach any class. We want to surprise and inspire."
"Really, you are never too old to learn to be an artist," said St-Onge. "We've even thrown around the idea of teaching elderly people new art techniques. We'd call it 'old school is the new school' and we'd learn as much from them – their stories and experiences – as they'd learn from us."
"There you go," added Campbell. "Ages three to 99, that's our market. No one too old or too young."
So what keeps our three, intrepid creatives motivated on the days that are more monotony than merriment? It's all about the art.
"Art is happiness," said St-Onge. "It creates happiness and keeps the dream alive."
"Yeah," agreed Campbell, as a distant, contemplative look played across her face . "We've got really big dreams, and we're not afraid to make them happen." ♥