Splash And Learn

We didn't start the I Heart Costa Mesa project because we've lived here the longest, done the most or know our city best. (We actually can't claim a single one of those honors.) But what our little, local-magazine team does have going for it is a strong sense of curiosity, an open heart, and a listening ear that loves to dive in to the stories of our neighbors, fellow Costa Mesans and friends.
And today we mean "dive in" in the most-literal sense, because we're happily highlighting the pool-based program that's quickly become the pride of Newport-Mesa: the Costa Mesa Aquatics Club, or CMAC (pronounced: see-mac), for short.
When it comes to harboring a deep and abiding love for Costa Mesa, we are hard-pressed to find people who wear it louder or prouder than the swimmers, polo players, coaches and staff at this popular, non-profit program.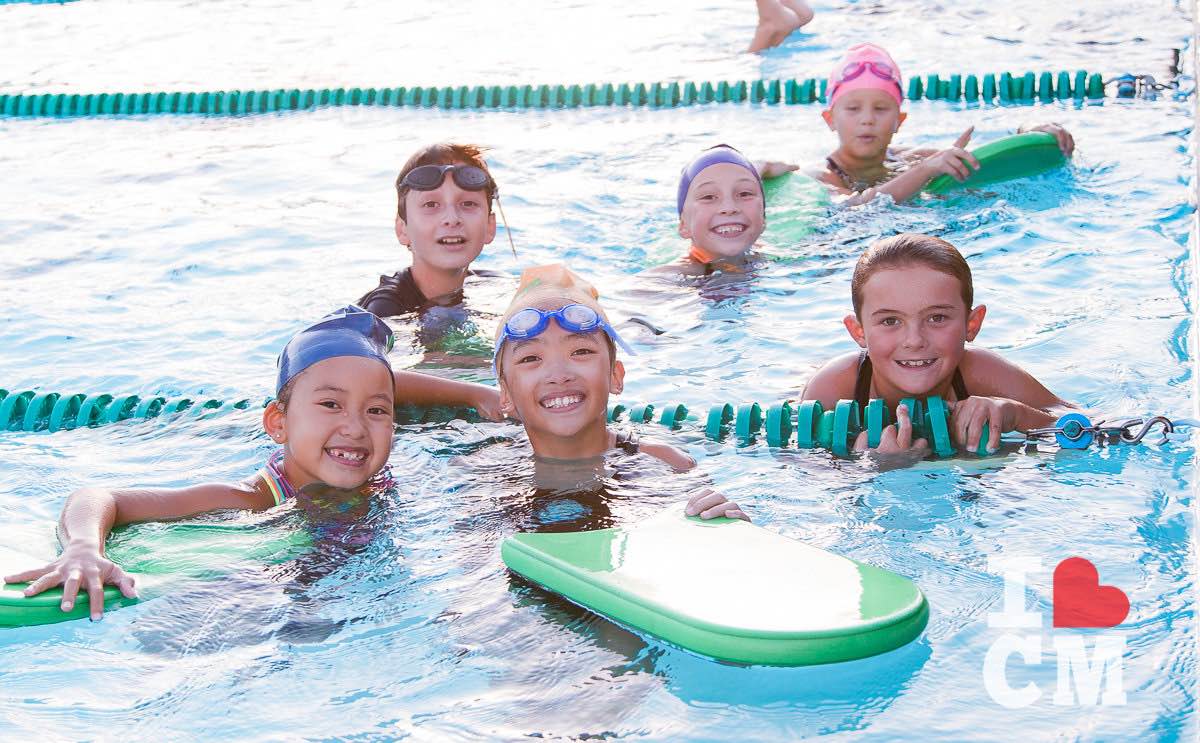 In The Swim: Kids Come From All Over Newport-Mesa To Learn And Compete At Costa Mesa Aquatics Club (CMAC)
photographer: brandy young

Spearheading the day-to-day at CMAC is Program Director, Jose De La Jara – a longtime, Costa Mesa resident with personal ties to both Costa Mesa High School (he attended his freshman year) and Estancia High School (he transferred to play basketball.)  Those cross-town connections are important for a program that seeks to draw kids from all over Costa Mesa… and beyond.
We sat down to lunch with De La Jara and immediately found him to be three things: 1) a guy who strives for excellence and really cares about his athletes, 2) an "idea machine" in the classic, entrepreneurial sense, and 3) a very honest – and often hilarious – storyteller.
"Yeah, I'm the Director which means I'm the guy with the headaches," joked De La Jara when we sat down. "I run around like crazy always trying new things and doing what I can to make our program the best in Newport-Mesa. My job is to create, to engage, to encourage community involvement – and I've been with doing that at CMAC for going on four years."
The current aquatics program itself has been around for five years and takes residence at the updated Aquatics Complex over at Costa Mesa High School. But almost a soon as that fact leaves his lips, De La Jara is quick to stress that students from all over Costa Mesa are not only welcome at CMAC, but enthusiastically invited to participate.
"High school rivalry is a powerful thing, especially in Costa Mesa," said De La Jara. "A lot of the people here only see red – or green – depending on their side of town. Our program exists to move the kids beyond all that. We're called 'Costa Mesa Aquatics Club' not because of the high school where we practice, but because we serve the entire city of Costa Mesa."
Man About Town: Director, Jose De La Jara, Is On A Two-Fold Mission To Unify Costa Mesa And Make CMAC The Best Aquatics Program In All Of Newport-Mesa
photographer: brandy young



The program's reach doesn't stop at city limits, either.
"We've now got kids coming to us from Newport Beach, which is really great," said De La Jara. "But just as important, I think, we're starting to see greater retention in our Costa Mesa schools. Athletes don't feel like they have to transfer to Newport or Corona del Mar to be successful, anymore. They're like, 'You know what? I can achieve my goals here.'
"That's one of the biggest things for me, and the reason I strive to make our club the best around. I want to show these kids that they can compete – even at an elite level – and still keep it 'hometown'."
So how does the Costa Mesa Aquatics Club work to shore up its reputation as a first-rate athletics program?
"The first thing we focus on is helping our kids get the 'stoke' of it," said De La Jara. "Teaching water polo is a lot like teaching surfing. When you first start learning to surf, you're going to get pulled under – you'll get whacked by the board, you'll get pitched over – basically, you're guaranteed to be miserable. But if you stick with it and push through that early stage, it eventually clicks and suddenly you're super-stoked on it. So my number-one job is to get the kids in, get them stoked, get them hooked and now they're already halfway to success."
"We are way different from other programs in that we don't just want to develop our kids as athletes, we want to help them find the true joy of the sport. And once they do? Well, the stoke takes hold and they become pretty unstoppable."

CMAC Practice Is A Flurry Of Aquatic Activity
photographer: brandy young


De La Jara credits his staff of coaches with so many of CMAC's greatest accomplishments.
"We've got somewhere around twenty-four or so, in terms of coaches and staff," said De La Jara. "I personally think we have one of the best-staffed swim teams in the county. In terms of water polo, all our coaches played at the college level; finding them is a challenge, but so worth it."
Coaches like twin brothers, Dustin and Cody Serrano – who played water polo for the Mustangs, graduated from Mesa and then returned to coach high school level – give CMAC a grassroots feel while still going for the gold.
"We're lucky to have the coaches we do, "said De La Jara. "These people really care and work hard to provide a nurturing environment for the kids."
Families with multiple children at a variety of ages and stages will appreciate that CMAC welcomes anyone 4+ and on through high school.
"We have a place for every kid," said De La Jara. "Whether your child is interested in swimming or swim lessons, junior guards prep, water polo, or splashball – which is like tee-ball-level water polo – all can play. Parents can bring them to us as young as four-years-old to start lessons and learn to swim. Once they master that, they can go into our pre-competitive water polo program or choose swim team. From there, it just depends on how far each child want to take it."
De La Jara has seen some of his athletes go on to become all-American, win Junior Olympics or otherwise thrive at the elite level.
"We always claim their success as our own when that happens," laughed De La Jara. "There was one girl who went all-American as a goalie, and I remember teaching her to play splashball back when she was six. So, of course, whenever I run into her mom, I take full credit for her daughter. I joke with the mom, 'She got it playing for our club.' But seriously, we really do care about our kids, not just during their time with us but once they outgrow us, too. The way we see it, they will always be part of our CMAC family."

All Kinds Of Aquatics: Swimming, Water Polo and Splashball for Every Age and Stage at Costa Mesa Aquatics Club (CMAC)
photographer: brandy young

Beyond the competitiveness, coaching and multi-level learning happening at CMAC, De La Jara thinks the neighborly, community vibe is one the parents and kids especially appreciate.
"We're not a traveling club, we're a community club, so we mostly stay put," he said. "But it works out great for families with kids in multiple sports. We've got the farm across the street, Friday Night Lights and such. There are plenty of parents that come drop off three kids to three different sports. One's going to swim, one's going to baseball, one's off the football. All the practices kind of converge in the same place. I think local families are very fortunate for how that worked out."
CMAC also reaches out to the community with scholarships for families who might otherwise struggle to afford entry, which stems from the culture of ethics and accountability CMAC tries to foster.
"We want to run this club the right way," said De La Jara as we talked about scholarships. "It's like when we go out and compete with other clubs, we're always hearing people say, 'Oh, CMAC. You guys are good. You guys are honorable. You don't cheat. You don't kick people in the face just to win.' And they're right. We want to be competitive, but we won't cross that line just for a medal.
"If we're going to win, we're going to win the right way with our integrity intact. And if some people don't agree with that philosophy, that's ok. If someone wants to win at any cost, I tell them, 'Well, maybe we're not the right club for you at this time.' It's okay to be passionate about winning – but not at the expense of our integrity."

When it came to the questions of what De La Jara liked best about this city of ours, like most people we interview, he had a difficult time choosing just one thing.
"It's close enough to the beach but far enough from the tourists," quipped De La Jara. "Costa Mesa is a great place to raise kids, actually. I've noticed that the people I went to high school with have all moved back and we're choosing to raise our families here in the place where we grew up.
"I love how it's small enough that you'll always run into people you know. Whenever my wife and I go out, we have a running bet to see which of us will bump into more people. I always win big-time when we go places like the Fish Fry. Let's just say between going to high school here, and coaching so many local kids, I'm winning the bet. But, of course, my wife never pays up."
By the end of our interview, we came to fully appreciate the magnitude of De La Jara's affinity for the Costa Mesa community and his genuine desire to make it better. His parting words really summed it up best:
"As Costa Mesans, we have it within ourselves to make our schools, our sports programs and our city all they can be. For me, I just want to do everything I can to make it rad. Make it rad, and show these kids they can – and should – be really proud of where they're from." ♥