Biker Babes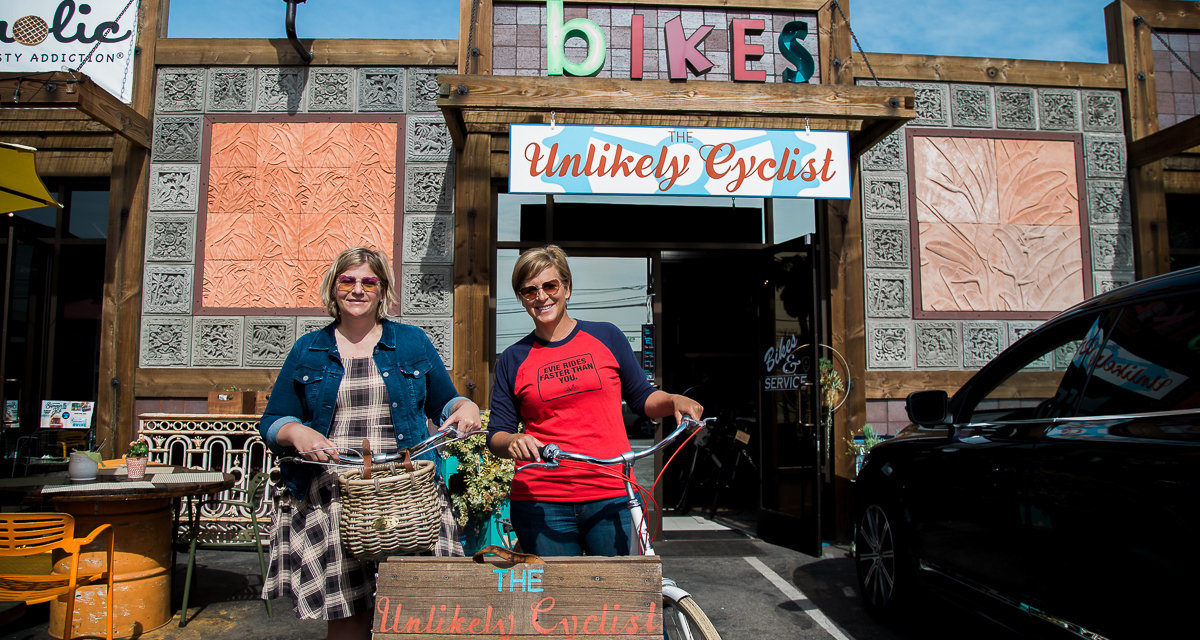 A great way to better know your city is to "get lost" within it – find new routes home from work, drive through random neighborhoods and take a tourist-eyed view of your very own town. With this sense of newness and discovery, even the most ordinary, Costa Mesa days can reveal extraordinary finds.
This exercise in adventure is fun enough to do by car, but the experience is tenfold while tooling around on two wheels. There's just something about cycling through our city that makes the whole experience "more than." More real. More sensory. More neighborly. More active. More enjoyable.
But if you're feeling a little shy about getting in that saddle – maybe because you haven't ridden in a while, feel too overweight for the endeavor, or never learned to ride at all –  today's featured Costa Mesans are here to tell you: anyone can (and should) cycle.
We're talking about the lovely Fleischakers, Eastside Costa Mesans and owners of The Unlikely Cyclist – a female-focused bike shop at Midway Market in Westside Costa Mesa.
The Unlikely Cyclist started as a dare that turned into a blog that transformed into a bike shop that's now blossomed into a vibrant cycling community. It's a story that proves once and for all, there's room enough in the bike lane for all genders and body types – not just the sleek, power-peletons we so often see peddling down PCH.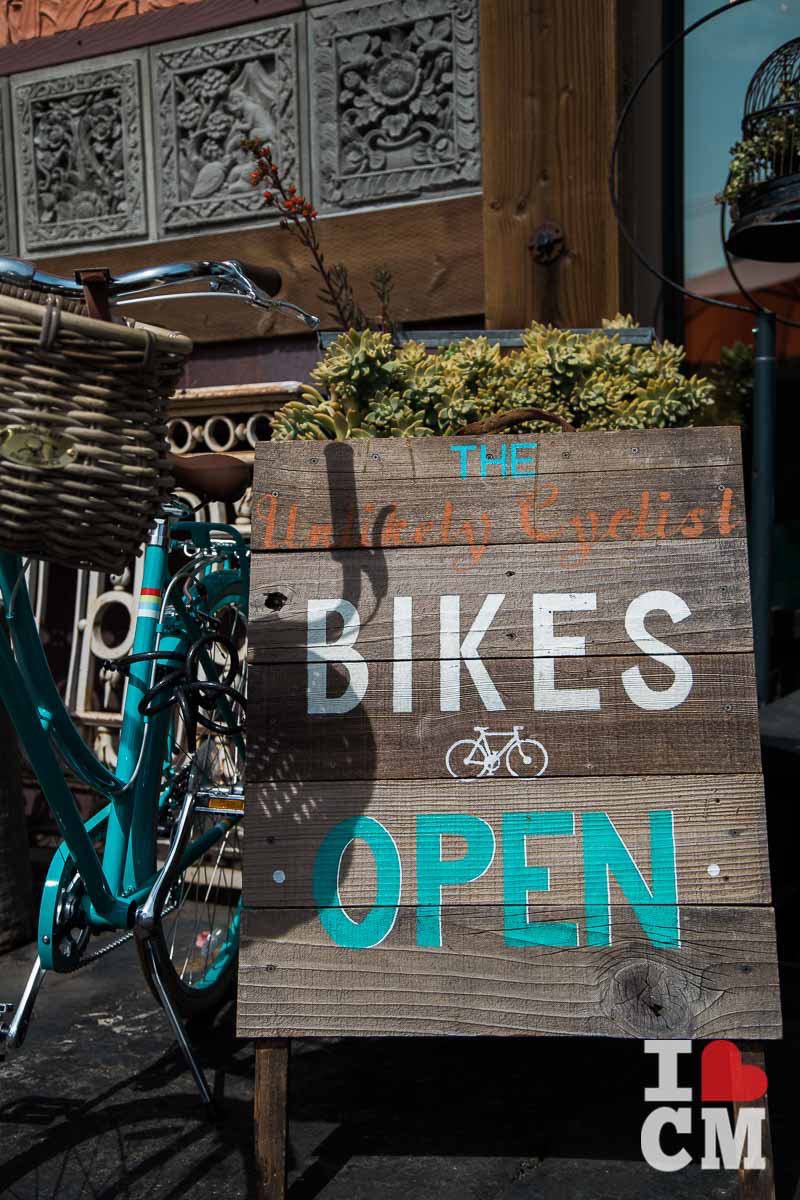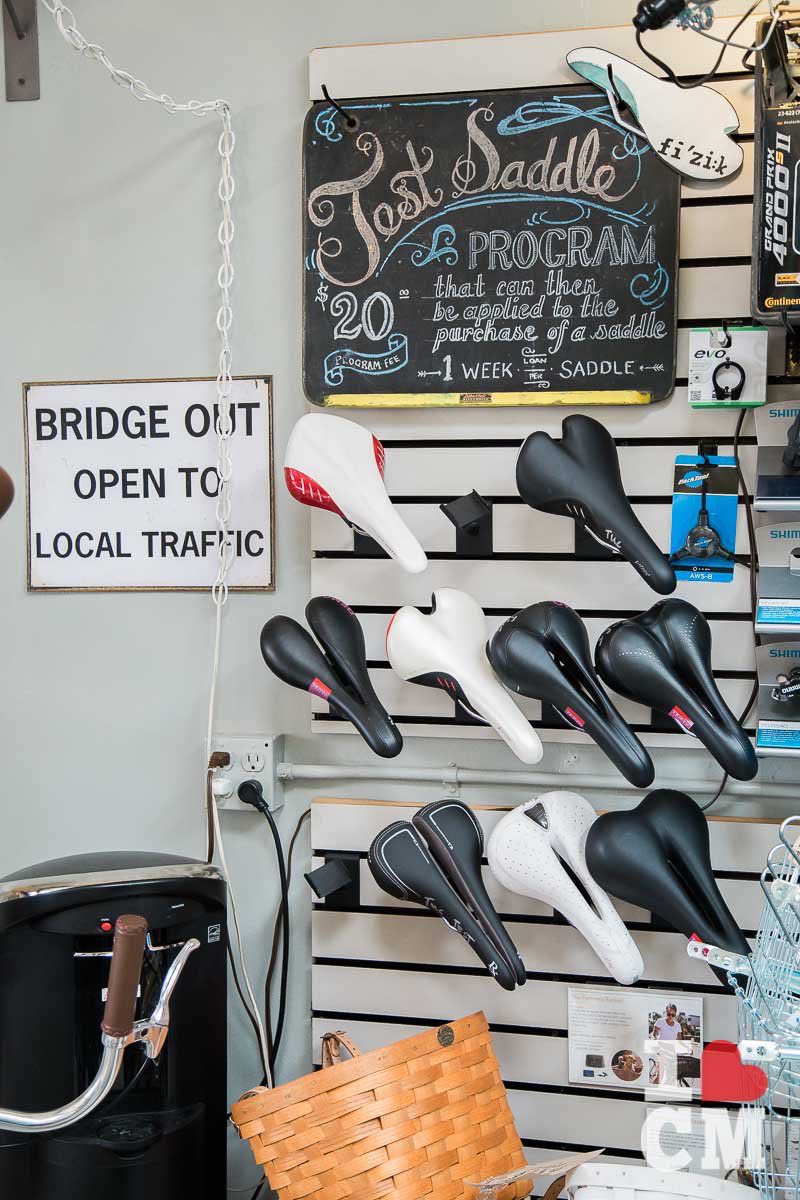 Ready To Ride: The Unlikely Cyclist Has All The Gear To Get Lady Riders Going
photographer: brandy young
The story of The Unlikely Cyclist starts with Lisa Fleischaker, who now shares the shop and cycling-club duties with her wife, Stephanie, and their dog, Daisy.
"Back around 2007, I was teaching spin classes at a few gyms," said Lisa Fleischaker. "One day, a man who took my class came up to me afterward and said, 'You know, I'm a cyclist and I can tell you've never really ridden before. Some of the things you do in spin class are nothing like the real thing. You have us going through imaginary stop lights for, like, five minutes and in reality it takes five seconds. You should probably get on a real bike and figure out how it really feels.'
"He basically dared me to get off the stationary bike and go buy a road bike, which I did the very next week. I fortunately found someone to help me pick out the right bike for my body, teach me how to clip in and all that other cycling stuff.
"Anyway, I fell in love with cycling. As I started training, someone mentioned my story and my struggles would make a great blog. I mean, here was this middle-aged newbie trying to get into road cycling. I am not your typical rider. I'm not skinny. I'm not doing it the way men do it. But here I am, cycling anyway.
"The blog started to get a lot of followers and so I just kept the posts coming, hoping they would encourage others to be brave and board that bicycle. Flash forward to 2012, and the company I'd been working at for seventeen years laid me off; on my birthday, no less. And my cat died. It might just have been a mid-life crisis moment, but I had some savings set aside and I thought to myself, 'You know what? I'm going to open a bike shop.'
"I lost that job at the beginning of August. By August 15th, I'd signed a lease and by August 31st we opened our doors. Suffice to say, I didn't have much time for blogging after that."
The first shop was in Eastside Costa Mesa, tucked away in an unassuming, 17th Street strip mall. In retrospect, it wasn't the best of locations to launch a bike store – but it did change Lisa's life in a way that's left no room for regret.
"A little over two years ago, Stephanie came into the 17th Street store for a beginner's group ride and we've pretty much been together ever since that day."

A Bicycle-Shop Built For Two: The Unlikely Cyclist Is A Team Effort For Lisa (Left) And Stephanie (Right) Fleischaker
photographer: brandy young

Lisa credits Stephanie with revitalizing the business and her way of thinking about the shop.
"At that point in my life, the business had started to feel like a burden," said Lisa. "It felt too big to carry alone. I was lonely, doing it all by myself."
With an enthusiastic demeanor, quick mind and easy way with people, we can easily see how Stephanie's participation would feel like a breath of fresh air in any endeavor.
"I think it helps to have a sounding board, someone to talk things out with, business-wise," said Stephanie. "I think it just helped Lisa to have the support, someone to throw around some ideas. Plus, I'm in sales, so I have a pretty good understanding of things like that – getting feedback from the customers and giving people what they want."
"She brought such a fresh perspective," said Lisa. "What could be different and new but still honor the vibe of the store."
Some of the changes included the kinds of bikes they sold. Brands like Public Bikes and Linus Bikes which pivot away from the expected beach cruisers and mountain bikes so common in SoCal bike shops.
"Everybody's selling beach cruisers," said Stephanie. "I grew up with beach cruisers and they're great and all, but they're not pretty. They're not the cool, urban-type, bicycle experience I think people are really looking for now. We want to be the bike shop that's cutting edge in that area, and I think we are.
"And just in case people think that's just a pitch or whatever, I want to put it out there that we don't just bring any old thing into the store. Everything we sell is something we personally use. We have literally worn it, used it, tried it, eaten it. We may be a small store with limited inventory, but the inventory we do have is something we completely stand behind."
The Unlikely Cyclist isn't just a store, they are a bike club, too; with local (and not-so-local) group rides on a regular basis.
"I founded the group because, honestly, I was constantly riding with boys and I was tired of doing it," said Lisa. "I really wanted to find some more women to ride with, and clearly there was a need because now our member list has almost 600 members. If any local women want to come and ride with us, they can find us on Meetup.com to see our calendar of rides."
"Like Sufferfest Sunday," quipped Stephanie. "That's when we'll go to an area with a really difficult climb – like Malibu – and we'll go suffer through a challenging ride together. Then we eat afterward."
More Than A Store: The Unlikely Cyclist Also Offers Group Rides And Clinics
photographer: brandy young
So with the blog, the shop, the group rides and the burgeoning, women's cycling community – what's been the most meaningful part of embarking on The Unlikely Cyclist journey?
"For me, it's helping women find their confidence," said Lisa. "I hope that because we are a women-specific shop, and a female-focused cycling group, that we take some of the intimidation factor out of it.
"When I was starting out in road cycling, there was not a lot of support for women riders in the local bike shops, here. Not to sound sexist, but I think it's very difficult for a guy to relate to issues that women have on a bike. We have different parts, our bodies work differently.
"Most women don't know that cycling is not supposed to hurt. But if your bike is fitted properly, it won't. A road bike, specifically, is adjustable in several different planes. So you have seat height, handlebar height, handlebar reach and all those things. Plus having the right clothes makes a huge difference; padded in the right places and wicking so you don't get chaffed.
"Everyone's body is different. Even two riders who are the same height might need totally different bikes or settings – depending on build, weight, proportions, etc. That's why I became a Master Fitter. I wanted to make cycling painless – and possible – for any women that wanted to get into it."
"We do a fair amount of educating people," agreed Stephanie. "We've literally taught women to ride who have never ridden bikes before. They come in and they're so scared. We even run next to them, just like you would with a kid. It's amazing to see them push through the fear and see their faces when they've accomplished something that's been scaring them for so long. It's really empowering."
"Or the look on someone's face when they climb a hill for the first time and they thought they were too out-of-shape to do it," added Lisa. "Watching people do something they never though they could is an amazing experience."

Shop Local, Ladies: Support Costa Mesans The Next Time You Need A New Ride
photographer: brandy young

Lisa and Stephanie Fleischaker don't just live for cycling, they love their city of Costa Mesa, too.
"I've been in Costa Mesa since 1995, so we're definitely locals," said Lisa. "We're over by the Back Bay on the Eastside. I love it because it's your classic, suburban neighborhood and it just has that cozy feeling. But I think all of Costa Mesa is really great. Back when I moved here, I think there was more of a difference between Eastside and Westside. Now I think the delineation is becoming less clear.
"I would happily live anywhere in Costa Mesa. It's blocks from the beach and minutes from the airport. It's a good town. I love that there are a lot of mom-and-pop shops here, too. That invites a small-town feel – or as small-town as you're gonna get in Southern California.
"When we were looking for new spaces for the shop, we didn't look outside Costa Mesa at all. We live here and wanted to work here. Our customer base is here. The city is right in the middle of the cycling communities – South County, North County, Inland – we're central to all of that."
"I like that Costa Mesa is unique, not so cookie-cutter," said Stephanie. "And our shop is literally a five-minute ride to PCH. It really doesn't get any better than that." ♥