Record Renaissance: Port of Sound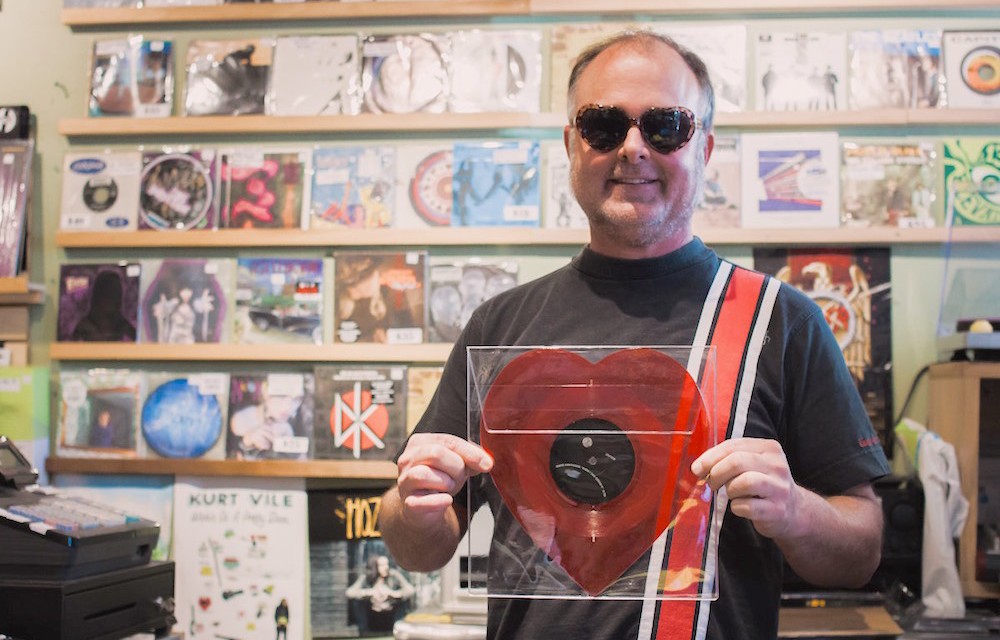 We live in the whirling-dervish days of intensifying technology – digitizing our lives to a dizzying degree. But sometimes we innovate so far afield, culture circles back to find comfort in its own past.
This phenomenon is especially evident in the music industry, where "vinyl retromania" has resurrected the independent, brick-and-mortar record store. Joining in the revival, locally, is Costa Mesa's Port of Sound Record Shoppe on the corner of Harbor Blvd. and Adams Ave. 
The owner of Port of Sound Record Shoppe, Greg Meyer, is not your stereotypical "record store guy". He's not an indie-music savant. He doesn't spend weekends binging on concerts. He isn't a song snob.
He is a refreshingly honest guy, about the most straightforward and direct as any we've interviewed.
"Look, there's no sexy backstory to how we started," said Meyer. "The truth is, I was never even that into vinyl. People think I got into this because of the music, but I'm all business. Business is business whether you sell widgets or concert tickets or records.
"I live here, in the upper-bird streets, and I got really tired of driving up to Los Angeles to find anything cool. I figured other people probably felt the same. There was a need for an actual, relevant record store in Orange County because there were none.
"If you want the kind of stuff we have, you either come here or you have to trek to LA."
Meyer may not be in it for the music, but he's business-savvy enough to hire a staff that is. His employees are empowered as buyers, executing the everyday music decisions that make Port of Sound such a fun, eclectic, immersive experience.
"I'm in charge of the big decisions, but my buyers are able to make about 90% of the decisions themselves," said Meyer. "It's a good rapport. We talk about what we have and what we need, but they handle it. They do a good job, so I don't micromanage.
"We carry every, single genre; something for everyone. There's nothing we don't carry and there's nothing I won't carry. Each category has its own niche loyalty and brand of popularity – classic rock, punk rock, pop music, electronic, jazz, classical, kids' music – it all sells."
So why the record renaissance? What's so special about vinyl that it's staging a comeback?
"The bottom line is that it just sounds better," said Meyer. "That's the main catalyst. It's got a quality and a warmth to it that you just aren't going to get from a CD. You can hear a lot more depth from a record. The instrumentation is a bit more subtle and you can really hear it on a well-mastered record. My favorite genre on vinyl is jazz, for obvious reasons.
"There's also the retro factor. People like pulling out records when their friends come over.
"And the collector factor. Take the stuff that came out in the 90s, for example. Those were the really dark days of vinyl, so production was low and not too many records were pressed.  If they haven't reissued those records, they can be pretty rare and worth something."
It's mostly about vinyl at Port of Sound, but not all. They also stock turntables, posters, shirts, stickers, patches, DVDs, CDs, amps, replacement sleeves, and turntable parts – like cartridges and needles – for when you need them.
"We also offer record-cleaning services to help people care for their collection," said Meyer. "Some people don't know about that.
"Vinyl, even new vinyl, has a kind of film or residue on it that can negative affect the sound quality. So, we apply a solution, scrub it carefully with special brushes, and then vacuum it all up so the record gets really spotless. You're not just spraying something and wiping it down. This is a professional level of clean.
"You know it's time to bring in your records when you hear that 'bacon crackle' sound."
So what about the classic elitism often associated with independent records stores? Will newbies be subjected to the kind of ridicule frequently flung at the uninitiated?
"Straight up, I don't tolerate it," said Meyer. "Everyone that comes in here gets treated with respect. Nobody has that 'record store mentality'. No one's mean. No one's nasty.
"I can't stand that attitude, I really can't. It's ridiculous. It's obvious and it's lame, for lack of a better word.
"I mean, there is no good or bad music, it's all just personal preference. Your opinions about music, your choices, we respect them. We're just about helping people listen to their kind of music they like, and maybe help them find some new stuff they didn't know about.
"I cannot emphasize enough how much that nonsense will never happen in my store."
If you're interested in starting a vinyl collection of your own – or adding to the one you already have – shop local this Black Friday. That's when Port of Sound, and many other indy stores, will be celebrating their next Record Store Day.
"It's a big deal. There'll be about a hundred 'independent record-store only' releases that come out on Black Friday," said Meyer. "We'll open at 5 AM in the morning and people line up for it.
"But even if people can't make it for that, they should find time to check us out. Support the local guys. Everyone here has fun, so come in and have some fun with us." ♥