Board Certified: Uhuru Surfcraft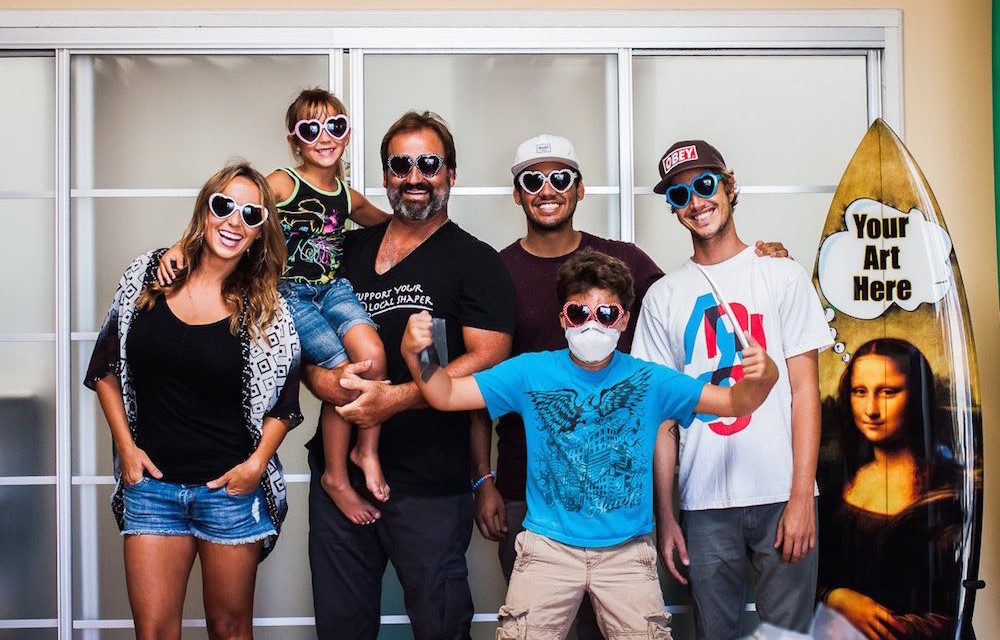 There's no denying that surf culture is a way of life for so many Costa Mesans. Our mesa overlooks long stretches of sparkling, blue Pacific Ocean and iconic, must-surf beaches are just a bike ride down the river trail.
For some of us, it's not enough to just surf local; we want our surfboards local, too. And for locally-shaped surfboards – with sky's-the-limit custom graphics – nobody brings the love quite like Uhuru Surfcraft on 17th Street near Placentia Avenue in Westside Costa Mesa.
Uhuru Surfcraft is owned and operated by the creative and entrepreneurial Reinhard family. Spend five minutes surfing the Uhuru website and you'll instantly vibe their deep and abiding devotion to what they do.
"Surfing is my passion and every good decision I made in my life has been influenced by my love for the sport," writes John Reinhard about his business. "For example, I met my amazing wife while on a surf trip to Barbados. Once I got it in my head to start shaping surfboards there was no looking back. Coming from a very artistic family, I had finally found my 'canvas' in board design."
I Heart Costa Mesa sat down with John Reinhard – and his luminous wife, Mariale – in their crisp-yet-casual showroom/workspace, to learn more about what they do and how they came to be.
"I've always been a surfer," said John Reinhard. "Then, one day I just decided to make my own surfboard. So I learned the modern way – pretty much self-taught. I did research online, I read books, studied as much as I could to figure it out.
"I rigged up a little makeshift shop in our garage at home and built my first surfboard. Well, that was it. I totally fell in love, so I started building more. I would give them to friends to try and that eventually led to a business where I was able to sell a few, then a few more. It grew and grew."
John isn't the only Reinhard who's caught the "shaping bug." His son, Mikel, is starting to show an interest in surfboard design.
"Mikel is really picking up on it just this past year," said Reinhard. "We both sat down and used a modeling program to make a board on the computer. We did all of the design work together. Then we went and shaped it together. Once it was shaped, we went back to the computer to design custom graphics for it. He came up with his own color scheme. It was a proud moment."
"The art of shaping and designing surfboards is always evolving," said Reinhard. "You have to look to the past, and then look around and see what people are riding now. I'm always asking myself, 'Is there something a little bit different I can do that might help someone paddle better? Can I help them catch more waves or ride a little bit better on the wave?'
"I actually learn a lot from our customers. They'll come in and have all these ideas of things they want to try. So, we'll sit down and build a 3-D model of their idea. I get inspiration and a whole new perspective from working with our customers, bringing their ideas to life."
After meeting the Reinhards – and team – in person, we're not surprised they have such a cool, collaborative relationship with their customers. And for surfers looking for something more proven, tried and true?
"By far, our bestselling board is The Pocket Knife," said Reinhard. "It's really accessible, wide and short. A lot of people can connect with it because you can ride it when it's small, you can ride it when it's a little bigger. Doesn't matter if you're skinny, if you're tall, it fits almost everyone. We make so many different models, but that one's magic – it always clicks the most.
"My personal favorite is a board that's similar to The Pocket Knife – but modified to be a bit longer for older surfers, like me – called Soulcraft. That's the one for me. I love it."
When the Reinhards first launched into the surfboard business, John's mother – artist Mercedes Reinhard – supplied all the artwork.
"We told her, 'All right mom, you need to learn how to airbrush surfboards,'" said Reinhard. "She did these really beautiful paintings on our first boards. We actually got a lot of recognition for that. We became known for beautiful surfboards. Of course, mom can only do so much. As we grew, we had to start looking at other ways to get art onto surfboards."
And that is when Boardlams – sister business to Uhuru, specializing in custom graphics for surfboards – was born.
"Boardlams really started in a similar way to Uhuru," said Reinhard. "I got it in my head that we should do graphics. So I searched Craigslist for a printer. I found a guy and traded him, like, a skateboard and a can of resin for that first printer. We stuck it in the garage and just messed around with it. We did a lot of trial and error and finally made it work.
"That's really our attitude towards so many things, we just like to figure it out. There's a lot of tears sometimes, but in the end we always get it."
Boardlams may have started out as just a Craigslist printer, but these days it's a full-fledged operation with a long list of happy clients and an expanded menu of customizable offerings.
"We do our Boardlams, which are laminated graphics for new surfboards," said Reinhard. "Then we also do board wraps, which give new life to old, retired boards. So if you want to turn your old surfboard into a piece of art by wrapping it in artwork, board wraps are great for that.
"One of the things that's kind of trendy in surfboards, right now, is to have these little, reinforcing patches on the tail of your board. Typically they're black, or something simple. But we have the ability to customize it and make it any design or color you want."
Other items they offer include digitally-printed fiberglass, called Fiberlams – as well as customized stickers, too.
"When it comes to surfboards, people want something unique," said Reinhard. "It's personal. So we help you get as customized as you want. However you get there, whether it's enlisting your kids to do a drawing or finding some art you really connect with – however you want to do it."
"That's the best part for me," said Reinhard's wife and business partner, Mariale. "We love getting designs from people and it's always such a surprise. You never know what you're going to get.
"It's so exciting to work with people and help their vision come alive. Nothing compares to a customer's face when they see their design printed on a surfboard for the first time. It's really cool."
As for Costa Mesa? John couldn't imagine doing what he does anywhere else.
"The industry connections are the most fascinating part about being in Costa Mesa," said Reinhard. "Where else in the world do you have this much surf industry in one place? Within a stone's throw of where I sit, I can get the foam for a surfboard blank, the board glass, stickers and the box big enough to hold the surfboard. Costa Mesa has a really nice, supportive community with every element you need for manufacturing a surfboard. It's the best."
"We love Costa Mesa," agreed Mariele. "We've lived here for 18 years and now we are raising our kids here, too. It's really wonderful: the people, the character, the location, the support.
"Costa Mesa is beautiful. The city itself is very creative. It wakes up a little different every day." ♥