"Unplug. Get Outside. Be Together and Do Fun Things."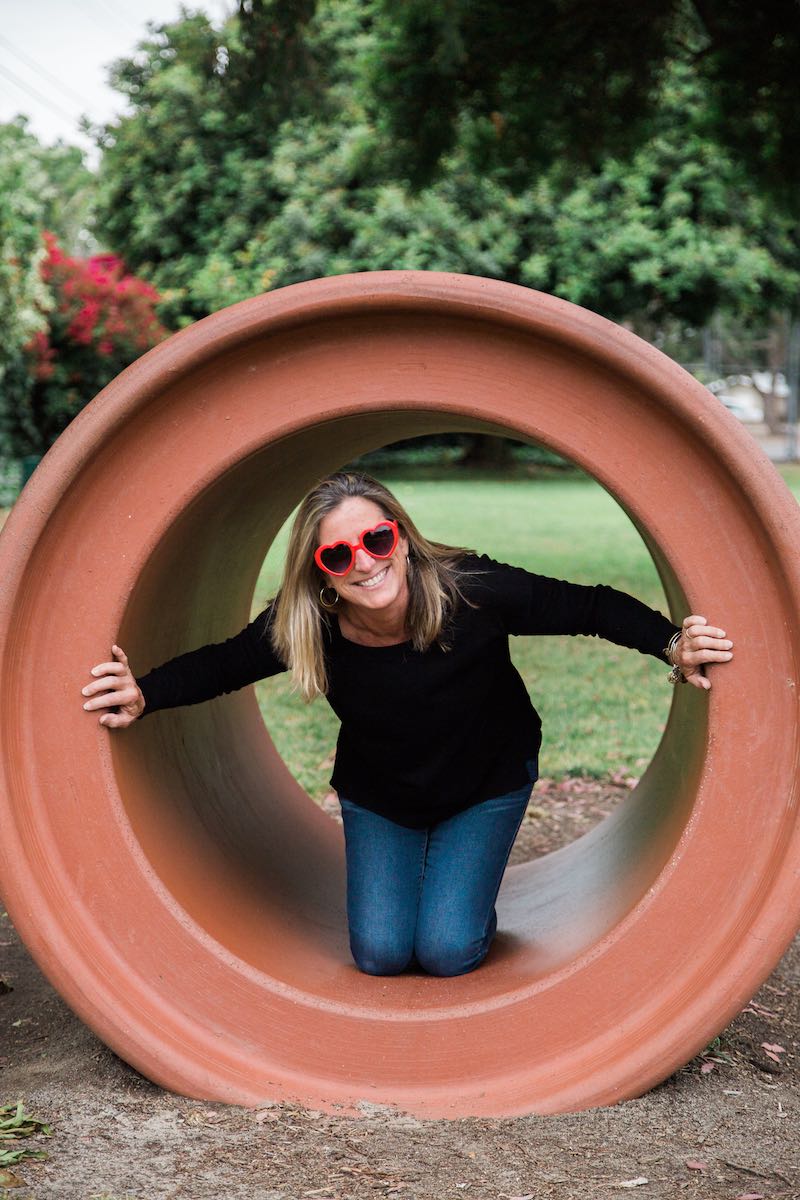 "I've lived in Costa Mesa since I was born.
"I grew up on Watson Avenue here in the Halecrest neighborhood. I attended Killybrooke Elementary and so did my kids. (I actually found a copy of my old yearbook in the PTA closet on campus.) I went to Davis back when Davis was a middle school. Then on to Costa Mesa High, so I bleed green through and through.
"These days, I'm Park Administrator here at Halecrest Park – sharing duties with my friend, Sharon Comer. Halecrest is a family-friendly swim and tennis club and event venue in my neighborhood. We like to say we're the best-kept secret in Costa Mesa. This year we're celebrating 60 years so it's a pretty special time for us.
"Before working at Halecrest, I started out as a member. When my girls were little we would always be over here swimming or playing at the park. On Wednesday nights, all the local neighbors would bring food and we'd picnic in the park. Everybody just came and hung out.
"My girls are grown, but we are already seeing the next generation of young families doing it, too – meeting in big groups of neighbors at the park. It's fun to watch the little ones, again.
"There's a lot of continuity here at Halecrest. It gives you a real sense of community, kind of simple and old-fashioned, the way communities used to be. I think today's parents are wanting to get a piece of that back. The joy of just hanging out with neighbors, getting away from screens and out into the real world.
"My girls are 17 and 20, now, and they're always plugged in – always on their phones. Who am I kidding? I'm always on my phone, too! But something my girls always said to me is, 'We wish we'd grown up when you did. When it was safe to ride your bike over to a friend's house. Before the days when you'd just pull up in your car and text so you didn't even need to ring the doorbell.'
"We've gotten away from living like that, but it's still a choice. We can choose to unplug, to get outside, to be together and do fun things. Plan a movie night. Go barbecue at the park. Camp out. Watch the sunset at the beach. Go walk with a friend.
"It's never the huge things that bring sustained joy, it's the little things. Eating dinner with your family, taking a loved one out to lunch, visiting your grandmother… all those little moments add up to a good life which then adds up to a strong community.
"Costa Mesa is a strong community. No matter how big it gets, it still feels like a small town to a lot of us.
"If people in Costa Mesa are wanting more of that small-town experience, Halecrest is a great place for that. Come to our events. Hang out and decompress underneath our beautiful, old shade trees. Come for our Easter Egg Hunt or the Chili Cook Off. Come to our Luau or movie nights. Come camp out overnight with us.
"Just come be a part of something that's been part of Costa Mesa for 60 years. That history is what makes it so special here. We've got a really relaxed, old-fashioned feeling – everyone's just here to hang out and have a good time."
– Diana Moore, Park Administrator, Halecrest Park Swim & Tennis Club, Costa Mesa