The Club Level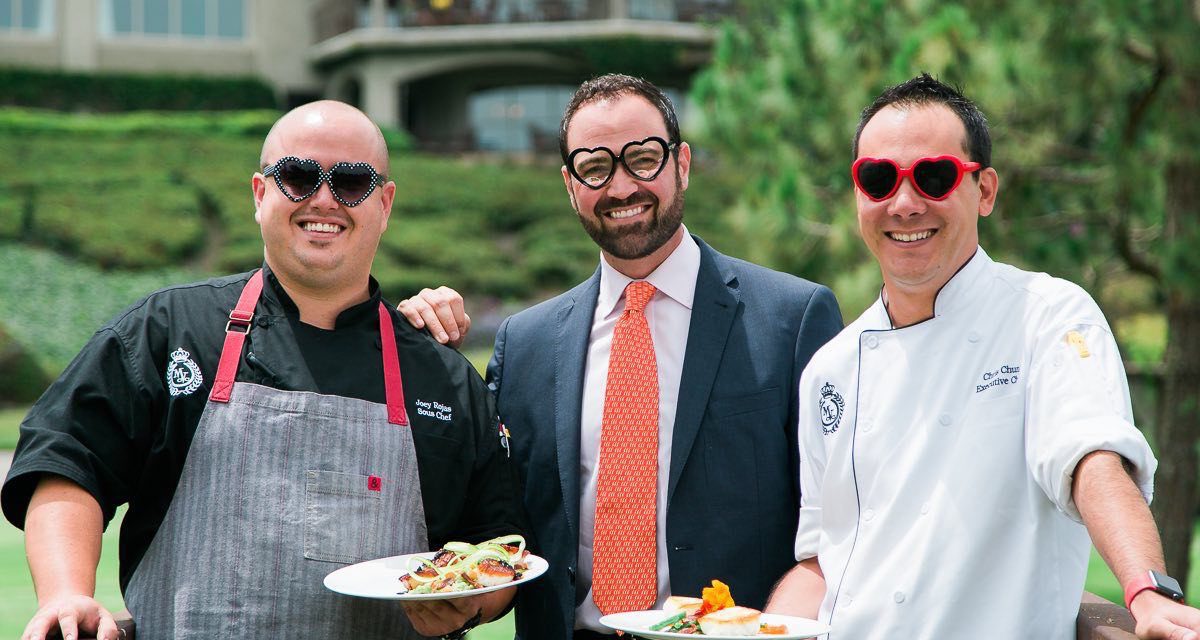 Here at I Heart Costa Mesa, we are all about authentic connections; the kind you make when you're in your most open, community-oriented, heartfelt frame of mind. We love listening, week after week, to the everyday stories that make our town tick. And we're especially thrilled when those local conversations lead to deeper understanding and new perspectives of this spectacular city of ours.
Today's feature is the perfect example of how easily stereotypes can be swept clean when we connect at the in-person level. That's because we're featuring the Mesa Verde Country Club – the local, private, country club of Costa Mesa for over fifty years.
Country clubs are the kinds of places that feel easy to misunderstand and difficult to fact-check (if you're not a member, that is.) But we went in with an open mind and walked away with a newfound appreciation for the important role a family-focused country club, like Mesa Verde, serves in our community.
From the moment we walked through the elegant, craftsmanesque clubhouse doors, we were struck by the extraordinary level of hospitality at Mesa Verde Country Club – and we do mean extra-ordinary. Either we're running in the wrong social circles, or the customer-satisfaction standards for the Mesa Verde staff really are that high. Everyone we encountered was so hospitable, so helpful, so personable – we can only imagine what it might be like to enjoy that level of customer-service on an ongoing basis.
The man at the fore of the exceptional, Mesa Verde experience is none other than General Manager, Jeremy Samson. With a sharp mind for management – and an astute eye for amenities – Samson is more than happy to set the record straight on what his country club is – and is not.

Club, Contemporized: MVCC is Keen on Modernizing What It Means to be a Country Club Member
photographer: brandy young



"People hear 'country club' and they think it's all about the golf," began Samson. "And yes, we have a beautiful course and a contingent of fairly serious golfers; but that's only a drop in the bucket of what we offer. Mesa Verde Country Club is like the nucleus of the neighborhood. Beyond that, we strive to be a social hub – a common point of connection – for neighbors, business-owners and friends.
"We have a 40,000-square-foot clubhouse, 10 tennis courts, 18 holes of golf, multiple dining rooms and banquet facilities, and a swimming pool – with plans for a fitness center on the horizon. We take great pride in our programs, which are too numerous to list, but some examples include: kids camps, tennis and golf lessons, seasonal events, social get togethers – and we host some of the largest, private events in Southern California. All of this is happening right here, in the middle of Costa Mesa."
The property at 3000 Club House Road wasn't always so posh. Like most of Costa Mesa, the land where Mesa Verde sits today was once home to Tongva tribes, then used for cattle-grazing in the rancho days, and then was subsequently purchased to be planted as farmland. The Schroeder family bought the land for just that reason, in 1953 – but as the mid-century housing boom hit Costa Mesa, they soon sold it off to a development company. In 1958, the renowned William F. Bell designed the golf course. Then, as homes and neighborhoods sprung up around the property, members eventually put together the funds to purchased the club outright – and it's been equity-owned ever since.
"We've gone through various iterations over the years," said Samson. "But one thing that hasn't changed is we're a very family-focused club. Coming up with events and activities that bring families together is a huge priority at Mesa Verde.
"This work I do, it's all about relationships. I get to see the kids grow up. I've watched them get married then come back and join the club with their own kids. You don't get that working in a hotel, working for a restaurant. Country clubs are special, that way. It's all about the members – but then members become friends and friends become family. Members, staff, guests – when it all comes together, it's pretty amazing."

Part of the way Samson is making his mark on Mesa Verde is by modernizing the experience – juxtaposing traditional country club values with more progressive hospitality.
"We are enjoying a renaissance of sorts, an influx of younger members, and they tend to be more scrutinizing," said Samson. "This clientele grew up with things like the Food Network so they're sophisticated about food and beverages – they want diverse menu offerings and great wine to go with it. Bringing Chef Chun onboard was such a win for the team we've built here. I can't even quantify the difference his creative input has made in leveling up our food game."
Chef Chun is a local boy, having lived in Costa Mesa most of his life. He brings a patient air and quiet confidence that must come in handy when he's orchestrating a kitchen full of bustling staff to service throngs of hungry people. Born into a family of unique cultural fusion, these influences – coupled with his early interest in cooking – set the stage for his starring role in the culinary arts.
"My mom is French and my dad is Chinese – from Hawaii – so culturally, food was always there," said Chef Chun. "I grew up in the kitchen with my mom, helping her out as a small boy, and just really had a passion for it. As far back as I can remember, I've been cooking. I would say my style is definitely French influence with a little bit of Asian or Hawaii fusion. I like a lot of seafood, but prepared with French technique.
"Cooking for country clubs is a bit unique because you're trying to please every type of palate. Instead of a freestanding restaurant where you specialize in one kind of food – Italian restaurants serve Italian, Japanese restaurants serve Japanese, etc. – the country club wants you to do it all, do it well, and they want variety, too. We have very high expectations of ourselves and we're always trying to find new ways to rise to the occasion."



Play With Your Food: Mesa Verde Country Club Executive Chef, Chris Chun, Is All About Experimental Edibles
photographer: brandy young


"Being a chef at a country club, you have to be on point and ready for anything," said Sous Chef Joey Rojas. "People always ask us, 'What's your favorite thing to cook?' I'll say, 'That depends. What's your favorite thing to eat?'
"The best part of cooking is the reaction I get from people – that connection between my food and their experience of it – that really makes me happy. If you tell me you love Veal Parmesan, I am going to make my version for you to see if it stands up. I definitely consider food as art. We try to push the limits here at Mesa Verde Country Club and I think we've gained that trust from our members to make it happen."
"Trust is huge," agreed Chef Chun. "When we first got here, it was a bit challenging. The relationship was new and we were all feeling each other out. This club has been here for a while and people were comfortable with the existing food offerings.
"So, we just slowly started testing little menu changes here and there, while still offering the classics. Eventually, we earned that trust to the point where we can now experiment and get more artistic with the food – and the wines to go with it – and the members are totally on board."
"Like the ahi wrapped in cotton candy," laughed Rojas. "We recently set up a cotton-candy machine on the 18th Hole and wrapped skewered pieces of ahi and fois gras in cotton candy. We did a nice little sauce with some toasted sesame seeds and people were skeptical at first. But after that first bite, they were coming back with friends for seconds and thirds.
"That highlights something else I love about doing this at the country club level – we're the chefs, but we still get to be out front interacting with the people. It's rewarding to see how they react to your food, first hand, instead of being stuck back in the kitchen just getting reports from the staff."
"Hey, Costa Mesa has a lot of cool restaurants," said Chef Chun. "We are smack in the middle of the Orange County food scene. Diners are getting more sophisticated, so we have to be on top of that and always be working to keep things new, interesting and fresh."



Golf, Uninterrupted: The Course At Mesa Verde Is As Beautiful And Serene As It Is Fun To Play
photographer: brandy young

So along with the fabulous food and creative cocktails, how else is Samson, and his team, elevating the experience at Mesa Verde Country Club?
"So a newer thing we're doing is our Social Membership," said Samson. "It's really tremendous, especially if you want to come for all the social events and experiences, but you don't want to golf. Social Members have access to events, dining, tennis courts, pool, pickle ball, activities – basically the whole Mesa Verde experience, but without the golf included. And the best part is you'll have an entire staff that knows your name, knows your drink and will have it there waiting for you.
"We're always trying to mix things up for our members – keep it fresh with things they haven't seen at a country club before. Like recently, we actually brought motocross riders to the golf course. Six pro and semi-pro riders came out to perform for 200 people on our range.
"We've introduced kids culinary classes. We do wine dinners and bring in some wonderful wineries. We have big ideas like hosting a family campout on the golf course with fire pits, a climbing wall and fishing. You name it, we are always open to re-invent the experience in the name of giving our members the best possible service. Let's see, what else? We have bridge classes, we've done comedy nights.
"During the holidays we have a wonderful tree-lighting ceremony that kicks off the winter. We bring in a train that goes around the parking lot, and we light the tree, sing songs, and Father Christmas comes to visit. We actually had a local bakery make 100 gingerbread houses and we laid out a huge bar full of candy toppings for the kids to come and decorate.
"In the summer, we have 120-or-so kids participating regularly in tennis lessons and golf – but it's all à la carte. They can go to tennis, then they go to swim, they draw, do crafts with the kids, and then our golf pros will pick them up and we will finish out on the golf course. Junior programming is huge for us because we've added 350 children in the last five years. So we also offer CPR classes, 'mommy and me' classes and swim lessons through our aquatics program.
"And none of this even touches on the golf. Being a Golf Member at Mesa Verde, you have access to everything – and our program is second to none.
"Really, there is so much going on at Mesa Verde – and we're always adding new things – it's too much to list in one place."
If you want to experience the food and hospitality of Mesa Verde for yourself, consider hosting your wedding, party, birthday, bar mitzvah, business meeting or next special event at the clubhouse. The club serves as an ongoing event venue and even has an on-staff party planner to assist you.

Thank You, Mesa Verde Country Club, For Spending The Day With I Heart Costa Mesa
photographer: brandy young


"Chris and I both grew up around here and Costa Mesa has always been a great place to be," said Rojas. "You're near the beach, you're near the mall, you're near everything in Orange County. Costa Mesa is dead-center in the middle of it all. I love working here and if I could, I would move here in a heartbeat. It's a little out of my price range, right now, but hopefully someday."
"For me, living here was a given," said Chef Chun. "I mean, I was born at Hoag Hospital – I was raised here. Aside from a brief stint traveling and working at some resorts, every house I've ever had has been here. You get passionate for a place when you don't just work there, but you live there and were raised there, too. Costa Mesa holds a small piece of my heart, that way.
"Because of that connection to my city, I care really deeply about the members at Mesa Verde. I know a lot of them through school – or I know their kids from going to school with them – we're a true community. It's like a dream that I get to be the Executive Chef for the only, real country club in Costa Mesa; amazing, actually."
"People are always calling Mesa Verde Country Club a 'hidden gem,' but being hidden is both a blessing and a curse," said Samson. "It's a blessing because once you are here, it's like stepping into a different world in all the best possible ways. But it's also a curse because there are likely many people living and working in Costa Mesa who don't even know we are here, let alone that our club would be a great fit for their family.
"I just want to put it out there that I would personally love to meet anyone who has an ounce of interest in this lifestyle. We are tucked away in a quiet neighborhood with snowcapped mountains overlooking a wonderful, beautiful oasis-of-a-golf-course. We have unbelievable food and wines, wonderful members, tennis, pickle ball, swimming, aquatics, social events, family functions, clinics and so much more.
"If any part of that sounds appealing to you, please reach out. Let's meet up and see if it's a fit. Don't be intimidated by the 'club life' because, at the end of the day, we're just people getting out with people. Connecting with neighbors, enjoying our surroundings, raising our kids with a sense of community. When you get right down to it, that's really what a country club like Mesa Verde is all about." ♥
Thanks for reading. If you'd like to help support our content, you can

donate here

.