Horti-Sculpture: Organic Designs By Aggelige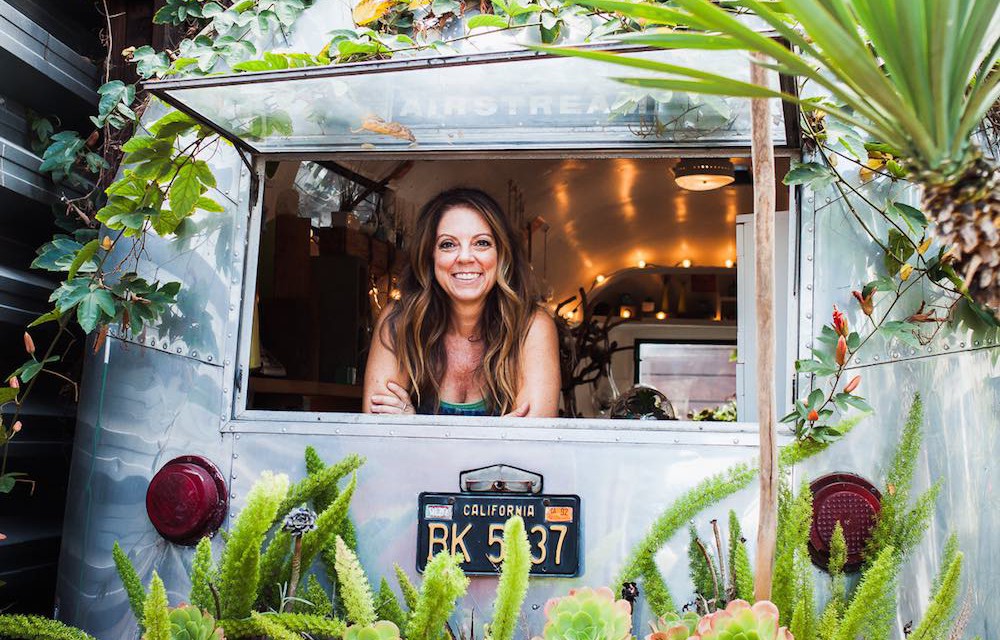 Is there anything lovelier than Costa Mesa's mild, Mediterranean climate? Our weather is one of the very best things about living, working, playing – and especially gardening – on the mesa. (Heck, plants probably heart our beautiful climate even more than we do!)
Costa Mesa is simply replete with growing things. The sight of bright, green shoots stretching hopefully towards the sun. The unmistakable smell of fresh, damp earth carried on salty, ocean breezes. The impossibly-soft, fuzzy feel of geometric succulent leaves.
And nobody does growing things quite like artist-turned-container-gardener – Aggelige Spanos – and her airstream-based business Organic Designs By Aggelige at The CAMP on the corner of Bristol and Baker Streets.
Organic Designs evokes an involuntary, wistful sigh every time we think of it. There's just something so beautiful about being surrounded by vintage containers – some impossibly tiny, all brimming with flora – that really speaks to the soul.
We sat down with owner, Aggelige Spanos, to learn more about her background, her plants, and (sigh!) the containery cuteness that is her converted airstream.
"My business started as a complete accident," began Spanos. "My background is actually in Fine Arts, and I was in the art industry for a long time. I worked in sales – and as a gallery director – and I would just play with plants for therapy, really. It was my own, personal way to decompress."
"But then I had this really high-end, gallery clientele," said Spanos. "They were the kind of people that have everything and needed nothing. It was really hard to shop during the holidays – I never knew what to get them. So I started putting together my container gardens and giving them away as client gifts.
"Soon, the girls I worked with at the gallery wanted me to make container gardens for their clients, too. And some of my clients started wanting container gardens for their own friends. So, I started having little parties at my house during the holidays and I'd sell my arrangements. It just grew from there. Eventually I was able to go part-time at the gallery and open up a little plant shop of my own."
Her first shop was located in San Clemente, but after a year it was clear the spot wasn't a long-term fit.
"The location just wasn't very good," said Spanos. "I wasn't getting much traffic down there. During that time, I would drive up here to The LAB and The CAMP and just hang out, shop, whatever. I was really drawn to the area because it seemed like the only place around here with any thinking-outside-the-box or any sense of creativity.
"I wanted to move my business up here, but I just couldn't take on the work and expense of a large, brick-and-mortar space. So I met with Shaheen a few times and we brainstormed some different things. Then he threw out the idea that he always wanted an Airstream on the property."
"I researched it and found a lot of pictures of repurposed Airstreams that people were using to operate their businesses," said Spanos. "So I put together a little look book and said, 'This is what I'd like my shop to be.'
"Shaheen said to me, 'Alright. Are you sure? Are you ready to do this? Because if you are, we're going to go buy an Airstream.'
"The whole thing happened really fast. We found this disgusting, rat-infested Airstream in, I think, Fontana – and they had to gut the whole thing. But once it was cleaned out and restored it made a really nice space for my business. It's got a lot of character and nostalgia. People love it. That was six years ago and we've been here ever since."
Spanos has managed to make full use of her small space. Shelves and plant stands abound – both inside and out – covered in arrangements from tiny baby succulents to large, luxurious, air-plant-and-driftwood centerpiece masterpieces.
"I am naturally drawn to anything miniature," said Spanos. "Tiny things, tiny spaces. I can't resist a tiny vessel – they're so cute. You can tuck them into little places in your home or office and they just make you smile. Tiny things make a nice gift because they make you feel special but they don't take up too much space."
Spanos doesn't just use small containers, she adds special touches to arrangements of all sizes. Her eye for detail – along with her knack for finding fabulous vintage pots – is part of what makes her work so compelling and unique.
"I use a mixture of new, recycled and vintage containers," said Spanos. "I travel a lot and so I'm always on the lookout for great pots. I'll go to flea markets, or if I'm visiting a friend and see a place that has pottery, I always stop. My greenhouse studio is just packed with pots.
"The vessel is everything. I find a great vessel and then I just fill it up. The little, baby-succulent containers don't take long to put together. Depending on the size, the bigger pieces will take a few hours – but I keep them for several weeks and add to them slowly. The terrariums are much more involved and sometimes take me all day.
"Back at the art gallery, I was always representing other artists' work. But when I started working with the succulents, that was kind of my way to tap back in to my own creativity – in a way I never had before. It's really rewarding."
We couldn't let Spanos get away without first unearthing what she loves best about our fair city.
"I'm so glad to be here in Costa Mesa," said Spanos. "I love the creativity and that people are thinking outside the box, these days. People in Costa Mesa really don't seem to be afraid to try new things, sometimes radically new things.
"The CAMP is a true community. I know everybody here and it's just really inspiring to spend my days in Costa Mesa. I am just really happy doing this. Life is good." ♥