Sharon Hurd: A Walk Through Fairview Park

When we use the term 'city' to describe Costa Mesa, it's easy to mentally mistake it for a singular, finite entity. An object. A thing.
But if I Heart Costa Mesa has taught us anything, it's that 'city' is just a word trying very hard to wrap its arms around a much more complex and undulating aggregate of ideas, concepts and characters. That the true, tangible 'realness' of Costa Mesa does not begin and end along the edges of her borders – but with the living, breathing individuals that move about her middle.
And if people are the currency of Costa Mesa, then residents like local photographer, Sharon Hurd, are doing their best to make their contribution count.

A Feel For Nature: Photographer Sharon Hurd Tours Fairview Park, Costa Mesa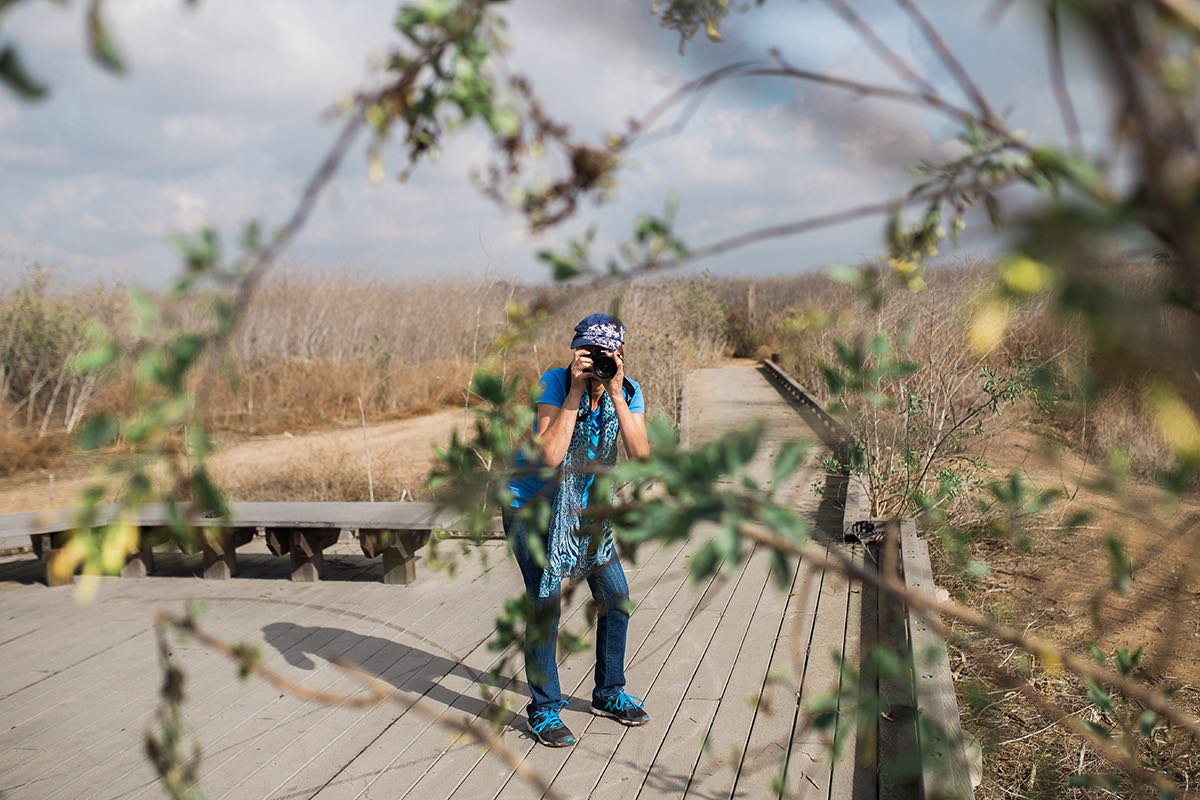 Hurd has been stitched into the fabric of Costa Mesa for nearly as long as she's been alive.
"I grew up on the east side of town," began Hurd, as we sat down on a picnic bench in sunny Fairview Park. "In fact, my parents still live in my childhood home. We used to have one of the original, vintage goat barns in the backyard, but sadly, they had to demolish it 10 years ago because the structure just wasn't safe anymore."
Hurd moved to Huntington Beach briefly, in her 20s, to share a place with a roommate – but not for long.
"Once I got married, we moved right back to Costa Mesa," she said with a laugh.
Hurd, who now lives in Westside Costa Mesa, is a self-taught landscape, event and street photographer; and she comes by the talent honestly.
"My grandfather was an artist and a painter," said Hurd. "He had a studio in historic downtown Santa Ana and I spent a ton of time there as a kid. So I have always loved art. I have always been surrounded by artists. My expression of that creativity came out through the medium of photography, but my grandfather's influence is still there."
Hurd's grandfather also taught her about color theory and perspective – both big hallmarks of her work, today.
"I'm really drawn to shooting landscapes and playing with color," said Hurd. "When I'm out walking around, I get into my zone. I'm watching the way the grass is blowing in the wind or how the light is playing through the trees.
"It takes me back to when I was a kid, tromping around in the mud and watching bugs. I still like playing in the mud and losing myself in that imaginary world."

Hurd's signature is to capture the nature she sees around her, then play with enhancements, saturation and color to 'artify' the scenery in post-production.
"Photography is my labor of love," said Hurd. "I get totally sucked into the process. I feel the strong tug of inspiration and I know to just grab my camera and follow the inspiration wherever it wants to go."
This inspiration recently led Sharon Hurd Photography to the 5th Floor of Costa Mesa City Hall. That's where the City hosts a program called 'Art On The Fifth', a rotating, local exhibit in the lobby of City Hall's 5th Floor. For the three months of January-March 2018, it's featuring Hurd's nature-photo series titled 'A Walk Through Fairview Park.'
"The entire show consists of photos I took in Fairview Park," said Hurd. "I really didn't know much about 'Art On The Fifth' until an artist friend of mine messaged me and said, 'I think you need to get your photos in here. You can do this.' So I submitted my work.
"When I heard back that my exhibit had been accepted, I was thrilled! It's really exciting. Now I have twenty-one of my photos hanging in City Hall."
If you visit the exhibit and want to take a little piece of Fairview Park home with you, there's also a basket of 8″ x 10″ matted prints for sale in the lobby.
"Half of all proceeds from 'A Walk In Fairview Park' will go straight to donation," said Hurd. "I'm donating 50% of it to be split between Trellis and the Fairview Park Preservation Alliance. Those are the two Costa Mesa non-profits nearest and dearest to my heart."


'A Walk Through Fairview Park' Runs Jan. Through Mar. 2018 on the 5th Floor of Costa Mesa City Hall

Hurd is personally involved with Trellis, locally-known for their work with Costa Mesa's homeless.
"The homeless issue in our city is a sensitive one," said Hurd, who has used her camera to document the situation. "I love street photography and I wanted to capture the story. But nobody wants to be the face of homelessness, so most of those photos are taken from afar."
In things that matter most to her – whether it's nature, homelessness, events, portraits or Southern-California lifestyle landscapes – Hurd hopes her photos will pick up where words leave off.
"I try to let my photography do the speaking for me," said Hurd. "I'm a visual person, so it's my way of communicating my point-of-view. I want my photography to do positive things in the world, bring out the good around me."
As a visually creative person, Hurd has always felt right at home in Costa Mesa.
"Costa Mesa is an artistic place," said Hurd. "We have little art studios all around. We've got the performing arts center. I love all the recent murals popping up all over town.
"You see that local creativity come out in some of the older homes, too. The ones that are tucked away that have been there forever. I think those are pieces of art themselves. They are so unique. And the way people in Costa Mesa decorate the outside of their houses, or their gardens – I love the variety."

Hurd is also a big fan of the Costa Mesa Cultural Arts Committee and the work they're doing at the city level to sprinkle more artwork throughout town.
In fact, it's pretty safe to say Hurd is just a big fan of Costa Mesa, in general; so much so, she even tags her work online with the #goathillgirl hashtag – a nod to the city's historic "goat hill" moniker.
As much as Hurd adores Costa Mesa, she said it's been painful to see residents so polarized over politics and other intractable issues.
"Everybody here loves this city, so why are we so divided?" asked Hurd, with a faraway look in her eye. "There's no reason for there to be a rift. We have a great city. We have great people. There are so many wonderful things happening here, a lot of good.
"I'd like to see more unity around what is positive in Costa Mesa. So I guess my takeaway message is that we need to be more unified. Let's come together as a city." ♥